MLB.com Columnist
Anthony Castrovince
MVP Tracker: Trout, Stanton the front-runners
With weeks to go, poll shows Angels and Marlins stars favored for award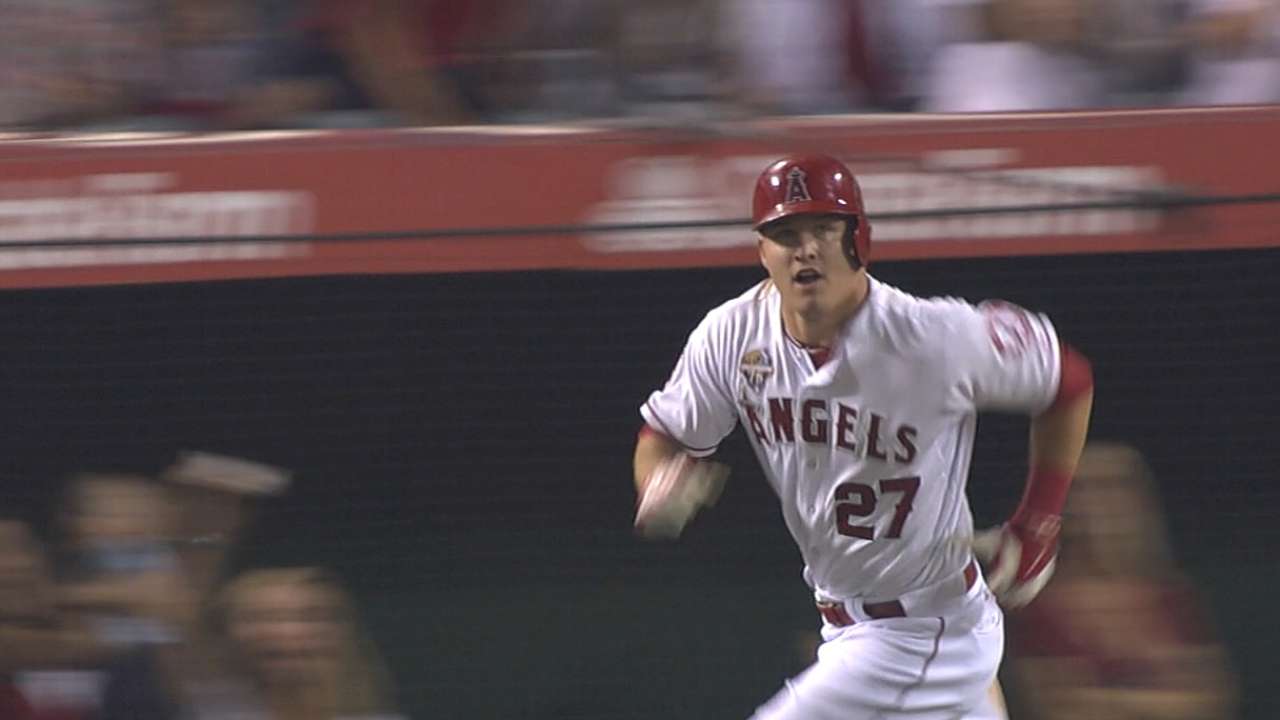 There are still 3 1/2 weeks remaining in the season, with so much still to be decided. But the annual great debate over Most Valuable Player Awards is underway.
And as has become the norm, the availability and accessibility of advanced analytical data will add color, layers and probably quite a bit of heat to the conversation.
Rather than speculate about how the voting might go for the award in both the American League and National League on the basis of potentially erroneous assumptions, we thought it would be instructive to poll 40 media members and ask them what their ballots would look like if they were due today, rather than on Sept. 28, the final day of the regular season.
It's not a scientific study, by any means, because only a portion of those we polled are members of the Baseball Writers' Association of America, which will select two writers from each big league city to vote. But the results do confirm some suspicions about the makeup of the fields, and they could be a good estimation as to which way the actual voters might lean at season's end.
Obviously, a lot can happen between now and then, but here's an early look:
AMERICAN LEAGUE
Top 10 vote-getters, with first-place vote tally in parentheses
1. Mike Trout (35)
2. Robinson Cano (1)
3. Felix Hernandez (2)
4. Jose Abreu (1)
5. Josh Donaldson
6. Alex Gordon
7. Victor Martinez (1)
8. Jose Altuve
9. Nelson Cruz
10. Adrian Beltre
Trout, clearly, has graduated from hero of the calculator-carrying crowd to a more mainstream MVP acceptance, and if our panel is any indication, he will get the honor so many believe he was due in 2012-13, when Miguel Cabrera beat him out both times with more traditional MVP stats. With a career-best 31 homers and 98 RBIs entering Thursday -- and so many plate appearances still in front of him -- Trout fits that traditional formula. It certainly doesn't hurt his cause that his Angels are in line for their first October entry of his career or that Cabrera's physical issues have caused a statistical setback.
What's particularly interesting about Trout's candidacy is that his stolen-base tally has taken a drastic dip, and the defensive metrics aren't quite as kind to him now as they were in '12 and '13. But the power numbers and the legitimate postseason hunt have undoubtedly augmented Trout's case, while guys like Donaldson of the A's and Gordon of the Royals seem to have taken his place as the candidates whose value is a bit more nuanced -- they ranked first and third, respectively, in the Baseball Reference WAR calculation, sandwiched around Trout and getting a big boost from their sensational defense.
Neither Donaldson nor Gordon received a first-place vote in our poll, but two Mariners -- Cano and Hernandez -- did. It will be interesting to see how the voters handles those dual candidacies, because you can make a strong argument for both guys as the primary catalyst for the Seattle's rise to contention. They'll have trouble overtaking Trout, though, in large measure because they're likely to steal votes from each other.
Abreu will also have difficulty, albeit for a different reason. Since the 1995 postseason expansion, the AL MVP has come from a non-playoff team just once (Alex Rodriguez, Rangers, in 2003). So while Abreu's .322 average, .985 OPS, 33 homers and 99 RBIs all compare favorably to Trout, his team's spot in the standings -- the White Sox are in fourth place, 13 games under .500 -- is likely to render his cause moot (and Trout, of course, plays a more demanding defensive position).
There is time for voters to get swept into the late-season story lines. Gordon, who is already getting "MVP! MVP!" chants from the Kansas City faithful, can present a compelling case if he leads the Royals to their first October berth in 29 years.
Right now, though, the AL MVP Award is Trout's to lose.
NATIONAL LEAGUE
Top 10 vote-getters, with first-place vote tally in parentheses
Note: One member of our voting body who covers an AL club didn't feel comfortable voting in the NL poll, hence the first-place tally adding up to 39 instead of 40.
1. Giancarlo Stanton (22)
2. Clayton Kershaw (13)
3. Andrew McCutchen (1)
4. Jonathan Lucroy (3)
5. Justin Upton
6. Yasiel Puig
7. Carlos Gomez
8. Paul Goldschmidt
9. Anthony Rendon
10. Johnny Cueto
Further confirmation that a team's place in the standings has sway in the MVP Award voting exists right here. The Marlins have generally hovered around the .500 mark all year, and they are only considered a contender by the forgiving graces of the second Wild Card spot. Stanton, though, has both the traditional and non-traditional MVP ground covered, holding the NL lead in home runs (36), RBIs (102), walks (90) and OPS (.968). His 6.4 WAR was tied with that of Atlanta's Jason Heyward, whose value calculation is inflated by the emphasis WAR places upon defense.
And yet, if our poll is any indication, Stanton faces a legit challenge, not just from another NL player, but from a pitcher who missed all of April. Kershaw's otherworldly performance on the mound has given him a real shot of becoming the NL's first pitcher to win the MVP Award since Bob Gibson in 1968. Clearly, much of Kershaw's chance of doing so comes down not just to how he finishes the season, but how much stock the voters place in the standings -- the Dodgers are currently in first place in the NL West.
Keep an eye on McCutchen, too. Vying to become the NL's first back-to-back MVP since Albert Pujols in 2008-09, his cause was hurt when he got hurt in early August, going down with a fractured rib a day after the D-backs intentionally plunked him with a pitch. McCutchen's numbers have been solid since his Aug. 19 return, though not quite to the caliber they were at when he left. If he can fight his way through the discomfort and maintain a mid-.900 OPS and play dazzling center field while leading the Pirates back to the postseason, he's as strong a candidate as any in the NL.
A guiding force behind the Brewers' rise in stature this season, Lucroy also has an interesting case to be made. But much of it is dependent upon an embrace of his defensive value behind the plate, because his offensive numbers alone aren't all that distinguishable from those of his teammate, Gomez, and that promotes the possibility of some split votes (though the time Gomez will miss with a wrist injury is an admittedly unfortunate opportunity for Lucroy to separate himself).
If you can divorce yourself from the notion that an MVP must come from a playoff team, then Stanton is, at present, the easy choice in the NL. The NL MVP has come from a non-playoff team five times since 1995, so Stanton is seemingly in decent shape. But it would sure help his cause if the Fish make a sudden surge up the Wild Card standings.
Participating voters:
From MLB.com: Jordan Bastian, Jason Beck, Barry M. Bloom, Rhett Bollinger, Mark Bowman, Ian Browne, Anthony Castrovince, Bill Chastain, Gregor Chisholm, Anthony DiComo, Alyson Footer, Joe Frisaro, Britany Ghiroli, Alden Gonzalez, Ken Gurnick, Paul Hagen, Bryan Hoch, Greg Johns, Richard Justice, Jenifer Langosch, Jane Lee, Brian McTaggart, Scott Merkin, Doug Miller, Tracy Ringolsby, Phil Rogers, John Schlegel, Mark Sheldon, Lyle Spencer, T.R. Sullivan, Todd Zolecki.
Also: Dave Cameron (FanGraphs), Robert Ford (Astros broadcaster), Jay Jaffe (SI.com), Molly Knight, Joe Lemire, Jeff Passan (Yahoo!), Nick Piecoro (The Arizona Republic), Andy McCullough (The Kansas City Star), Matt Yallof (MLB Network).
Anthony Castrovince is a reporter for MLB.com. Read his columns and follow him on Twitter at @Castrovince. This story was not subject to the approval of Major League Baseball or its clubs.