Alvarez day to day with left oblique strain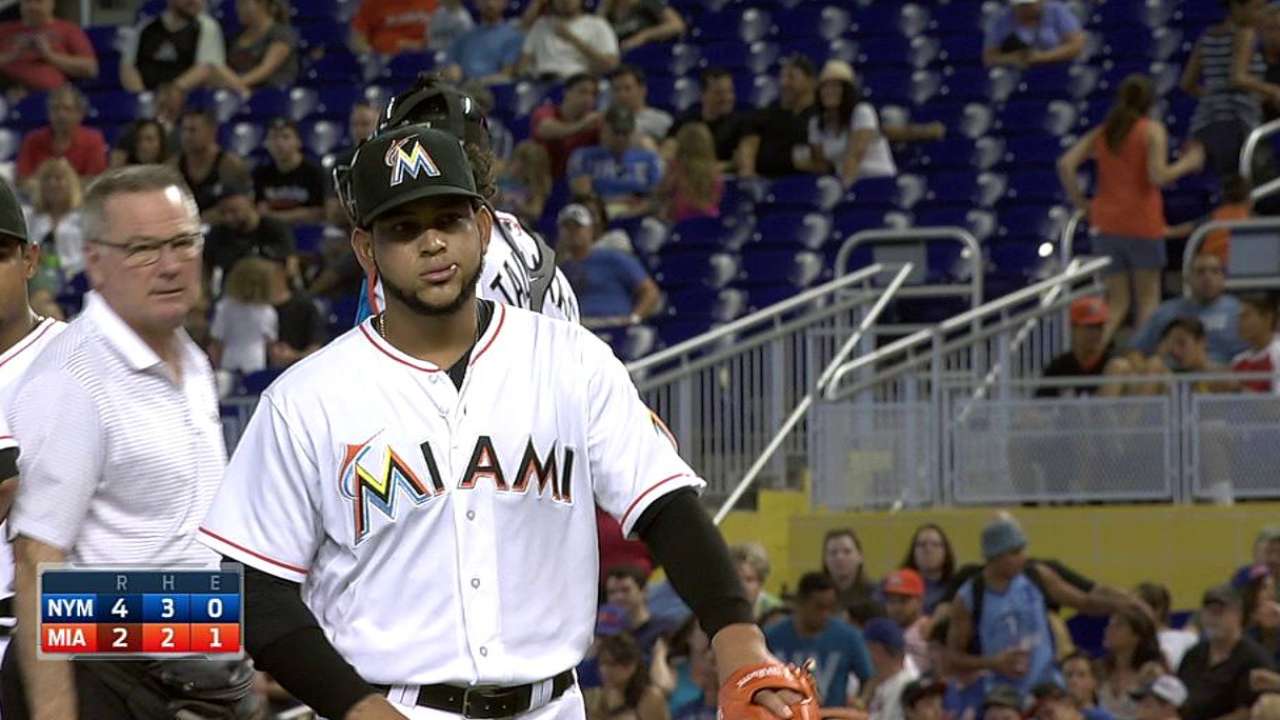 MIAMI -- The Marlins' rotation has taken plenty of hits this season. Just when it seemed like the club was past all the injuries, Henderson Alvarez left Monday's 9-6 win over the Mets in the third inning with a left oblique strain.
Whether Alvarez will be able to return from the injury has not been determined, but the 24-year-old was listed as day to day.
"Those obliques are dicey, for sure," manager Mike Redmond said. "We'll see. That's something we'll evaluate over the next couple days, as far as his availability for his next start."
Alvarez was seen sporting a wrap around his left side before the game, but he breezed through his first two innings. He retired all six batters and needed just 23 pitches to do it.
But after giving up a leadoff homer to Mets rookie Dilson Herrera in the third -- the fifth one he's allowed since returning from a stint on the disabled list with right shoulder inflammation -- Alvarez's day spiraled toward its end.
The next four batters reached base, although Alvarez did get a forceout on Juan Lagares' tapper to short. With the bases loaded, Alvarez was unable to retire David Wright -- who hit a two-run single to center fielder Marcell Ozuna. Another run came in when Ozuna airmailed his throw to third into the Marlins' dugout, which also allowed Wright to reach second.
Redmond and trainer Mike Kozak were quick to come out and check on Alvarez, but he circled the bump as if he was trying to avoid being removed from the game.
Redmond elected to have Brad Hand relieve him anyway. Alvarez threw 40 pitches and was charged with three earned runs on three hits and a walk in 2 1/3 innings.
Pain has nagged Alvarez since his last start against the Angels on Wednesday, when he allowed five earned runs over 6 1/3 innings and felt a tweak in his side.
"I didn't want to miss another outing," Alvarez said. "I wanted to keep pitching the way I know I can. ... I wasn't 100 percent, but I went out to battle."
The injury couldn't happen at a worse time, as the Marlins moved 5 1/2 games back in the Wild Card race after their win and the Brewers' loss to the Cubs. The right-hander has anchored the rotation during an All-Star season in which he's posted a 2.88 ERA, a 10-6 record and 14 quality outings in 26 starts.
Additionally, the Marlins have won 18 of his starts. Alvarez has been their ace in the absence of Jose Fernandez, and losing him for the rest of the season could be costly.
"As much as we need him to pitch, we're not going to let him go out there and jeopardize himself," Redmond said. "Today, he couldn't get it going. So it's going to have to get a lot better for him to pitch."
Maria Torres is an associate reporter for MLB.com. This story was not subject to the approval of Major League Baseball or its clubs.