Jennings, Capps return for Marlins' stretch run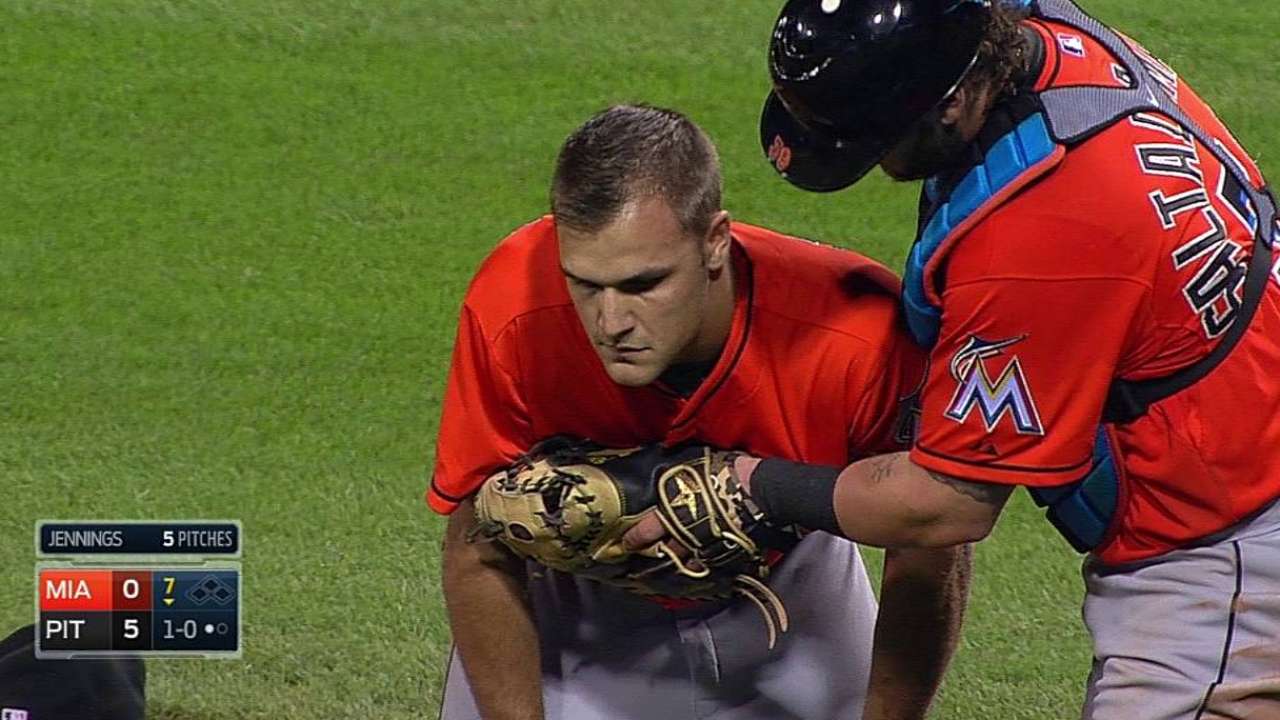 MIAMI -- Injuries early in the season forced the Marlins to change the look of their bullpen on more than one occasion. But as rosters expanded on Monday, Miami was finally able to bring in some reinforcements, as it reinstated Carter Capps (right elbow) and Dan Jennings (concussion) from the 60-day and 15-day disabled lists, respectively.
Jennings hasn't seen action in the Majors since being struck on the head by a line drive off the bat of Jordy Mercer in the seventh inning at Pittsburgh on Aug. 7.
He was placed on the 7-day concussion list the following day, but was playing catch at Marlins Park a week later. At the time, Jennings was still feeling some tenderness on the left side of his head but was confident he'd be completely symptom-free by the time rosters could expand.
"Obviously, my first thought was, 'Year's over,'" Jennings said. "Now, I'm back and able to play again. It's awesome."
The rehab process seemed lengthy for the 27-year-old, who had never been on the disabled list. Jennings progressed quickly, though. Three days after his first outing with the Gulf Coast League Marlins on Aug. 19, he was transferred to the 15-day disabled list and moved over to Class A Advanced Jupiter to continue his rehab.
In four total appearances, Jennings threw seven scoreless innings and gave up three hits and a walk, while striking out nine batters. Pitching in "less tense situations," he said, afforded him the chance to get over the fear of comebackers.
He did have a close call with a ground ball hit to his feet, but it didn't bother him.
"When something like that happens, the team, as well as myself, want to make sure I can get back on the mound and still pitch," Jennings said. "I'm fortunate that I didn't have any lapses or anything like that, that I was able to just get back on [the mound] and pitch -- and it felt natural."
His only lingering fear is the possibility of allowing a pitch to cross the middle of the plate, making the ball hittable like it did in the sequence against Mercer.
"[It's] just fear that it's a bad pitch and they're gonna hit it in general, and that's obviously something you try to avoid," Jennings said.
Meanwhile, Capps has been sidelined with right elbow inflammation since the end of May. He was shut down for two months before he started playing catch in August. His first rehab appearance didn't come until Aug. 25.
The hard-throwing righty pitched 3 1/3 scoreless innings for the GCL Marlins and the Hammerheads. He threw two of those frames in his latest outing on Saturday, during which he recorded two strikeouts.
"It definitely felt like a long time coming, but the training staff just assured me that they thought I could be back around September," Capps said. "Luckily, I didn't have any setbacks. I was pretty grateful for that and just really blessed that I didn't have any more problems than I did. Caught it early. Definitely glad to be back."
Although the path back to the Majors has been a long one, Capps feels more mechanically sound than he felt even during Spring Training. In the months leading up to the initial diagnosis, he was experiencing issues on extension -- especially when throwing his fastball, which, according to FanGraphs, averaged 97.7 miles per hour this year.
The issues became readily apparent in his final outings on May 21 and May 25, when he yielded three earned runs on four hits (one a homer) across two innings. In seven games before that, he'd posted a 0.90 ERA and struck out 14 batters -- something he hopes to get back to as the Marlins push for the playoffs.
"I really wanted to go into the offseason not leaving a bad taste in the Marlins' mouth," Capps said. "They obviously gave me a great opportunity to be up here, and I definitely want to prove that I can pitch up here and pitch healthy."
Maria Torres is an associate reporter for MLB.com. This story was not subject to the approval of Major League Baseball or its clubs.