Stanton clarifies remark, maintains stance on future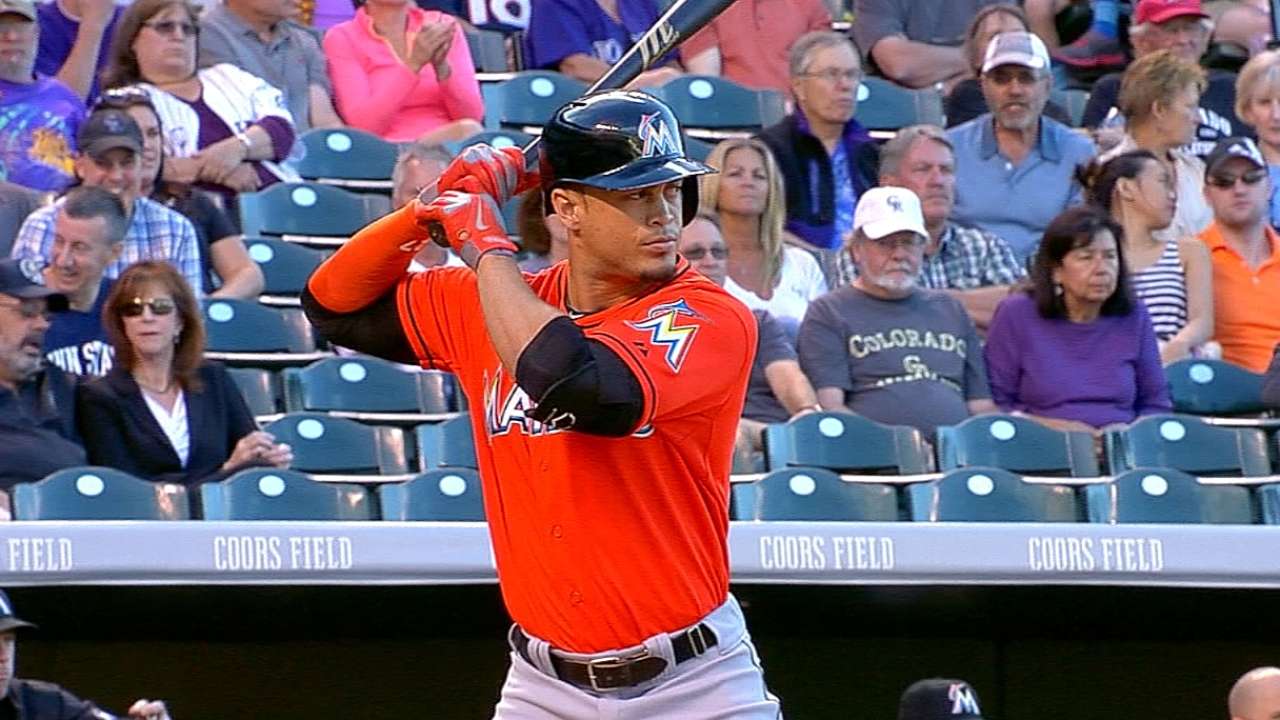 ANAHEIM -- Speculation is coming at a rapid rate, but there is one constant about Giancarlo Stanton's stance when it comes to questions about his future. The Marlins slugger is dealing in the here and now. Anything else must wait.
The two-time All-Star isn't leaning one way or the other about if he is interested in a multi-year deal with the Marlins.
Stanton has been very consistent on this point, making it clear before Spring Training that he was taking a wait-and-see approach.
On Monday, more speculation surfaced when Stanton was quoted in a story by Tim Brown of Yahoo Sports as saying: "Five months doesn't change five years."
That comment has been taken as Stanton wants out of Miami.
Stanton clarified what he meant to Marlins beat reporters on Wednesday.He said he was summing up his mindset from when he was first called up in 2010 to now. There have been tough times, including three straight last-place finishes, plus a 100-loss season in 2013.
Stanton says that doesn't mean he is unhappy in Miami or that he doesn't believe the organization can't become an attractive place to play.
"That does not mean there's more bad to come," Stanton said. "That does not mean there's more good to come."
Stanton is being careful with his words because he doesn't want to come across as saying he wants to stay long term or leave. That topic is for another day.
The slugger, who paces the National League in homers (33) and RBIs (97), will further evaluate his situation in the offseason. The Marlins are expected to present Stanton's agent, Joel Wolfe, with a multi-year offer.
If no extension is finalized, Stanton will be arbitration-eligible through 2016. The Marlins have no interest in trading the NL MVP candidate, even if a multi-year contract isn't reached.
Assessing the Marlins as of now, the team is on the fringe of NL Wild Card contention and has bonded together nicely.
"We're here," Stanton said. "Were in a good spot. This is where we are now. There is no, 'Am I staying forever, am I leaving forever?' There is no answer to that."
Joe Frisaro is a reporter for MLB.com. He writes a blog, called The Fish Pond. Follow him on Twitter Share This