Red-hot Ozuna cleans up; McGehee down to fifth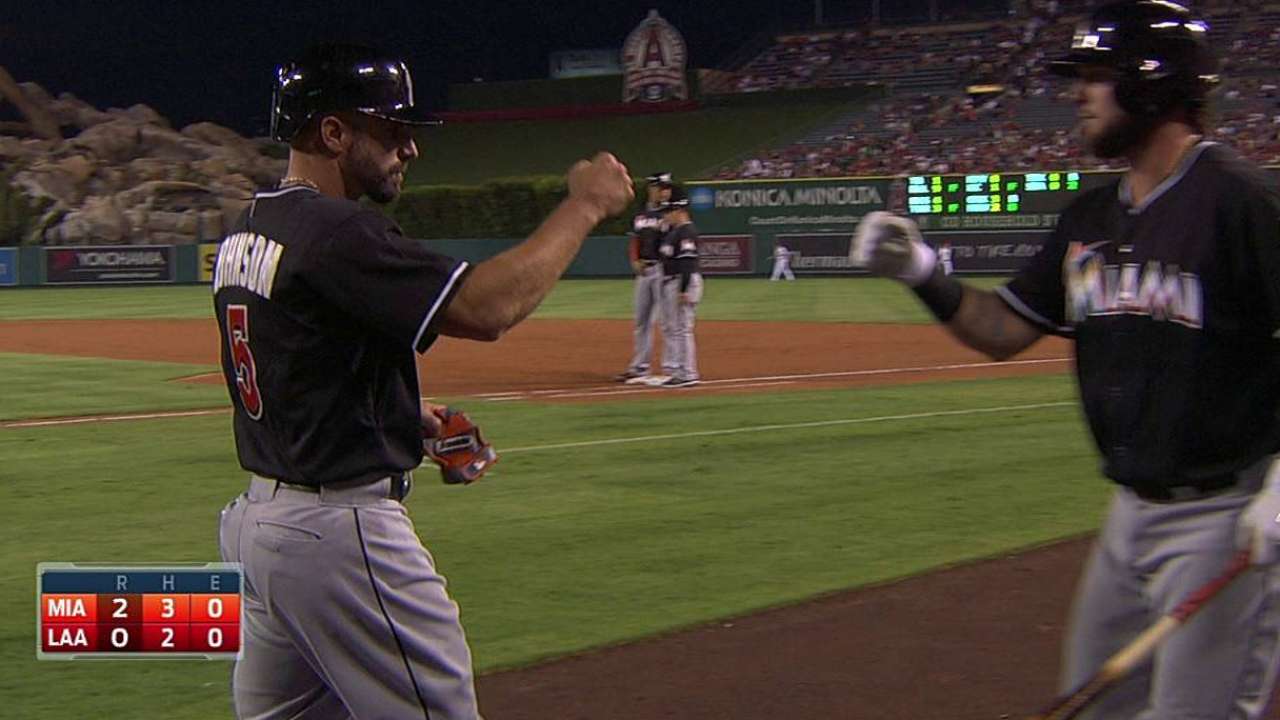 ANAHEIM -- There is no disputing the impact Casey McGehee has made on the Marlins' lineup. The veteran has offered a professional approach, driving in huge runs all season and providing protection in the cleanup spot behind Giancarlo Stanton.
But since the All-Star break, McGehee had driven in just eight runs entering Monday, including two in August.
With McGehee hitting .247 in August, manager Mike Redmond opted to make a change with his No. 4 hitter. Marcell Ozuna entered on a nine-game tear, batting .405 with three homers, four doubles and 11 RBIs. So in the series opener on Monday at Anaheim Stadium, Ozuna was moved to the cleanup spot for the first time all season. McGehee, who hit fourth in 114 games, was dropped to fifth.
Ozuna drove in a run with a sacrifice fly and McGehee plated a run with a single in Miami's 7-1 series-opening victory.
"You always think about that, are you giving the guy [Ozuna] too much?" Redmond said before the game. "But at the end of the day, the numbers are the numbers. He's hitting and he's driving in runs. Hopefully he continues that. We've got nothing to lose. We're trying to win ballgames and score runs."
After dropping two of three at Colorado, the Marlins' playoff hopes took a hit. There is a sense of urgency to get more production.
Ozuna entered Monday second to Stanton on the team in homers (19) and RBIs (70).
"When he's going good, you want him up to the plate with the most guys on base," Redmond said. "He's been hitting. He's been driving in runs and getting big hits. It seems like a perfect time to get our hottest hitter hitting behind 'G.'
"We've had a tough time driving in those runs. We need to drive runs in to win those ballgames."
Ozuna, 23, has been used up and down Miami's lineup. Before Monday, the only spots he didn't hit was leadoff and cleanup. But in the Minor Leagues, he had experience cleaning up. As a rookie last year, he appeared in 41 games in the No. 4 spot. He batted .255 with no homers and 13 RBIs.
Having Stanton hitting third and Ozuna fourth could be a preview of next season's middle of the order.
McGehee, who has one more season left in arbitration, is expected to return to Miami next year.
The 31-year-old has enjoyed a strong season, batting .295 with 62 RBIs.
"Guys go through spurts or funks, and he's probably in a little bit of that right now," Redmond said. "But at the end of the day, the guy has done a great job for us. He's had a ton of big hits for us."
Joe Frisaro is a reporter for MLB.com. He writes a blog, called The Fish Pond. Follow him on Twitter Share This