Stanton, Trout offer praise before first meeting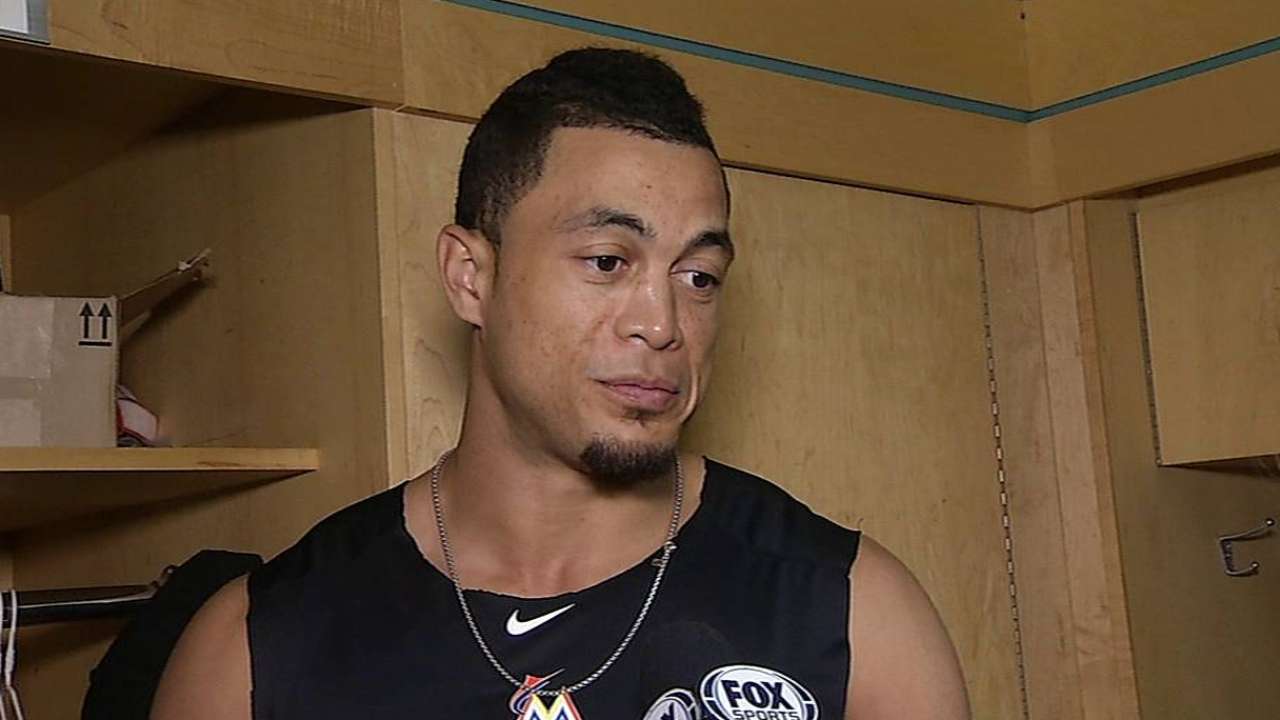 ANAHEIM -- More than an Interleague series is taking place at Angel Stadium this week. The three-game set that began on Monday very well might be matching two players that will go on to win their respective league's Most Valuable Player Awards.
For the first time in the regular season, Giancarlo Stanton of the Marlins and Mike Trout of the Angels were on the same field. The only other occasion they were together was at the All-Star Game at Target Field in Minnesota.
Trout and Stanton are two of the young faces of Major League Baseball.
"I think it's great for baseball," Marlins manager Mike Redmond said. "You've got two dynamic young players playing on the same field. I know I'm excited to watch and be part of it. Hopefully our guy puts on great show."
Stanton, 24, is enjoying his finest season -- batting .299 while pacing the National League in home runs (32) and RBIs (94).
Trout, 23, is hitting .289 with 29 homers and 91 RBIs. He's widely regarded as the best all-around player in the sport.
Stanton praises Trout's vast talents.
"It's the future of the game with him," Stanton said. "He can do stuff on the baseball field not too many people can. And if they can, they can only do one aspect of it. And he can do all of it."
Stanton is regarded as the most powerful slugger in the game. But the man with the home run measured the longest this season by ESPN's Home Run Tracker is Trout.
On June 27, Trout belted a drive measured at 489 feet. Stanton is second at 484 feet, a home run he hit at Marlins Park on April 4.
Stanton's average distance per homer, according to Home Run Tracker, is 417.1 feet. Technically, that is second to Mike Morse of the Giants, who averages 417.4 feet for his 16 homers.
Trout's average is 413.5 feet.
While Trout has the longest homer of the season, Stanton has three drives in the top eight. On Aug. 11, the Marlins right fielder had a home run measured at 470 feet (sixth farthest), and earlier in the season, he had another at 469 feet (eighth).
Stanton has 10 "no-doubt" homers, to Trout's seven.
When discussing Stanton, Trout paraphrased David Price, who has noted that the 6-foot-6, 250-pound Stanton is like a player created in a video game.
Stanton laughs at the analogy.
"I remember I'd create players back in the day," Stanton said. "That would be football, though. They'd be 100 on all cylinders, on all attributes."
Being a real-life video game figure doesn't bother Stanton a bit.
"Hey, why not?" he said.
Joe Frisaro is a reporter for MLB.com. He writes a blog, called The Fish Pond. Follow him on Twitter Share This