Ozuna emerges as clutch hitter for Marlins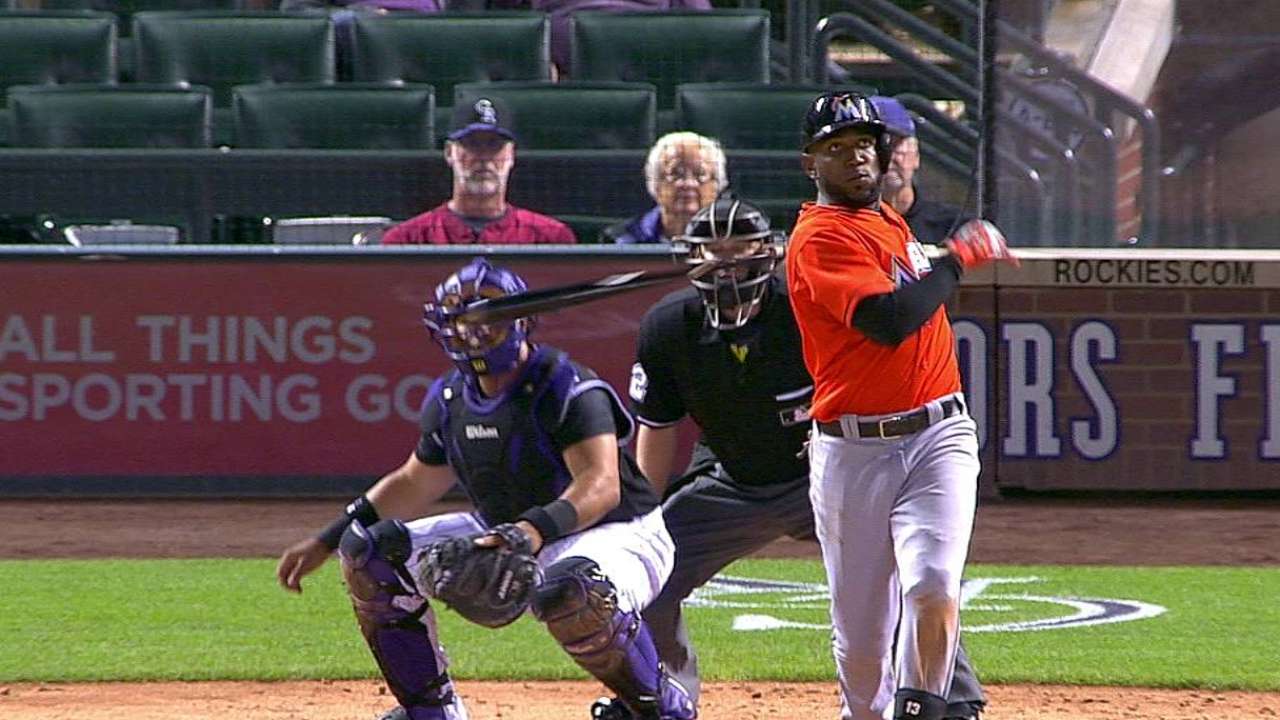 DENVER -- On Friday, Rockies manager Walt Weiss' opening comments on the Marlins' offense went about as far as saying Giancarlo Stanton belonged in the circus.
Nine innings later, Marcell Ozuna made sure Weiss included him in that high-flying act by finishing 3-for-5 with five RBIs and two runs scored.
Four of those RBIs came on one swing when Ozuna swatted his second grand slam of the season in the ninth. That swing also pushed him to the upper echelon of clutch, as Ozuna entered Saturday with a Major League-leading 12 home runs and 34 RBIs from the seventh inning on.
"He seems to rise to the occasion and get the late hit," manager Mike Redmond said. "I always feel confident when he's at the plate. He's one of those guys that can get the big hit anytime."
Stanton has also excelled in similar situations, with 11 homers and 31 RBIs in the seventh inning or later, good for the second most in the National League behind Ozuna. But when you lump their numbers together, it makes for a mighty fright for opposing pitchers.
Outside of Nelson Cruz and Adam Jones in Baltimore, the Marlins are the only team in the Majors that has two outfielders with 70 or more RBIs in Stanton and Ozuna. Both Marlins sluggers also rank in the Top 5 in the National League in that category.
Furthermore, their combined home run total of 51 entering Saturday was 10 more than the next highest outfield duo in the NL.
And while Stanton may rank first in hype, Redmond knows Ozuna, as well as fellow outfielder Christian Yelich, are just a short ways away from receiving some much-deserved appreciation.
"I think we've always been under the radar in Miami, but I know that when we play these teams, they're aware of our outfield and how well they can hit," Redmond said. "Throughout the course of time, these guys will the get recognition."
Cody Ulm is an associate reporter for MLB.com. This story was not subject to the approval of Major League Baseball or its clubs.