Furcal's season over after just nine games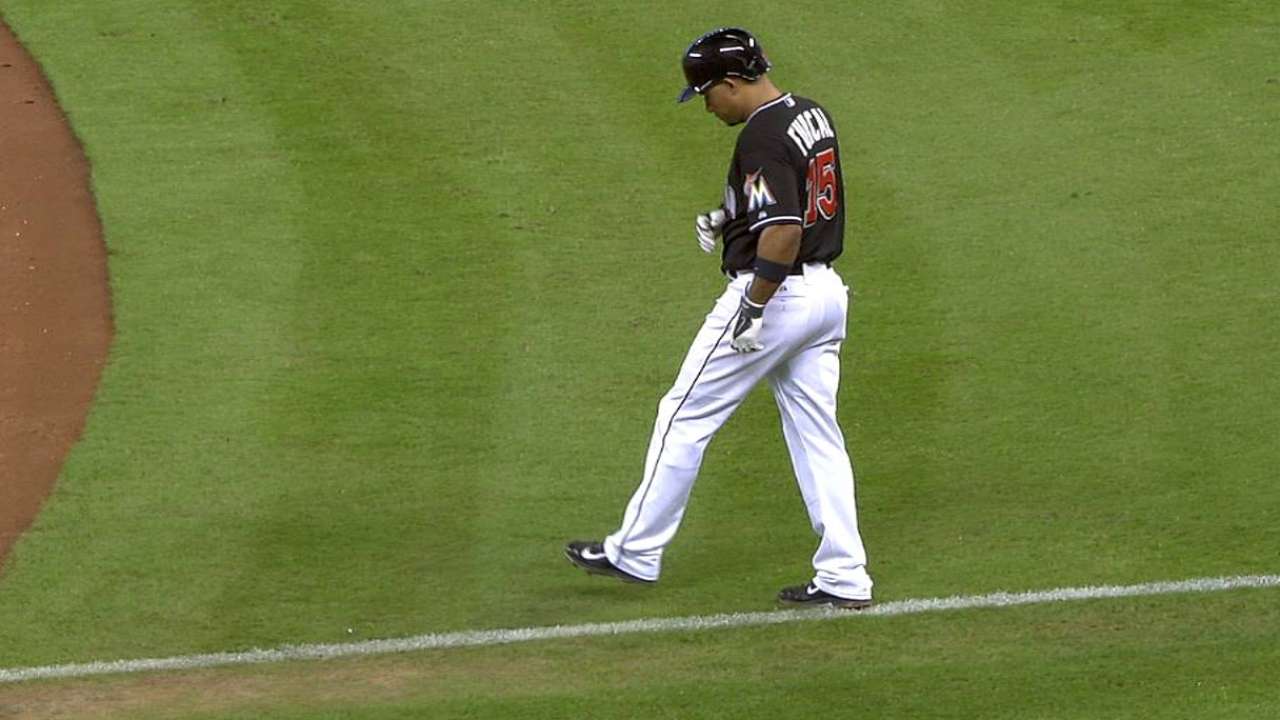 MIAMI -- Nine games at the Major League level is all Rafael Furcal is going to get this year. The infielder, who signed with the Marlins this past winter to play second base, will undergo surgery on Wednesday in Miami to remove scar tissue from the left hamstring that's plagued him all year.
Furcal will spend six to eight weeks recovering from the procedure, knocking him out of play until the end of October.
Although he hasn't played regularly since 2012, the former All-Star shortstop isn't ready to give up baseball. The 36-year-old infielder wants to participate in the Winter League in his native Dominican Republic.
"I'm just embarrassed because I signed with this team so eagerly," said Furcal, who was supposed to solidify second base for Miami and provide veteran leadership at the top of the order. "I live here, it's a young team and who wouldn't want to be part of it when we're doing so well right now? I know that if I had gotten to play and stay healthy, I could have at least done my share."
It's been a while since Furcal has spent significant time in the Major Leagues. He was looking forward to returning to action with the Marlins this season after missing all of 2013 while recovering from Tommy John surgery.
But in Spring Training, his left hamstring began to bother him. The discomfort was enough to land him on the 15-day disabled list to start the season. When he was ready to come back from that, he was sidelined with a groin strain throughout May.
He didn't make his 2014 debut with Miami until June 13 -- and once he did, he was only up for nine games before the hamstring started nagging him again. He sustained a Grade 3 strain trying to beat out a double-play grounder in a loss to the Mets on June 21.
The Marlins initially put him on the 15-day DL, then transferred him to the 60-day DL on July 19. At that point, he had been optimistic he could suit up again in August. But as the weeks passed, news didn't get any better.
"I didn't want to have surgery," Furcal said. "I tried all I could, but there's only so much you can do when you can't run out on the field and play [without discomfort]. I can't deal with it anymore. I can't even walk without it bothering me."
But the veteran still showed up to games at Marlins Park and was a consistent presence in a clubhouse whose average age is 27.9 (eighth youngest in the Majors, according to ESPN). Even though he didn't get to make a big impact on the team's place in the standings, Furcal's influence was felt elsewhere, especially on his younger Latin teammates like Marcell Ozuna and Adeiny Hechavarria.
"It doesn't matter that he hasn't been playing. He's been great to have around," said Hechavarria, a shortstop who's gleaned a lot from watching videos of his defense with Furcal. "Sometimes he'll show me what I did wrong to cause errors and why I did it, go through every step with me. He's helped me get better."
Joe Frisaro is a reporter for MLB.com. He writes a blog, called The Fish Pond. Follow him on Twitter Share This