Walks to Stanton not altering Redmond's strategy
Thursday latest example of bunting runner, leaving first open for free pass to slugger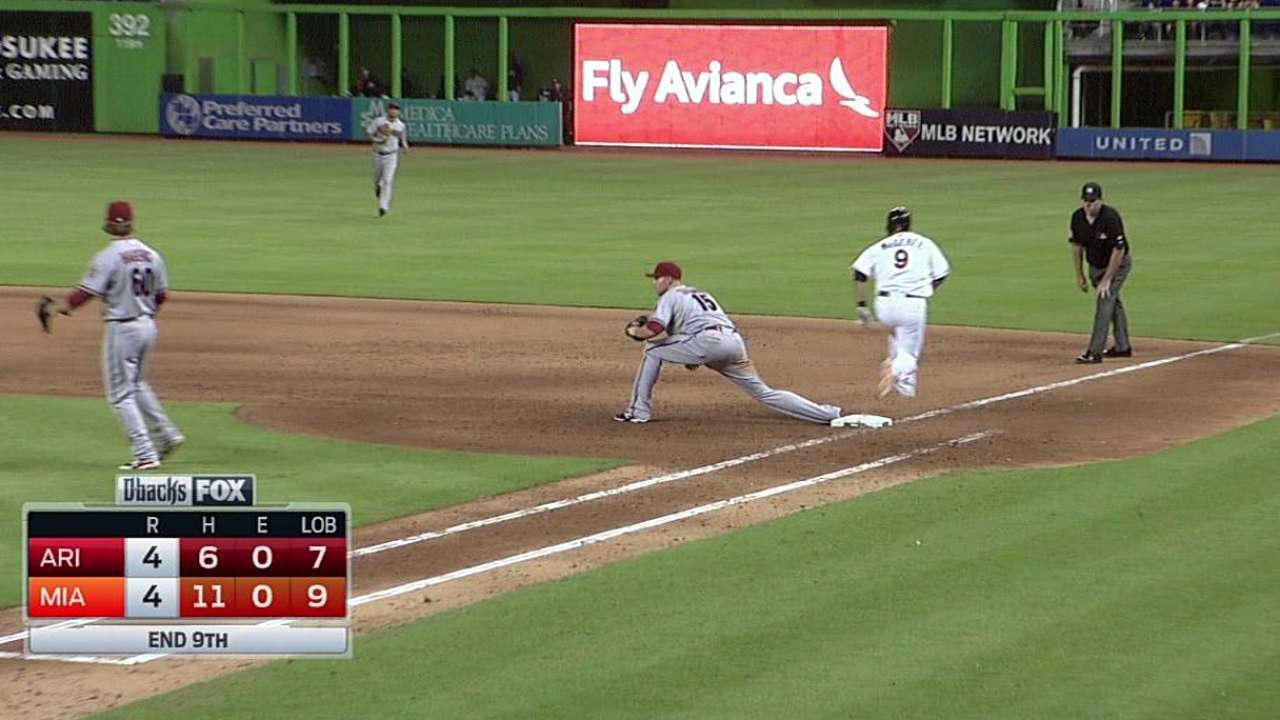 MIAMI -- Intentional walks have been so common for Giancarlo Stanton that Marlins manager Mike Redmond occasionally will sacrifice bunt ahead of the slugger no matter the situation in the late innings.
It came up in the ninth inning on Thursday in the Marlins' 5-4 win over the D-backs in 10 innings.
Christian Yelich singled to open the inning, and Donovan Solano bunted him over to second, setting up the expected. With the potential winning run at second and Stanton at the plate with a base open, the intentional walk was issued.
Arizona's strategy worked because Casey McGehee tapped into an inning-ending double play.
Miami did celebrate its 10th walk-off win an inning later on Marcell Ozuna's double.
The question remains, how will manager Mike Redmond handle similar situations where he knowingly is taking the bat out of Stanton's hands.
"We've done it quite a bit, and it's worked," Redmond said. "We go by situation."
Stanton's 20 intentional walks are by far the most in baseball. Ruben Tejada, who often bats eighth for the Mets, is next with 11, followed by Arizona's Paul Goldschmidt (10).
Only four times in club history has a Marlins player been intentionally walked as many as 20 times. Miguel Cabrera holds the franchise record with 27 in 2006. In '07, Cabrera had 23. Carlos Delgado reached 20 in 2005.
Some teams have moved the line and taken their chances with McGehee, who has been productive, batting .339 with runners in scoring position, which is fourth highest in the National League.
"You leave it up to them, whether they want to pitch to Stanton or not," Redmond said. "Sometimes they've pitched to him. McGehee has done a great job driving in runs."
If Solano swings away, there is always a chance he will tap into a double play, and teams would still pitch Stanton carefully whether the bases were empty or not in a tie game.
"If [Solano] swings away and the runner moves up, they're going to walk Stanton anyway," Redmond said. "If he singles there, and it's first and third, they're going to walk him anyway. That's going to happen. There are a lot of scenarios where they're going to walk him.
"In that situation, for me, getting that runner to second base is important, knowing they're going to walk him in almost every scenario anyway. But that's a feel thing, too."
Joe Frisaro is a reporter for MLB.com. He writes a blog, called The Fish Pond. Follow him on Twitter Share This