Reflective Jennings eyes September return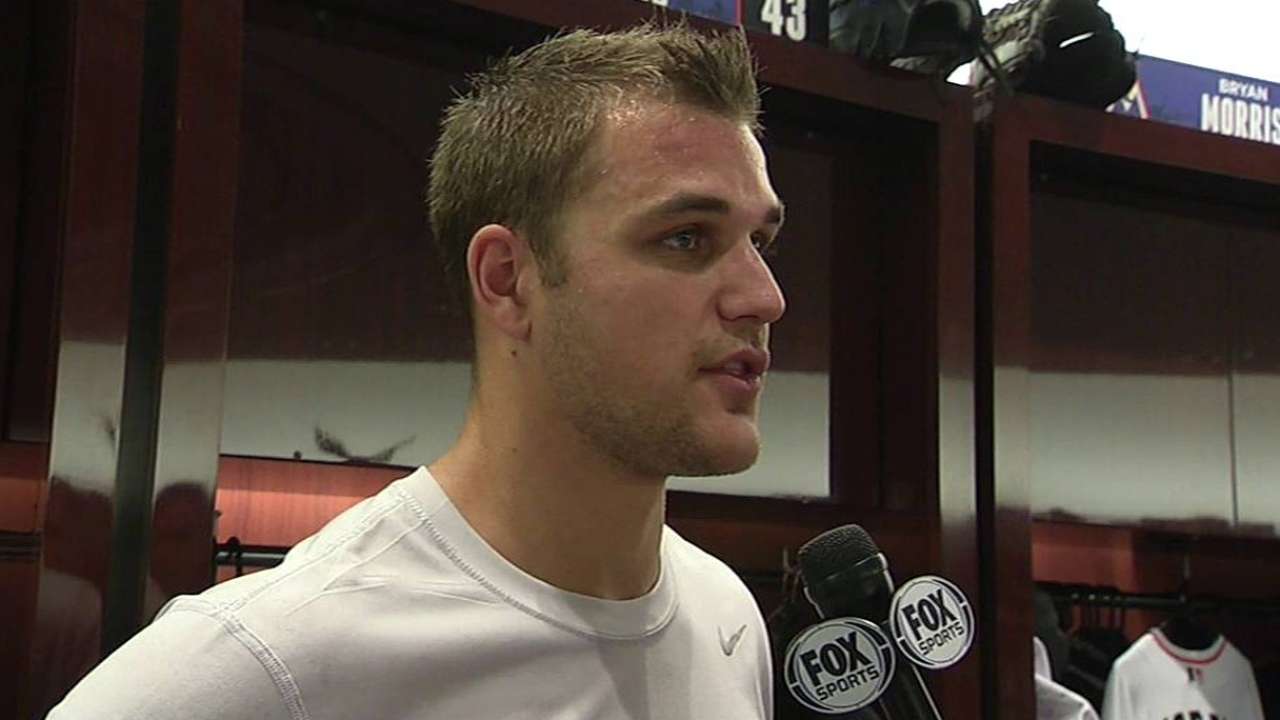 MIAMI -- A week after being struck on the side of the head by a line drive, Dan Jennings was playing catch Thursday at Marlins Park and anticipating a return to game action by September.
The injury that took place at PNC Park in Pittsburgh on Aug. 7 left Jennings with a concussion and increased perspective on what is truly important in life.
"When I was in the hospital, I really started questioning what I'm doing here," the 27-year-old lefty said. "When you go through something like that, which is life-altering potentially, I've got a wife and a daughter. Is it worth it to sit here and play baseball to risk my life?"
Quickly, Jennings put those thoughts to rest.
"I started telling myself, 'This is what I do,'" he said. "I do it because it's what I love to do, and I'm good at it. For me to stop playing because something may or may not happen, I just don't think that's worth it in the long run. I've been really strong in my faith. I put my life in God's hands. Whatever he has for me, I'm going to deal with it."
Jennings sustained the injury in the seventh inning when he was hit by Jordy Mercer's hot liner.
PNC Park came to a standstill as the dazed reliever was tended to and eventually carted off the field. The lefty never lost consciousness, and he said that while on the cart, he recalled seeing the scoreboard, and it read two outs.
Jennings was unaware the ball deflected high up in the air and was caught by shortstop Adeiny Hechavarria behind second base.
"This situation is a good wakeup call, for a lot of things," Jennings said. "Not to take things for granted. There are so many things in this game, and this life you just try not to take for granted."
A day after the injury, Jennings was placed on MLB's seven-day concussion disabled list. Symptom-free, he still has some tenderness on the left side of his head, but he has been cleared to play catch.
Barring any setbacks, he should be back on the mound this weekend, and facing hitters next week at the team's complex in Jupiter, Fla.
"I would think as a pitcher you'd want to get back on that mound as soon as possible to get used to it," manager Mike Redmond.
Jennings is eager to pitch in a game and erase any doubts that he can get back into the routine of playing. He doesn't want to go into the offseason unsure how he would react to facing hitters.
When he does return, Jennings doesn't plan on wearing protective headgear, because he said: "I don't think I'm going to because I don't think they're close enough with it yet, to get it to the point where it's usable."
The lefty did admit he may initially flinch after throwing a pitch, especially one that is hittable.
"I haven't had any flashbacks or nightmares or anything," Jennings said. "But just to have a ball come back at me in catch, it's a little frightening. I wouldn't be surprised when I get back on the mound, and if I throw a bad pitch, I put my glove up on guard, to get over that."
Joe Frisaro is a reporter for MLB.com. He writes a blog, called The Fish Pond. Follow him on Twitter Share This