MLB.com Columnist
Jonathan Mayo
Hooper, Allard lead top performers at Area Code Games
Pitching dominates top 10 list from ACG; features high school stars, Draft prospects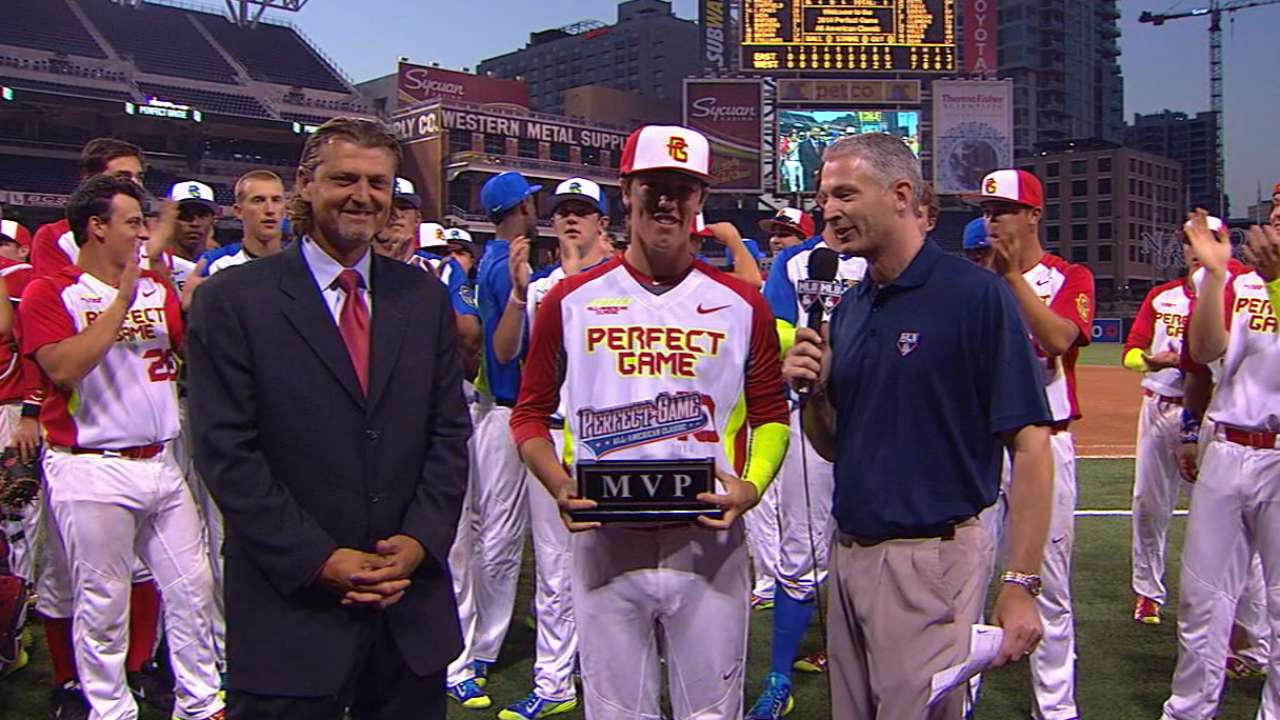 The amateur summer showcase circuit is winding down, with the Under Armour All-American Game and USA Baseball 18 and Under team trials still on the docket. The most recent events were the Area Code Games, followed closely by the Perfect Game All-American Classic.
The Area Code Games are similar to the East Coast Professional Showcase in that it gives scouts the chance to watch much of the top high school talent in the Draft class of 2015 play in games over several days. The one-game showcases certainly have value, but these longer looks are very important, especially against top-notch competition.
Just like with the East Coast Showcase, MLB.com polled several scouts in attendance to put together a list of the top 10 performers from the Area Code Games. Obviously, making a top 10 list in August doesn't guarantee stock on Draft day next June, but it certainly doesn't hurt. While the East Coast list was more hitting-heavy, it appears the arms were equally impressive in Long Beach, Calif., last week.
1. Justin Hooper, LHP, De La Salle HS, Concord, Calif.: Hooper kicked off the event on the first day with fantastic stuff. He touched the mid-90s during his three-inning stretch (he threw the hardest single pitch, at 95.9 mph of the event, according to Trackman and was in the low 90s throughout his outing (his 93 mph average was also tops). The 6-foot-7 lefty also threw an outstanding curve while showing glimpses of an effective slider and a changeup.
2. Kolby Allard, LHP, San Clemente HS, Calif.: Though he tired out a bit in his third inning, Allard was nonetheless impressive. His fastball sat in the low 90s as well, and he showed a very effective hard curveball throughout his outing.
3. Mike Nikorak, RHP, Stroudsburg HS, Pa.: Also impressive at East Coast, Nikorak is making it clear that scouts will be heading to eastern Pennsylvania in the spring. He's been pitching in the low 90s all summer and showed solid secondary stuff at Area Codes as well.
4. Demi Orimoloye, OF, St. Matthew HS, Orleans, Ontario: An absolute beast at 6-foot-4, 225 pounds, Orimoloye showed an increasingly impressive ability to put his tools to use on the field. He homered and made hard contact throughout, hitting two of the top 10 hardest-hit balls, according to Trackman.
5. Chris Betts, C, Wilson HS, Long Beach, Calif.: Aside from finishing as the runner-up in the first Area Code Home Run Derby, Betts continued to show why he's one of the best all-around catching prospects in the 2015 class. Playing in his own neighborhood, Betts swung the bat well and showed good defensive skills, seemingly leaving little question about his ability to stay behind the plate.
6. Nick Plummer, OF, Brother Rice HS, Bloomfield Hills, Mich.: It was another event and another big performance from the Detroit-area outfielder. After raising his stock at East Coast, Plummer stayed on the rise out West. Plummer led off the first game of the Area Codes with a home run. He also showed an advanced approach at the plate and excellent speed. Scouts aren't the only ones who have noticed. He was a late addition to the Under Armour All-American Game at Wrigley Field this coming weekend.
7. Ashe Russell, RHP, Cathedral HS, Indianapolis, Ind.: Russell was the top arm at East Coast, and the big right-hander didn't disappoint in his outing at Area Codes, either. Russell was up to 94 mph with a very good breaking ball, and he commanded both pitches very well during his three innings of work.
8. Beau Burrows, RHP, Weatherford HS, Texas: A hard-throwing right-hander from Texas? Hard to believe, right? Burrows sat at around 92 mph. He combined it with a nasty breaking ball as he struck out six in three innings.
9. Garrett Whitley, OF, Niskayuna HS, N.Y.: Whitley put himself on the map at East Coast, then kept it up at Area Codes. He has a very intriguing power-speed combination and made hard contact consistently. According to Trackman's results, Whitley had the second-hardest-hit ball of the event, based on exit speed.
10. Nick Madrigal, SS, Elk Grove HS, Calif.: The kind of middle infielder who grows on you the more you see him play, Madrigal impressed on both sides of the ball. He showed outstanding range, important when considering how frequently shortstops at this level aren't able to stay up the middle. He also made consistent contact and showed plus speed. He gets even higher marks for his energy and makekup.
11. Luken Baker, RHP, Oak Ridge HS, Conroe, Texas: A bonus pick, as Baker showed some outstanding two-way skills. He homered off of Allard on the first day, then came in to pitch three outstanding innings in relief, using an effective three-pitch mix to put up zeroes.
Jonathan Mayo is a reporter for MLBPipeline.com and writes a blog, B3. Follow @JonathanMayoB3 on Twitter. This story was not subject to the approval of Major League Baseball or its clubs.