Marlins lobby for Hechavarria to win Gold Glove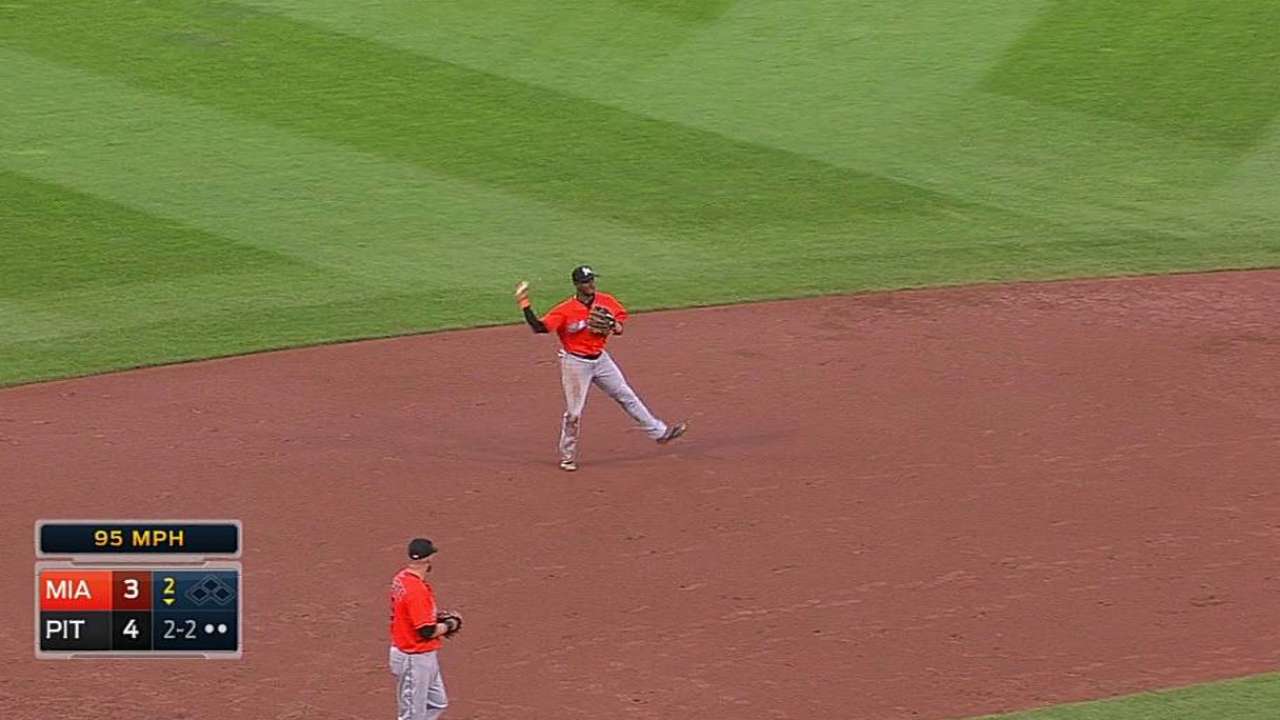 PITTSBURGH -- To the Marlins, it's a matter of when and not if Adeiny Hechavarria will win a Gold Glove Award.
The smooth-fielding shortstop has made several outstanding plays at PNC Park the past couple of games.
In Miami's 7-3 loss to the Pirates on Wednesday, Hechavarria sparkled going to his backhand side and throwing out the speedy Gregory Polanco at first base. He also made a nice play to throw out Jeff Locke.
"For us, he's a Gold Glover," Marlins manager Mike Redmond said. "We get to see him play every day. His day will come. He's that good. He just continues to do what he's able to do this year. Through that consistency, he eventually will get a Gold Glove."
Hechavarria did commit an error in the seventh inning as well, his 11th miscue of the season. Entering Thursday, his fielding percentage was .973, ninth among National League shortstops.
The 25-year-old has made tremendous strides at the plate. He was batting .278 after struggling through a .227 average in 2013.
As much as Hechavarria is appreciated by the Marlins, his skills still aren't getting noticed by the analytical community. FanGraphs has his WAR (Wins Above Replacement) at 0.3, which also accounts for his offense.
According to Baseball Reference, the Miami shortstop's defensive WAR is 0.0, as average as you can get. By comparison, Atlanta's Andrelton Simmons's defensive WAR is 2.1.
Two National League scouts, who asked not to be identified, each hold Hechavarria in high regard.
Asked his impression of Hechavarria's defense, one scout said: "Awesome. Gold Glove-caliber."
A second scout said he ranks Hechavarria at 65-70 on an 80 scale. A 65 is regarded as an All-Star contender, and 70 is second-tier franchise player.
Miami right-hander Tom Koehler says Hechavarria seems to make a spectacular play every night.
"If people still aren't valuing how good he is back there, they need to do themselves a favor and watch some highlights and recaps of the games or something," Koehler said. "I don't see too many guys doing it better."
Joe Frisaro is a reporter for MLB.com. He writes a blog, called The Fish Pond. Follow him on Twitter Share This