MLB.com Columnist
Jonathan Mayo
Ten 2014 Draft picks who have been quick to click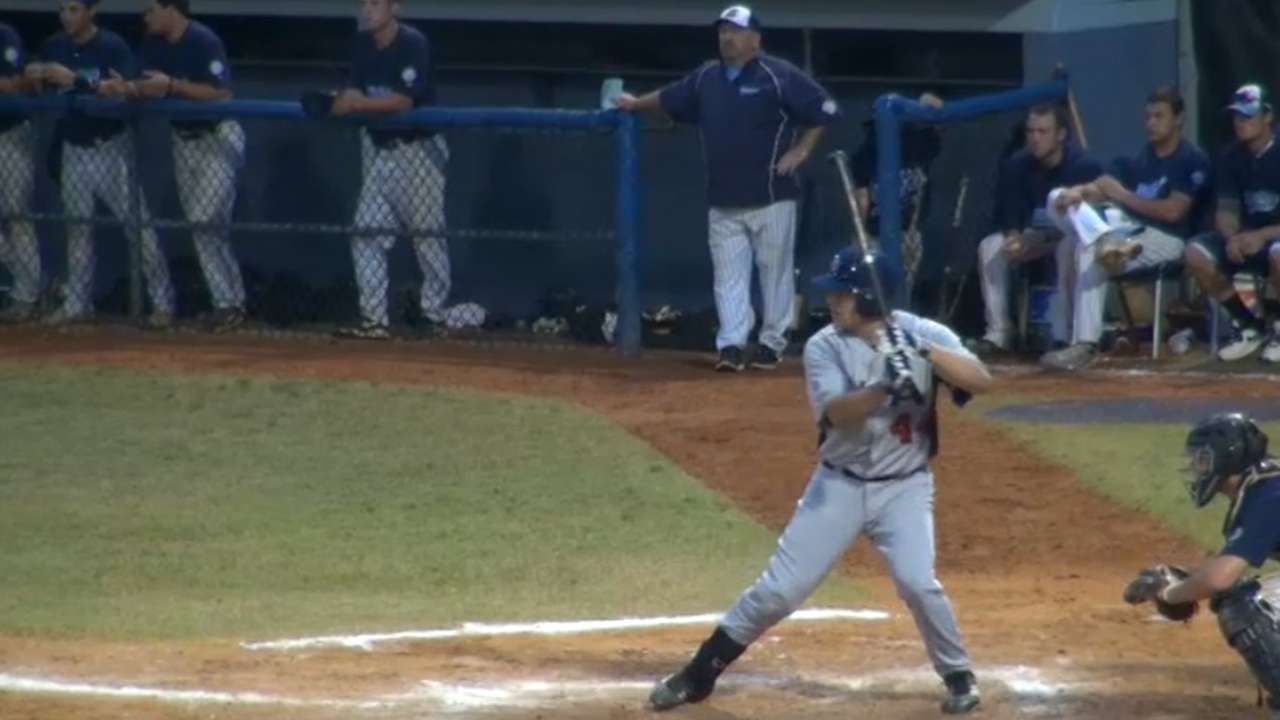 One of the best things about having a mid-July signing deadline for draftees, as opposed to August -- or as it was not so long ago, the following spring -- is that nearly every player who signs gets out and starts his professional career.
Some have been playing since late June, when the short-season leagues began. There are hitters pushing 200 at-bats and pitchers approaching 50 innings. This not only gives players a great head start into their first full seasons, but also gives teams a first chance to see what their new acquisitions can do in a professional setting.
A strong summer debut certainly isn't a guarantee of long-term success, but it certainly doesn't hurt in terms of confidence and the potential for a draftee to jump on a faster track up an organizational ladder. It also provides an opportunity to check and see how they are faring, with more than just a handful of games to look at.
Yes, in the big picture it is still a small sample size. But tell that to Cubs prospect Kris Bryant, who hit .336/.390/.688 in his summer debut and kept that going in the Arizona Fall League, which allowed him to start his first full season all the way up in Double-A. Bryant is now raking in Triple-A, knocking on the proverbial door.
Whether any of the members of the 2014 Draft class can follow that timetable remains to be seen, but here's a look at five hitters and five pitchers who have gotten off to outstanding starts in the Minor Leagues. Players are listed in alphabetical order.
Hitters
Bobby Bradley, 1B, Indians: Cleveland took Bradley and his raw power in the third round and gave him $372,900 above pick value. If Bradley's debut in the Rookie-level Arizona League is any indication, it will be money well spent. Through his first 27 games, Bradley has hit .367/.441/.615 with five homers and 35 RBIs, giving him a robust 1.056 OPS.
Derek Fisher, OF, Astros: Some thought this University of Virginia product might land in the first round proper, but he ended up going No. 37 overall. Signing after UVa's College World Series run, Houston's No. 14 prospect has hit well in the short-season New York-Penn League. The power hasn't come yet, but in 92 at-bats, Fisher has hit .359/.449/.424 with 13 steals.
A.J. Reed, 1B, Astros: The top two-way player in the college game in 2014, Houston took this Kentucky product (and Golden Spikes Award winner) in the second round for his bat. Reed responded by hitting .306/.420/.516 with five homers and 30 RBIs in 34 New York-Penn League games, earning a promotion to the Midwest League, where the Astros' No. 15 prospect has homered four times in 34 at-bats.
Kyle Schwarber, C/OF, Cubs: Any talk about successful debuts from this class should start with the No. 4 overall pick. This Indiana product signed quickly and has already played at three levels, reaching the Class A Advanced Florida State League. The Cubs' No. 8 prospect has hit a combined .341/.436/.593 with 10 homers and 36 RBIs, and he already has more than 200 plate appearances under his belt.
Trea Turner, SS, Padres: A rough start to his junior season at North Carolina State may have hurt him a bit, but Turner did turn it on late and went No. 13 overall to San Diego. Ranked No. 5 on the Padres' Top 20, Turner started in the short-season Northwest League and has absolutely raked since his promotion to full-season ball. Turner has hit .446/.500/.641 in 22 games there, and his 17 combined stolen bases puts the speedster No. 5 on the organizational list in that category.
Pitchers
Kyle Freeland, LHP, Rockies: Now No. 4 on Colorado's Top 20 Prospects list, the No. 8 pick out of Evansville has made a smooth transition. Freeland just made his full-season debut, tossing five shutout innings and striking out six while pitching in Asheville's bandbox of a ballpark. Freeland has a combined 1.21 ERA in 22 1/3 innings, allowing just 18 hits while walking only two and striking out 21.
Jacob Lindgren, LHP, Yankees: Jim Callis predicted that Lindgren would be the first 2014 draftee to reach the big leagues, and it's looking like he might be right. The lefty reliever has already reached Double-A and struck out the side in his debut at that level. The Yanks' No. 9 prospect has struck out 33 in 14 1/3 innings for a 20.7 strikeouts-per-nine ratio while walking just four and holding hitters to a .130 batting average.
Aaron Nola, RHP, Phillies: The former Louisiana State ace was thought to be the most advanced starting pitcher in the Draft, and after going straight to the Florida State League, Nola has lived up to that billing. After giving up four earned runs in 2 1/3 innings in his pro debut, Nola gave up just seven more over 29 innings (2.17 ERA), earning a bump up to Double-A. The No. 7 overall pick and Phils' No. 2 prospect made his Double-A debut on Wednesday.
Luis Ortiz, RHP, Rangers: The No. 30 pick in the Draft is getting his feet wet slowly, which is not uncommon for high school pitchers right out of the Draft. The Northern California product, who is now No. 11 on Texas' Top 20, started strong in the Rookie-level Arizona League, not allowing a run over his first five outings. Ortiz has struck out 15 and walked just three in 13 1/3 innings.
Jake Reed, RHP, Twins: This Oregon product, a reliever, should move quickly and has already gone from the Appalachian League to the Midwest League. The fifth-rounder has allowed just one earned run in 19 combined innings, allowing only seven hits, walking just two and striking out 25.
Jonathan Mayo is a reporter for MLBPipeline.com and writes a blog, B3. Follow @JonathanMayoB3 on Twitter. This story was not subject to the approval of Major League Baseball or its clubs.