Marlins' rotation facing test as innings mount
Redmond expects young starters to encounter 'mental hurdles' down stretch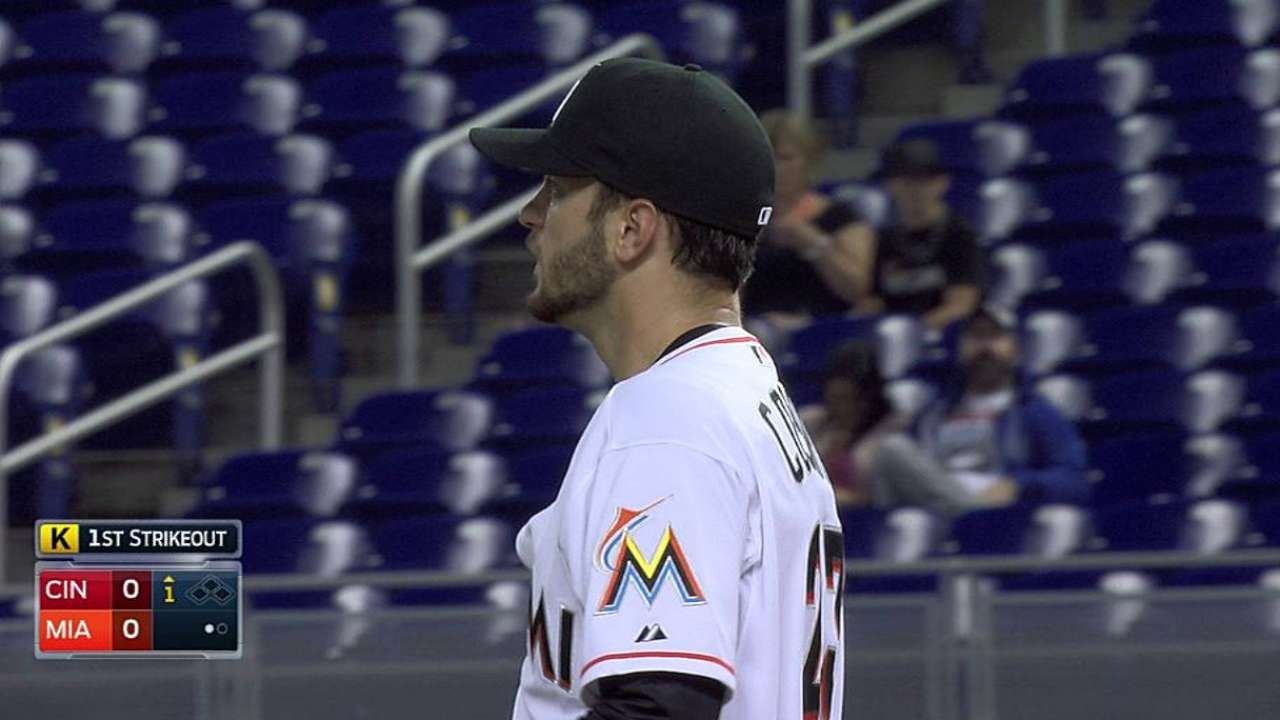 MIAMI -- It's no surprise that, once Jose Fernandez went down with Tommy John surgery, Henderson Alvarez took up the role as the Marlins' ace.
He showed glimmers of greatness throughout his first season with Miami, which culminated in the 99-pitch no-hitter he threw against the Tigers to end the year. Alvarez wasn't as sharp when 2014 rolled in, but he put together four quality starts, including two shutouts, within his first nine outings.
As soon as Fernandez was scheduled for surgery, though, the 24-year-old right-hander climbed the mound like he had something to prove. Although he allowed 10 runs (nine earned) in two outings after Fernandez's last start on May 9, Alvarez went on to post a 1.73 ERA in his next 13 starts from May 22 to July 29. That ERA is more three runs better than what fellow starters Tom Koehler (4.78) and Nathan Eovaldi (4.81) put up in their most recent 13 starts.
The rest of Miami's rotation has been in a state of flux, featuring seven starters in the fourth and fifth spots for a total of 11 starters used by the Marlins this season.
But now that Alvarez will be on the disabled list until at least mid-August with right shoulder inflammation -- with the playoffs on the line, no less -- the Fish are running out of time to have that much instability in the back end of the rotation.
What further complicates the Marlins' postseason hopes is the increasing number of innings pitched by a rotation whose average age is 24. Out of Koehler, Eovaldi and the newly acquired Jarred Cosart, the 28-year-old Koehler is the only one who's thrown more than 160 innings (between the Minors and Majors) in a single season in his professional career.
The most Eovaldi's ever thrown is a combined 154 1/3 innings in 2012, and he's already at 143 this year. Cosart, meanwhile, is in the middle of his first full Major League season and is at 121 2/3 innings. He pitched a combined 153 last year.
"I think the plan should be to get as many innings out of them as you can," catcher Jeff Mathis said. "I think they've been doing a really good job of getting deeper in the games, and that helps everybody out."
The closer the young starters get to the benchmark of 200 innings, the more manager Mike Redmond and pitching coach Chuck Hernandez will have to monitor them. They've already built in some extra days of rest, including scheduled off days. But at this point, Redmond wants his starters to get as close to 200 innings as possible because it will help them set a standard for themselves in 2015.
"Chuck and I monitor these guys and hopefully they're young enough and strong enough they can plow through [the rest of the season]," Redmond said. "There will be some mental hurdles for guys because they haven't pitched those innings. It's tough -- 170, 180 innings [up here] is a lot different than 170 innings in the Minor Leagues."
Throwing that many innings isn't much of a stretch, Koehler said. It's one of the challenges pitchers prepare for in the offseason and then build on with trainers in-season. Even though tiredness will always factor in, "You gotta find a new 100 percent."
"I think [I've found mine]," Koehler said. "But there might be a day where I gotta trick myself into thinking I'm 100 percent when I feel terrible."
And while there is concern for injury; it's mostly just a matter of conditioning to the point where throwing 200 innings isn't even a doubt anymore.
"That's what the best pitchers do, is throw 200-plus innings a year and keep your team in the ballgame," said Cosart, who was supposed to be shut down at 190 innings with Houston this year. "So that's what I'm trying to bring to the table."
Should the Marlins run into issues with their young arms, there are still options in the system to look at. Anthony DeSclafani and Andrew Heaney have struggled at the Major League level, but 36-year-old Brad Penny, who has been at Triple-A New Orleans for a month, is another potential backup the Marlins can rely on.
Penny, a former Marlins pitcher who was on the 2003 World Series team and has a career 4.26 ERA across 13 Major League seasons, is 1-2 with a 2.91 ERA in four starts for the Zephyrs. He took the loss in his last outing on Wednesday, but he allowed just two runs on five hits in six innings. He was scheduled to pitch on Monday against the Nashville Sounds.
"Some guys might really benefit from the extra innings and others might get tired," Redmond said. "We feel like we have a pretty good feel for when we have to back these guys off. Hopefully it doesn't happen. It's to be determined."
Maria Torres is an associate reporter for MLB.com. This story was not subject to the approval of Major League Baseball or its clubs.