Marlins 'turn the page' after controversial call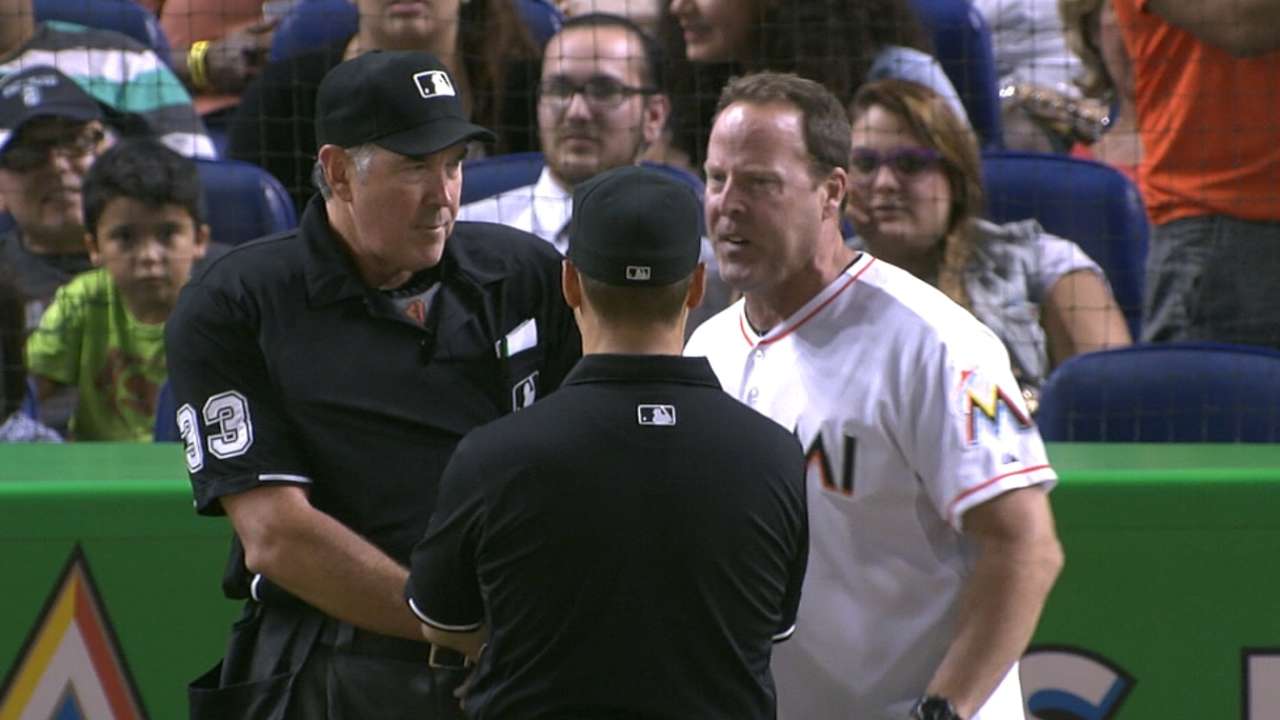 MIAMI -- In the face of adversity, the Marlins repeatedly have shown resilience and character.
They've been tested again as they aim to put Thursday night's controversial 3-1 loss to the Reds behind them.
"The beauty of baseball is you turn the page and you move on," manager Mike Redmond said. "Sometimes that page is heavier than others to turn."
Thursday night's setback was especially tough because Miami felt it had worked out of a bases-loaded, no-out jam in the eighth inning. But momentum changed after a six-minute, 10-second review overturned a plate at the plate.
"We've got to move on," Redmond said. "It's over. There is nothing we can do. We can't get that game back. We can sit here and not feel sorry for ourselves. It doesn't do us any good."
On Friday, MLB issued a statement regarding Rule 7.13, which involves blocking the lane to home plate. Upon review in that decisive eighth inning, catcher Jeff Mathis was ruled to be in violation of Rule 7/13.
"The Replay Official judged that the catcher did not provide a lane to the runner and hindered his path to the plate without possession of the ball," the statement read. "The throw also did not force the catcher into the runner's pathway. As a result, in accordance with Rule 7.13, the ruling on the field was overturned and the run was allowed to score.
"We realize that people may reasonably have different opinions regarding the application of Rule 7.13 in any particular instance because it is a judgment call. We are continuously evaluating the application of the new rule, and we anticipate a full review with all appropriate parties in the offseason in order to determine whether any changes should be made. We also recognize that the exorbitant length of last night's review, which was more than three times the season average, must be avoided in the future.
"That said, the most important goal of this rule has been to eliminate dangerous collisions at home plate, and it cannot be disputed that the rule has been very effective toward achieving this purpose."
Marlins outfielder Reed Johnson, 37, is a 12-year veteran who raised the question whether runners are manipulating the rule when they know they're clearly out.
"Teams are taking the road of, well, you've got a better shot when you're halfway down the third-base line, you start pointing and saying, 'I don't have a lane! I don't have a lane!' Johnson said. "If that's what it's coming to, it's kind of sad. I mean, what's next?"
Joe Frisaro is a reporter for MLB.com. He writes a blog, called The Fish Pond. Follow him on Twitter Share This