Home-plate umpire takes brunt of ricochet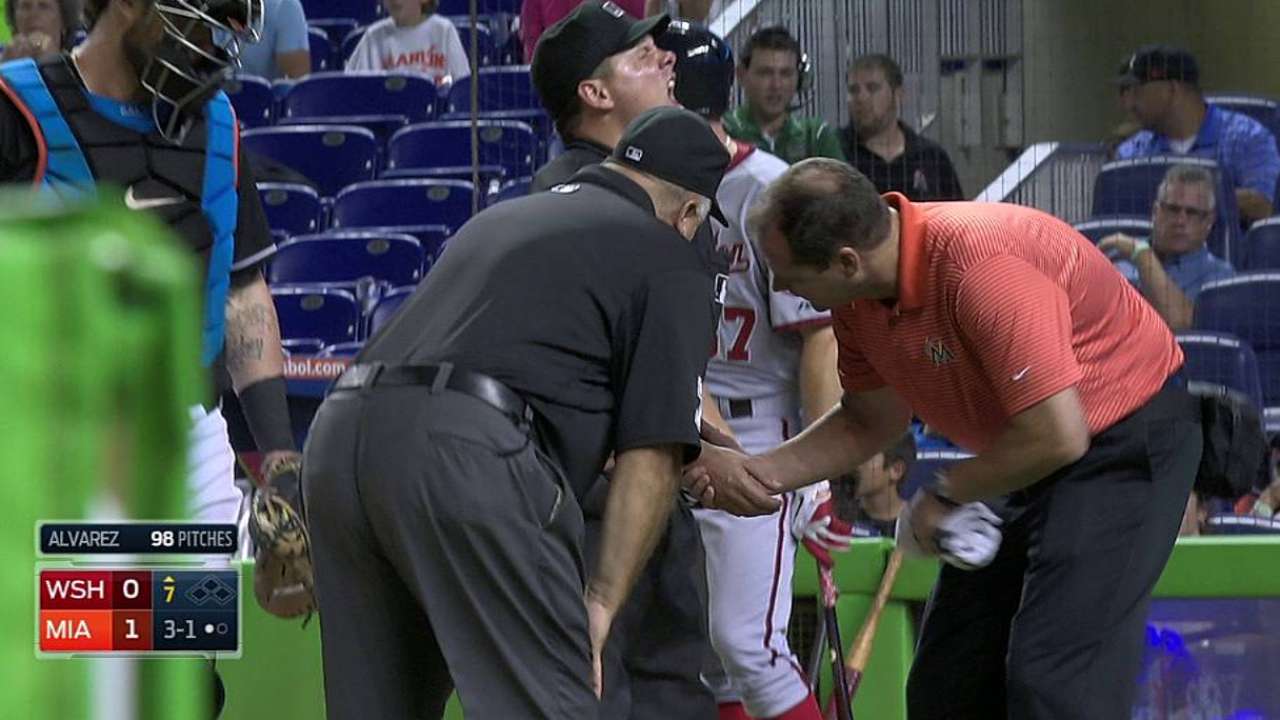 MIAMI -- After a night like Tuesday, home-plate umpire D.J. Reyburn might need a break -- and an ice bath.
Reyburn took a couple of hard hits in the Marlins' 3-0 win over the Nationals at Marlins Park.
The first blow came in the seventh inning when a pitch from Miami starter Henderson Alvarez skimmed past Washington's Nate McLouth and ricocheted off Reyburn's forearm. There was some confusion about who'd taken the brunt of the impact when McLouth trotted down to first, but it was Reyburn who came out of his crouch shaking out his right hand and grimacing in pain.
Marlins trainers tended to him during an injury delay that lasted four minutes and 53 seconds. They wrapped a bandage around Reyburn's quickly bruising right wrist, and he stayed in the game.
But two innings later, Reyburn took another hit in the ninth inning, this time a foul ball that bounced off the plate and into the inside of his right leg. He hobbled away from the plate, shaking out his foot, but he only needed a few moments to get back behind the plate.
"He reminded me of myself back in the day getting smoked on foul tips," manager Mike Redmond said. "That was rough. That's one of those nights where you just sit back and pull out a Bud Light and enjoy it."
Joe Frisaro is a reporter for MLB.com. He writes a blog, called The Fish Pond. Follow him on Twitter Share This