MLB.com Columnist
Bernie Pleskoff
Pleskoff: Realmuto has glove to be big league catcher
Marlins' No. 8 prospect solid defensively with a big arm; can handle pitching staff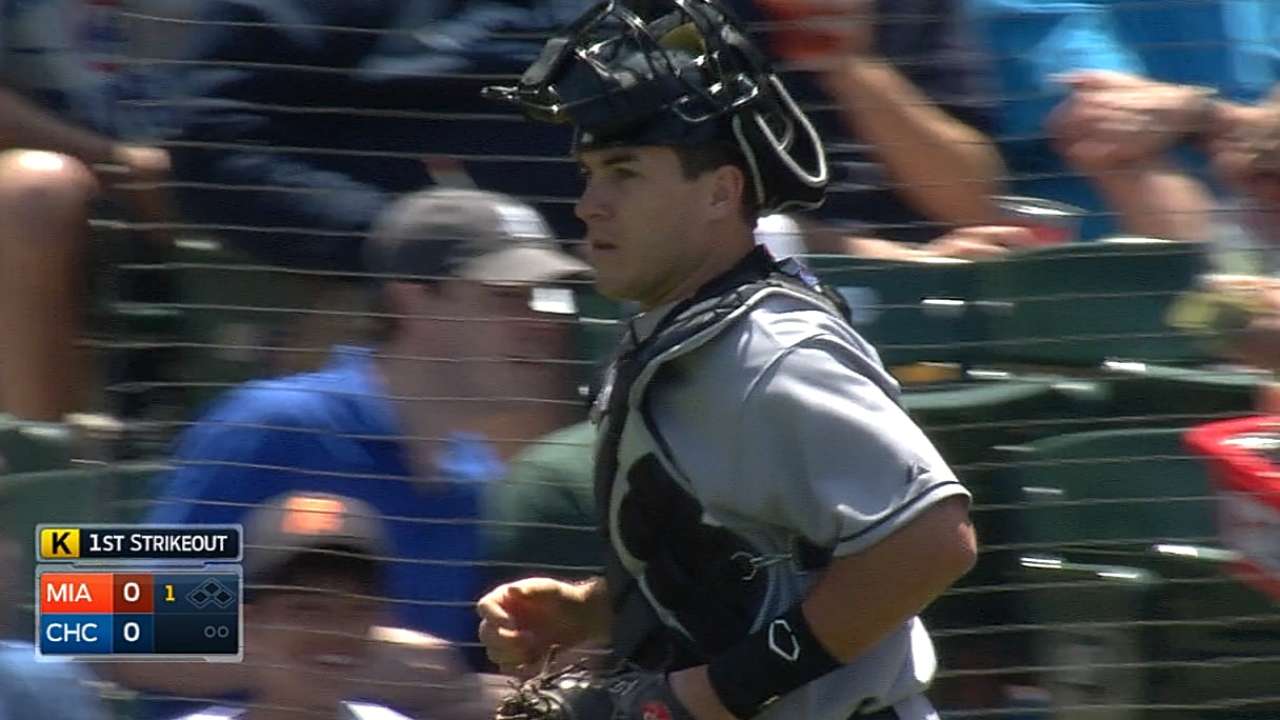 Miami Marlins prospect J.T. Realmuto opened plenty of eyes during his athletic career at Carl Albert High School in Midwest City, Okla.
Realmuto, a catcher, was a star high school quarterback, played basketball and was a superb shortstop on the Titans' baseball team. In his senior year, Realmuto hit .595 with 28 home runs, 119 RBIs and 22 doubles among his 88 hits. There were a couple of times that Realmuto started games as the team's catcher. It was his good fortune that Marlins vice president of scouting Stan Meek was in attendance during one of Realmuto's games behind the plate. Meek lived only a short distance from the high school and followed a report from one of his scouts regarding Realmuto.
The rest is history. Realmuto decided to pursue baseball as opposed to football, and he abandoned his plans to play baseball in college when the Marlins selected him in the second round of the 2010 First-Year Player Draft.
Realmuto is 6-foot-1, 215 pounds and is a right-handed hitter. He is No. 8 on the Marlins' Top 20 Prospect list.
After having played at a different classification in the Marlins organization every year, Realmuto already has had Major League experience. He was promoted to the big league club and made his debut with the Marlins on June 5. Realmuto appeared in seven games, going to the plate 21 times. Before being returned to Double-A Jacksonville, he hit .200 with four hits and five RBIs. Realmuto got a taste of Major League life.
Realmuto was named to the Double-A Southern League All Star team, but he was on the Major League roster at the time of the June game.
Realmuto (given name Jacob Tyler) has outstanding arm strength and good speed for a catcher. Those two tools, along with his increasing development as a catcher with the promise of potentially being able to hit well, has helped his steady climb through the Marlins organization. Realmuto has projectable power that will aid his overall offensive game.
When I saw Realmuto play, he had a bit of a long swing and didn't have the best overall hitting mechanics. There was a bit of extraneous movement in his setup to his swing. Realmuto doesn't look very natural or comfortable at the plate. However, the results aren't bad, as he has an overall .264 batting average in parts of five Minor League seasons. Realmuto has hit 31 home runs, with his highest year being 2011 when he hit 12 at Class A Greensboro. His line-drive swing is conducive to hitting the ball up the middle. Realmuto is a better hitter against left-handed pitching.
Surprisingly, at this point, Realmuto defense has eclipsed his offense in the Marlins' system. With great overall athletic ability, he seems like a natural as a catcher. Realmuto is a good shepherd to his pitchers, knowing their abilities and calling a good game. His game management belies his experience and 23 years of age.
I am impressed with Realmuto's footwork and mechanics behind the plate. It is his quick pop time and exchange of the ball from his glove to his hand that aids his much better than average arm strength and accuracy on throws to second base. Provided his pitchers get the ball from the mound to the plate in sufficient time, I believe runners should proceed with caution when Realmuto is catching. He will nail would-be basestealers. In his Minor League career, Realmuto has thrown out 40 percent of runners trying to steal. That's outstanding.
Given his ability to catch and throw as well as handle a pitching staff, Realmuto has a chance to continue his career as a starting catcher on a club with enough offense to offset his current deficiencies at the plate. I still believe he will improve as a hitter. Realmuto will have to recognize pitches more quickly, lay off sliders and pitches out of the strike zone and use his quick hands through the ball consistently. That takes time and repetition. The Marlins will likely remain patient with his development and provide another Major League opportunity when his bat progresses.
Bernie Pleskoff has served as a professional scout for the Houston Astros and Seattle Mariners. Follow @BerniePleskoff on Twitter. This story was not subject to the approval of Major League Baseball or its clubs.