McGehee not letting Final Vote faze him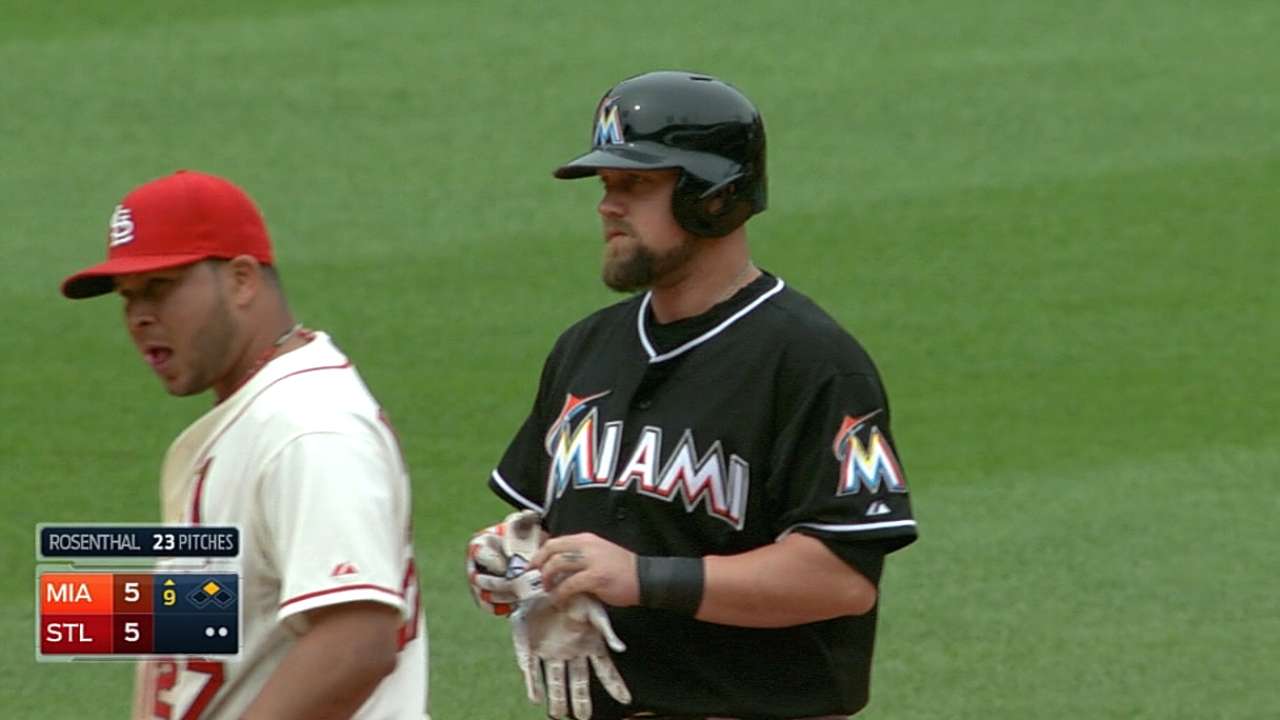 PHOENIX -- Casey McGehee may be two days from being named an All Star for the first time and is in the midst of a career-best hitting streak, but he's not trying to let those things faze him.
"I'm kind of at peace with the fact that this whole All-Star thing -- that it is what it is," he said. "It's going to play out the way it's going to play out, and that's OK. But I'm not going to let that change how I approach [the game]."
McGehee was in fifth place in the first tally of Final Vote results. The voting runs through Thursday afternoon.
McGehee is hitting as well as he has all season. He has a hit in 14 straight games and has gotten on base in 31 consecutive contests. In the first of three games against the D-backs at Chase Field, he went 2-for-4 and scored the Marlins' lone run. He extended his lead in the National League hits column to three over Mets second baseman Daniel Murphy.
"It's something I feel good about, but at the same time, I would trade all that for some wins here," McGehee said.
The veteran third baseman attributed his success this season to staying consistent with his preparation before the game and keeping his approach the same.
"I just feel like I've been doing a good job with sticking with my approach," McGehee said. "I feel like I've been doing a good job of swinging at good pitches for the most part, and trying to make sure I do the same thing every day as far as preparation."
On Monday, McGehee said that his lack of power numbers this season might be one of the detractions from his All-Star campaign, but that wasn't something he let affect him at the plate.
I think there's times where maybe the home runs do creep into your mind, but I think I've done a pretty good job of putting that aside and just trying to stick to my approach and my game plan," McGehee said.
"Maybe there's times here or there that maybe I could have taken a shot, but I truly believe if I went up there and tried to do that, we wouldn't be having these conversations right now."
The final phase of All-Star Game voting will again allow fans to help choose the Ted Williams All-Star Game Most Valuable Player Award presented by Chevrolet. During the Midsummer Classic, fans will vote exclusively online at MLB.com and via Twitter in the 2014 All-Star Game MLB.com MVP Vote Sponsored by Pepsi, and their collective voice will represent 20 percent of the overall vote that determines the recipient of the Arch Ward Trophy.
MLB.TV Premium subscribers, for the first time, will be able to live stream the All-Star Game via MLB.TV through FOX's participating video providers. Access will be available across more than 400 platforms that support MLB.TV, including the award-winning MLB.com At Bat app. MLB.com will provide extensive online coverage of the All-Star Week festivities.
The 85th All-Star Game will be televised nationally by FOX, in Canada by Rogers Sportsnet and RDS, and worldwide by partners in more than 200 countries via MLB International's independent feed. ESPN Radio and ESPN Radio Deportes will provide national radio coverage of the All-Star Game. MLB Network and SiriusXM will also provide comprehensive All-Star Week coverage. For more information, please visit allstargame.com.
Adam Lichtenstein is an associate reporter for MLB.com. This story was not subject to the approval of Major League Baseball or its clubs.