Stanton confirms Home Run Derby plans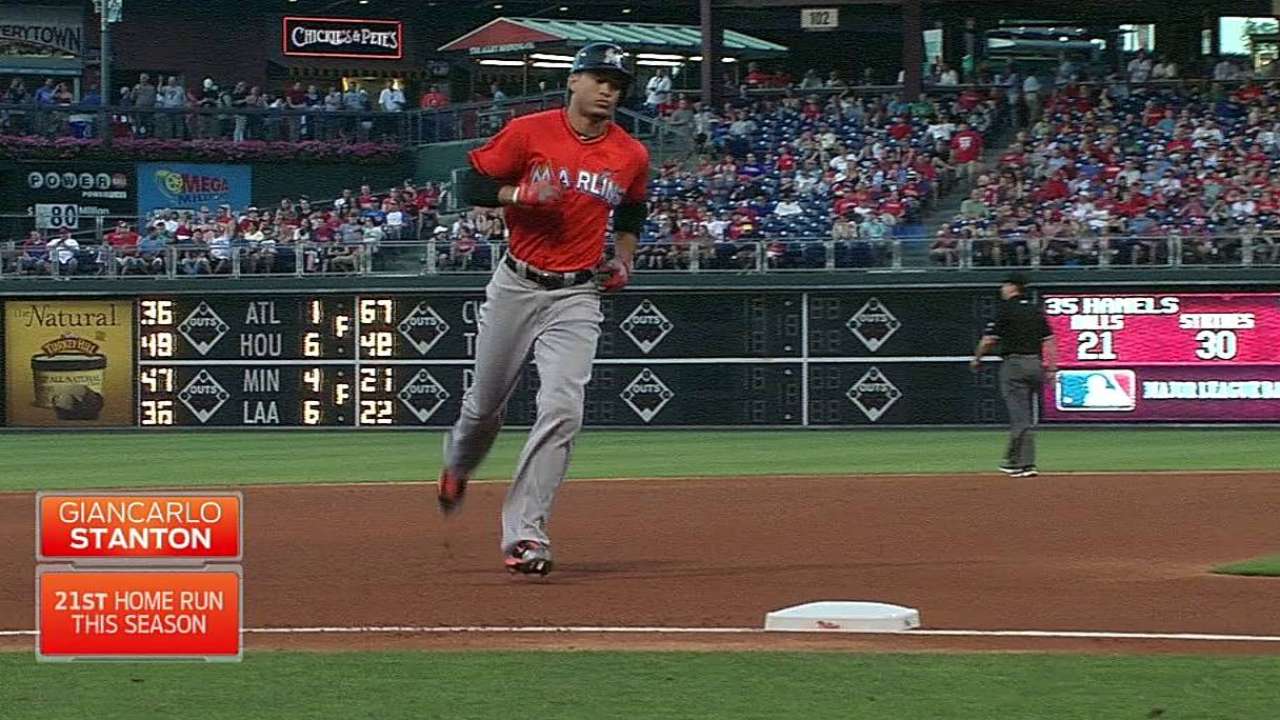 MIAMI -- Marlins right fielder Giancarlo Stanton confirmed on Sunday that he will finally make his Home Run Derby debut.
The 24-year-old, who leads the National League with 21 homers and 60 RBIs this season, was supposed to participate in the contest as part of Matt Kemp's National League squad in 2012. But he had to back out when some loose bodies were found in his right knee, causing him to undergo arthroscopic surgery the day before the Derby.
The Gillette Home Run Derby will take place at Target Field in Minneapolis on Monday, July 14, a day before the All-Star Game.
Stanton, who has been known to hit tape-measure shots, should be able to put on a great display of power for fans. His homers are traveling an average of 422.6 feet this year, according to ESPN Stats and Info. His longest one sailed 484 feet on April 4 against the Padres.
Even though Trout has surpassed the Marlins slugger this year, no one has hit a moonshot farther than Stanton since Aug. 12, 2012, when he drove a ball 494 feet in Colorado.
Stanton's power has also allowed him to hit the third-most homers in the Majors since his debut on June 8, 2010. He's hit 138 round-trippers, which trails only sluggers Miguel Cabrera (152) and Jose Bautista (149).
Although his participation in the Derby has been long awaited by fans, Stanton hasn't allowed himself to get too excited about it. The Marlins were 3-7 in their last 10 games before Sunday's series finale against the Athletics.
"I'm not worried about it at all at this point," Stanton said. "We've had a rough couple of games so it's the last thing on my mind."
National League captain Troy Tulowitzki confirmed Saturday afternoon that Stanton would be participating. In fact, Stanton was one of the first players Tulowitzki contacted after he was named captain on Monday. There are still three spots open on the five-man team, but no word yet about who will fill them.
When Stanton's first brush with the Home Run Derby occurred in 2012, he'd hit 19 homers in the first half that year. He received an invitation to the All-Star Game to show for his efforts, but his surgery prevented him from participating in the festivities.
Despite being the fourth player in Marlins history to hit 20 or more homers and knock in 60 or more RBIs in the first half, Stanton is currently fourth among the top three vote-getters for starting outfield spots in the All-Star Game.
Fans can cast their votes for starters at MLB.com -- online or on a mobile device -- using the 2014 All-Star Game MLB.com Ballot Sponsored by Experian until Thursday, July 3, at 11:59 p.m. ET. The 2014 All-Star Game will be played at Target Field on Tuesday, July 15 on FOX.
Joe Frisaro is a reporter for MLB.com. He writes a blog, called The Fish Pond. Follow him on Twitter Share This