Marlins see Cishek as deserving of All-Star nod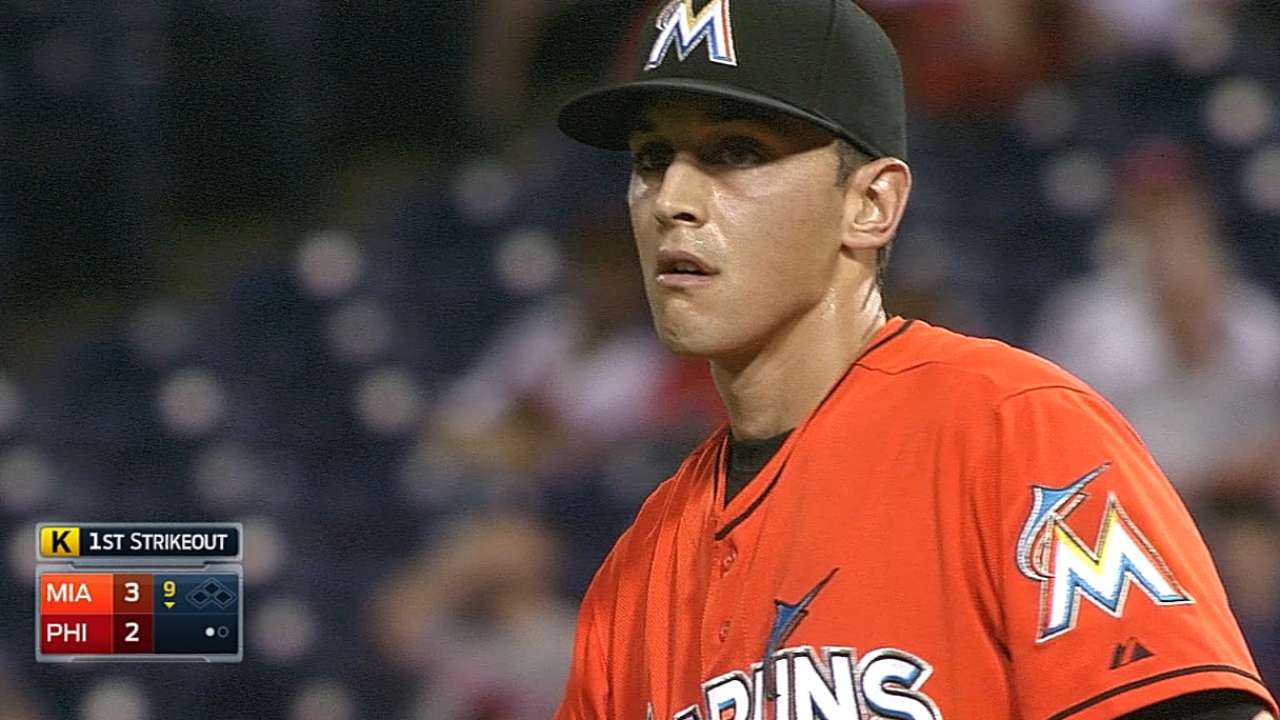 PHILADELPHIA -- When Marlins closer Steve Cishek was summoned in the ninth inning of Wednesday night's game at Citizens Bank Park, it was business as usual for the sidewinding right-hander. Cishek struck out the Phillies' 8-9-1 batters to earn his 18th save, and he may have had his best stuff on display.
That's saying something.
Entering Thursday night's contest, the 28-year-old was tied for seventh in the NL in saves. But among the 10 NL closers with 17 or more saves, his 19 save opportunities are the fewest. Cishek's 1.93 ERA is fourth best among NL closers, and his 94.7 save percentage ranks second in the league. In short, Cishek has put together an All-Star-caliber first half of 2014.
"I know he's deserving," Marlins manager Mike Redmond said of Cishek's All-Star Game chances. "He's been very consistent."
The Marlins have accrued 18 one-run victories this season -- the most in the Majors -- and their .556 winning percentage in one-run games also leads the big leagues.
"Although I'd love us to win every night by five or six runs, it doesn't work like that," Redmond said. "So when you get into close games, it's good. It's good just to test your team, see where you're at. Test your defense, test the pitching in tight situations and see how guys handle it."
Much of Miami's success in close games can be attributed to Cishek, who, in his last 14 save opportunities, has passed the test with flying colors each time.
"He's an All-Star for us," Redmond said.
Fans can cast their votes for starters at MLB.com -- online or on a mobile device -- using the 2014 All-Star Game MLB.com Ballot Sponsored by Experian until Thursday, July 3, at 11:59 p.m. ET. The 2014 All-Star Game will be played at Target Field on Tuesday, July 15 on FOX.
Erik Bacharach is an associate reporter for MLB.com. This story was not subject to the approval of Major League Baseball or its clubs.