Hechavarria showing signs of heating up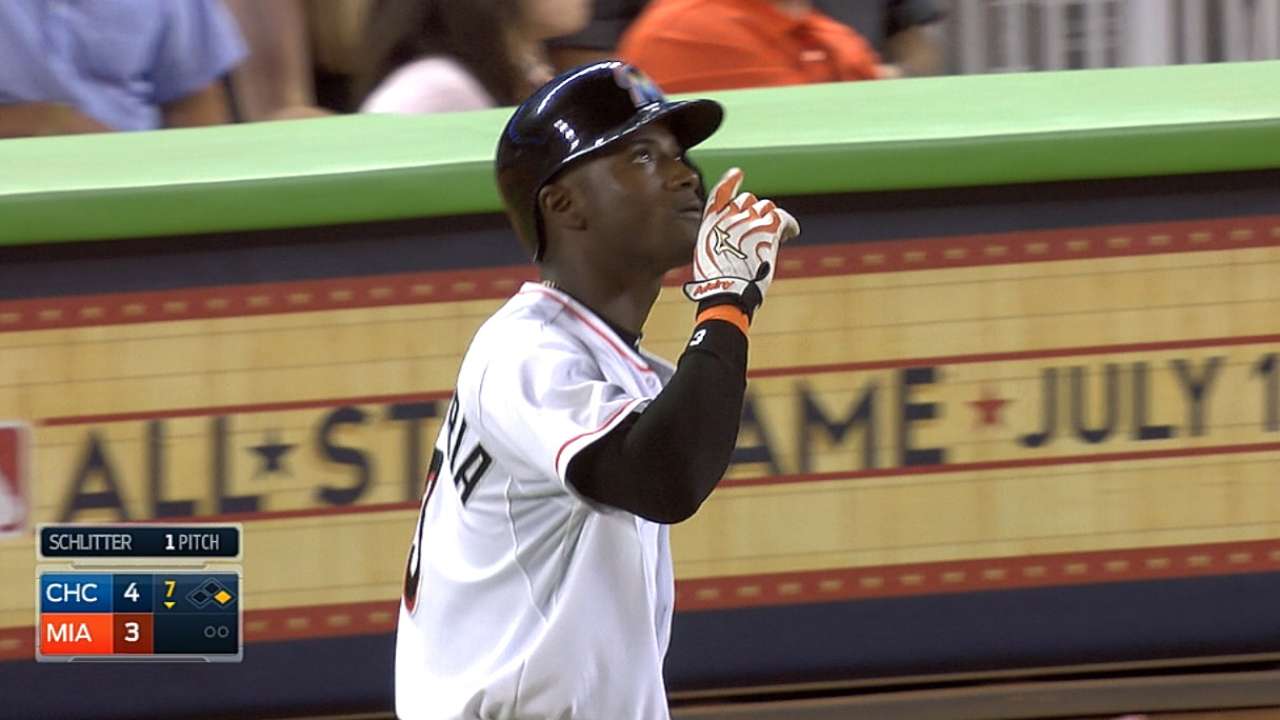 MIAMI -- Adeiny Hechavarria has run into a bit of tough luck in the last month, but his deep flyout to center field on Monday night against the Cubs was a sign of better things to come.
That showed on Tuesday against the Cubs, when he was penciled into the second spot of the batting order. Hechavarria took advantage of it, knocking four hits, one of them on a bunt single, in the Marlins' 6-5 win. The performance matched his career high of four hits on April 4 against the Padres. He raised his average 10 points to .272.
"I've talked about him and ultimately what I envision for Hech down the road hitting second," manager Mike Redmond said. "I think you saw that tonight and how exciting this guy can be if he's patient at the plate and gets good pitches to hit, he can do a lot of damage and he put together some great at-bats. It was fun to watch him out there."
Hechavarria's showing some signs of coming out of his June slump, if the last week is anything to go by. He has 12 hits in his last 34 at-bats. Entering Tuesday, he had a .290 OBP.
"I've felt good at the plate this week, working it down the middle, and I feel like I could get better if I keep doing that," Hechavarria said.
In the sixth inning of Monday's game, the Marlins shortstop thought he had gotten the better of a first-pitch fastball down the middle. He drove it so deep, he couldn't even tell that the ball had landed in Ryan Sweeney's glove without ricocheting off the scoreboard. Hechavarria got a sacrifice fly out of it, as Marcell Ozuna scored easily from third base, but it still wasn't enough for him.
"I was confused, because I thought it hit the wall, so I kept running like crazy," Hechavarria said.
The play was a good representation of Hechavarria's last 30 days.
On May 11, the shortstop was hitting .281 and getting on base 32 percent of the time. But in the month since, he's been struggling to even find a way on. He hit .239 with 18 strikeouts and just one extra-base hit entering Tuesday. His .248 on-base percentage was one of the lowest among Marlins players who have accumulated at least 50 plate appearances.
The 25-year-old had similar issues in June last year. In 25 games, Hechavarria went 22-for-94 and recorded just one extra-base hit. He was able to heat up a bit in July, hitting .324, but spent the second half hitting .211.
"I think last year I wanted to do too much, like to impress," the shortstop said. "I think that's one of the things that really affected me. I wanted to do too much, and you just can't do that here. You have to do what you're used to doing. I think that's one of the things that happened to me."
Maria Torres is an associate reporter for MLB.com. Joe Frisaro is a reporter for MLB.com. He writes a blog, called The Fish Pond. Follow him on Twitter Share This