Marlins, Cubs in awe of Stanton's liner of a homer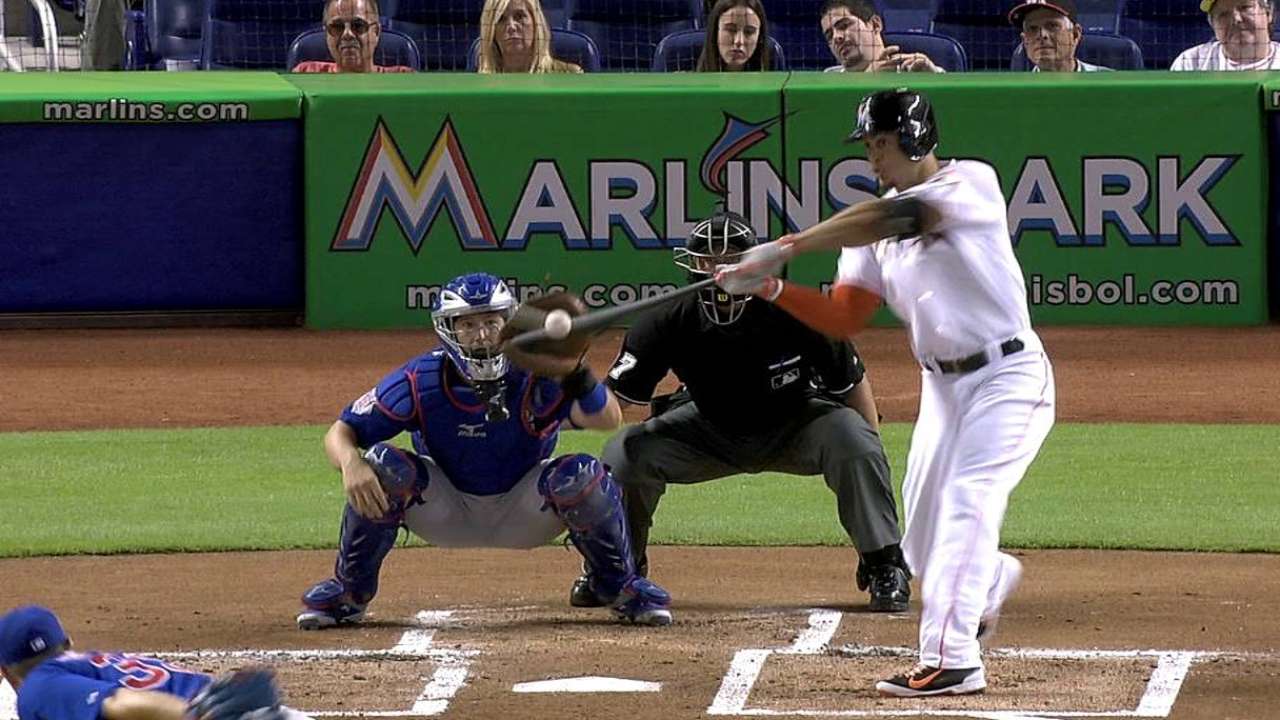 MIAMI -- Giancarlo Stanton seemingly defied the laws of physics with his opposite-field home run off Jason Hammel on Monday night.
In the first inning, the Marlins slugger blistered an opposite-field screamer that initially didn't appear to have enough height to clear the fence down the line in right field. Yet it did, and Stanton had a two-run homer in a game the Cubs pulled out, 5-4, in 13 innings.
The laser shot that kept going and going is the latest in the growing legend of Stanton's might.
"When a ball is hit, I'm like, 'Oh, yeah, it's gone,'" hitting coach Frank Menechino said. "It didn't enter my mind."
Jake Marisnick, who was on second base, thought it was a double down the line. He checked to see if the right fielder had a play and then sprinted toward third, only to be told by third-base coach Brett Butler to slow down.
"I was like, 'All right, he was not going to get to it,'" Marisnick said. "It was down the line. Next thing you know, I'm getting told to ease up, because it was out. I was thinking, either ball off the wall or ball down the line."
Hammel, who hung the breaking ball, was stunned the end result was Stanton's 19th home run.
"It was a line drive -- I just didn't think it had 400 feet of carry on it," Hammel said. "He's a strong boy."
According to ESPN Stats & Info, in terms of distance, it wasn't Stanton's farthest. Not by a long shot. It was estimated at 366 feet. Stanton's longest shot of the season is 484 feet, off San Diego's Eric Stults on April 4.
But that drive was pulled to left-center.
The speed off the bat for Stanton's blast off Hammel was calculated at 110.7 mph, ESPN Stats & Info estimated.
"That's the hardest ball I've ever seen hit," manager Mike Redmond said. "I watched Gary Sheffield hit a home run off Antonio Alfonseca at old Pro Player Stadium, down the left-field line. I thought that was the hardest ball at that point hit. But he pulled it."
As for Stanton on Monday, the thought was the ball would either hit the wall or bounce off it.
"I thought it might short-hop the wall, just because of the way it started out, on a line," Redmond said. "I was like, 'Oh, man, that's not high enough to get out.' It stayed on that plain and never lost any velocity. That was a 'wow!'"
Maria Torres is an associate reporter for MLB.com. Joe Frisaro is a reporter for MLB.com. He writes a blog, called The Fish Pond. Follow him on Twitter Share This