Marlins get defense-first catcher Anderson at 36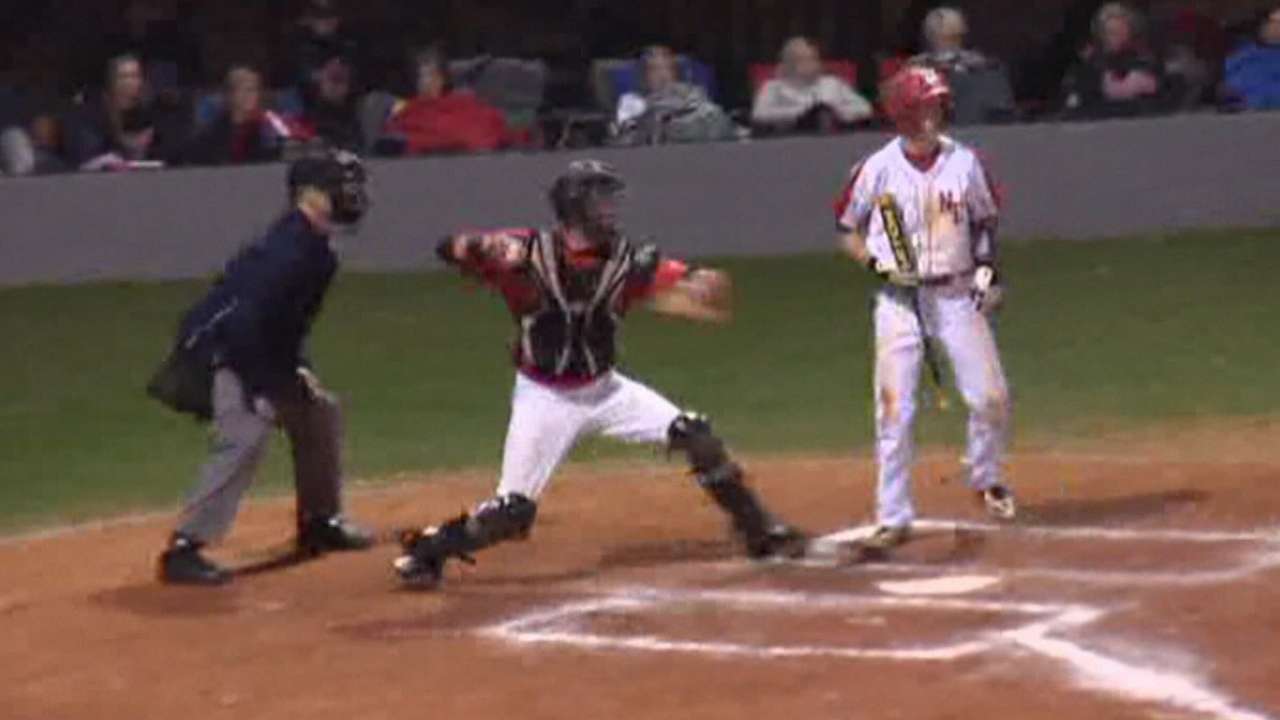 Throughout their organization, the Marlins are stocked with power pitching. They are also in the process of boosting depth behind the plate.
Finding quality catching is a challenge in every Draft. But on Thursday night, Miami addressed the position right away, pulling off a surprise by selecting Blake Anderson with the 36th overall pick, which was a Competitive Balance Round A selection.
"It is a hard spot, and catchers go fast," Marlins vice president of scouting Stan Meek said. "So when you find one you really like, we just felt like we should move him up a bit, because we really liked him. You need to sign players you like. We did maybe push him up a little. But he was, we thought, one of the best catch-throw catchers in the Draft."
Anderson, from West Lauderdale High School in Collinsville, Miss., was not listed among MLB.com's top 200-ranked players heading into the 2014 First-Year Player Draft.
Meek noted that an unidentified club sitting a few picks behind Miami was prepared to pull the trigger on Anderson.
"We were texted right after we took him by a team that was behind us," Meek said. "Not too far behind us. They said, 'You nicked us on him.' We had some indications. We thought we couldn't wait to take him. That's why we did, and sure enough, we were told he would have been taken."
The Marlins received the 36th choice because they were unable to sign their 2013 pick, lefty Matt Krook, who didn't pass the physical and opted for college.
Anderson batted .438 (46-for-105) with 14 doubles, eight home runs and 40 RBIs his senior season.
The slot value for the 36th pick is $1,573,900. The Marlins are confident they will be able to sign Anderson, who has a verbal commitment to Southern Mississippi.
The Draft continues on Friday with Rounds 3-10. The MLB.com pregame show begins at 12:30 p.m. ET, with exclusive coverage of Rounds 3-10 beginning at 1 p.m.
With the second overall-pick in Thursday's Draft, Miami went with Tyler Kolek, the hard-throwing right-hander from Texas.
As an organization, the Marlins are rich in pitching, but thin on position players.
They are building some depth behind the plate. J.T. Realmuto, for instance, made his MLB debut on Thursday, driving in three runs.
Realmuto was a third-round pick in the 2010 Draft.
The Marlins brought Anderson in for a workout recently. Right now, he is more advanced defensively, and he needs to add more strength, which should improve his offense.
"We think it's way above-average Major League catch-throw skills now," Meek said. "The bat is the little bit behind. He's not real strong. We think the bat is going to play. The way the swing works is great. He just needs a little more bat speed and a little more strength to get that."
Joe Frisaro is a reporter for MLB.com. He writes a blog, called The Fish Pond. Follow him on Twitter Share This