Marlins rally around skipper after Redmond's ejection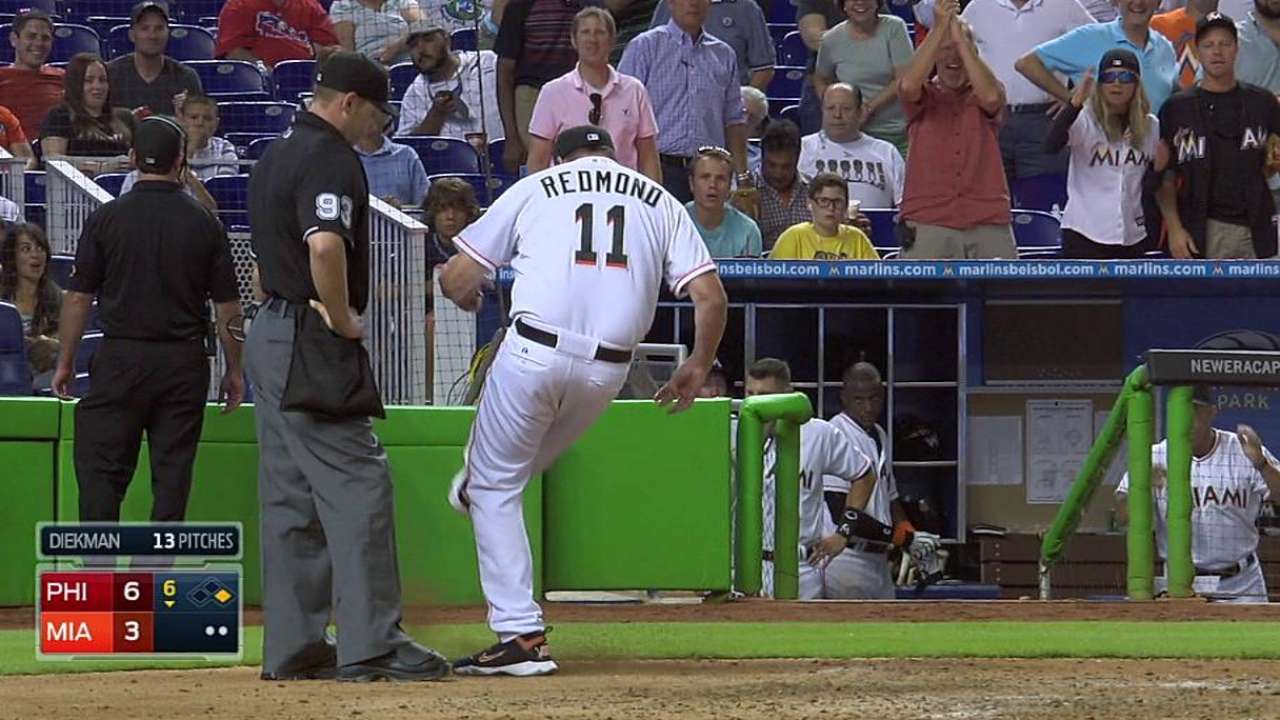 MIAMI -- It was more than just an ejection in Miami's 6-5 loss to the Phillies on Tuesday night. To the Marlins players, it was a signal that manager Mike Redmond had their back.
To Redmond, it was a boiling point in light of some calls that have gone against the Marlins, dating back to the West Coast road trip.
In the sixth inning on Tuesday, Redmond was tossed for vehemently protesting home-plate umpire Will Little's strike zone. Little rung up Adeiny Hechavarria on a pitch the Marlins clearly felt was a ball.
Redmond kicked dirt, and vocally lit into Little as the crowd applauded.
"I've never seen it that explosive," first baseman Garrett Jones said of his manager. "It was good to see him let [Little] have it. It fired us up. It fired us up as a team, knowing your manager is going to go out there and have your back out there."
To Redmond, the emotions had been building. Last Thursday at San Francisco, Hunter Pence was credited with a foul ball on a dribbler down the first-base line. On the play, replay clearly showed Pence's foot touched the ball while in fair territory. If seen, that would have been an out. But the umpires said they didn't see it, and the infield fair-and-foul calls are not subjected to review.
"I tried to be patient," Redmond said. "I'd just seen enough. It was kind of building up from that road trip. We had a couple of calls go against us. Last night, I couldn't take it anymore."
The Marlins did rally to score two runs late in the game on Tuesday.
"He's always looking to fight for us," second baseman Derek Dietrich said. "I wouldn't expect anything else. There were some tough calls for both sides. Red saw a call that he felt should have gone a different way. He made it known, and did what he felt he had to do.
"We wanted to get that win for him, especially when your manager goes out there for you. It's what we're about. We're going to try to battle and fight. We're not going to take any pitches off."
Normally mild-mannered, Redmond on Wednesday was asked about kicking the dirt.
"I don't know," the manager said. "I didn't go out there with the intention of doing that. It just sort of took over."
Joe Frisaro is a reporter for MLB.com. He writes a blog, called The Fish Pond. Follow him on Twitter Share This