Fernandez even more dangerous with changeup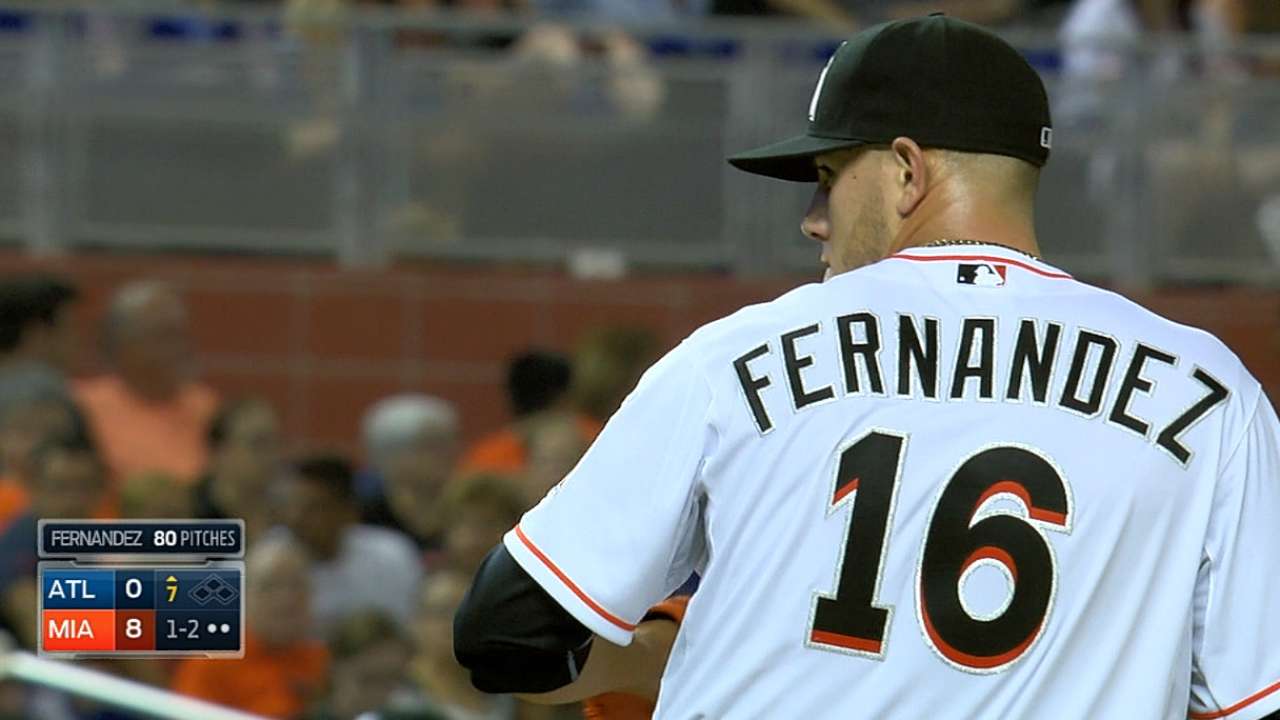 MIAMI -- Add a hard changeup to the list of what opposing hitters have to worry about when facing Jose Fernandez.
In Miami's 9-0 win over the Braves on Tuesday night, Fernandez estimates he threw close to 30 changeups. But they weren't your usual circle changeup; they often were buzzing in around 90 mph. One time the Marlins right-hander looked at the radar reading, and his changeup was 93 mph.
He muttered to himself, "That's too hard."
After striking out 14 Braves at Atlanta last week, Fernandez followed catcher Jarrod Saltalamacchia's plan on Tuesday, and mixed in more offspeed pitches. In all, he threw 98 pitches and allowed two hits in eight scoreless innings
"It's been a while since I've seen a 90-mph changeup," manager Mike Redmond said. "You see what it does to hitters. Guys are geared up for 97, and nobody wants the slider. The next thing you know you get a changeup. It looks like the bottom kind of drops off. It's a huge weapon."
Fernandez's strikeouts were down to eight, but he was efficient and effective.
In his start at Atlanta, he threw two changeups. On Tuesday, 18 changeups were recorded, but the total may be closer to 30 because not all the readings were easily detected. To some scouts, the changeup sank like a two-seam fastball.
"I threw a lot," Fernandez said. "More than I've ever thrown before. I'm impressed I threw that many. I'm just throwing it. I was trying to throw it low, and hopefully it does what it is supposed to."
According to Fangraphs.com, Fernandez's changeup velocity averages 89.1 mph, and he is throwing it 7.5 percent of the time. A year ago, the velocity was 86.7 mph.
Typically, an eight-to-10 mph difference from a fastball is a good changeup speed. Fernandez is averaging 95 mph with his fastball this year.
"As he starts seeing these lineups more times ... he's at four starts against the Braves over the last two years," Redmond said. "That number will go up. That's the key. When you go into your division, teams will start seeing you a lot of times. The key is to have an answer."
Joe Frisaro is a reporter for MLB.com. He writes a blog, called The Fish Pond. Follow him on Twitter Share This