Cishek downplays individual stats as streak ends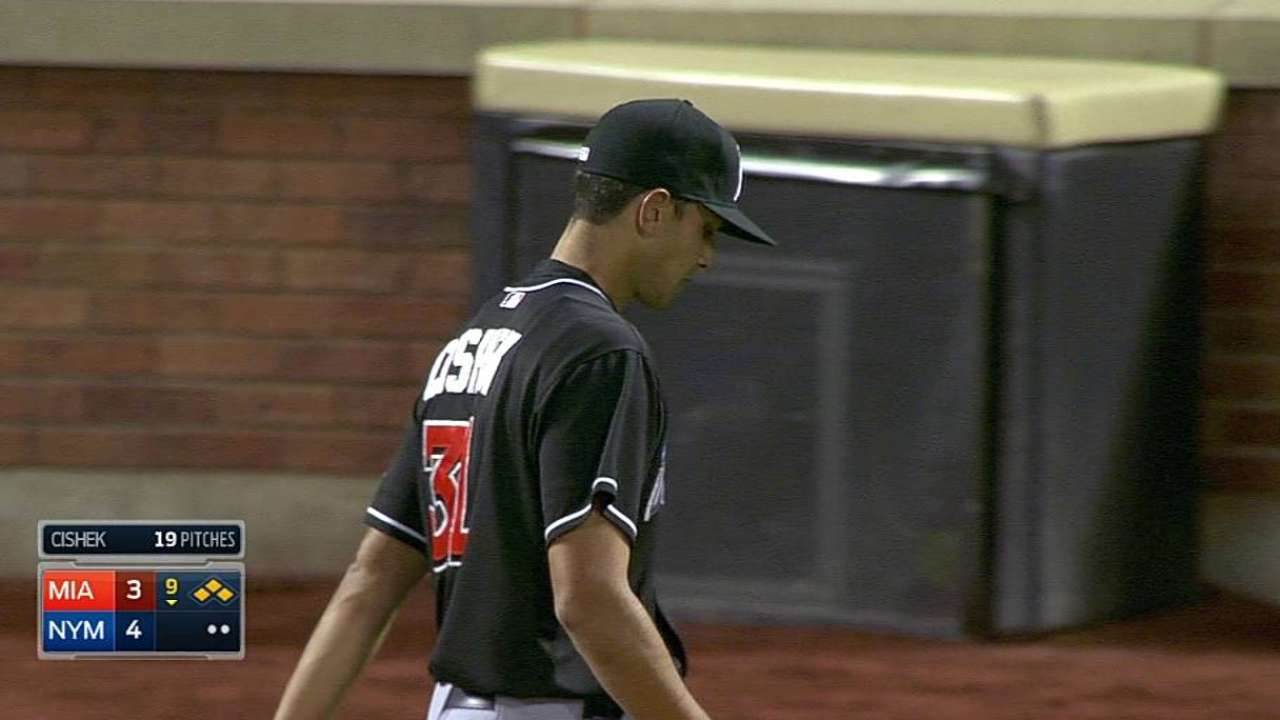 NEW YORK -- Good fortune tends to come with any impressive streak.
Marlins closer Steve Cishek is the first to admit that he certainly had his share of breaks go his way over his franchise-record 33 consecutive save chances.
On Friday night, the sidearm-slinging right-hander had his luck reversed in the Mets' 4-3 walk-off win over the Marlins in the ninth inning. With two outs, New York strung together three straight hits that ultimately ended Cishek's saves streak.
"I didn't get away with anything," Cishek said.
Actually, he caught one break when pinch-hitter Bobby Abreu laced a screamer to left that Christian Yelich was able to run down for the second out.
With the Mets down to their last strike, Cishek did something that hadn't occurred since June 4, 2013, at Philadelphia, when he allowed a late-inning lead to disappear.
From that point, Cishek saved 33 of 34 chances, with an ERA of 1.35. His save percentage in that stretch is 97.1 percent, and in 53 games, he's struck out 62.
No Marlins closer has a had a consecutive saves streak reach as many as 30 games.
"Honestly, I could care less about the streak," Cishek said. "I just care about winning. I care nothing about individual statistics. All I want to do is win. That's the bottom line."
What the streak did show is Cishek has been remarkably consistent. He carried over his success into this season, saving his first four chances. He also hadn't allowed a run in seven innings prior to Friday night.
He gave up just three hits all year, and lefties were 0-for-15 against him. They were 4-for-5 in the decisive ninth.
"I hadn't given up a hit to a lefty all year, so I was feeling good about facing them," Cishek said.
Cishek has enjoyed consistency because he didn't think about his streak.
"I've been going out there, worry free," he said. "I've been going out there giving everything I've got. I'm just shooting the ball at the knees. It's been working. There have been some games where I got away with some stuff, I remember from last year. That's just part of the game."
Joe Frisaro is a reporter for MLB.com. He writes a blog, called The Fish Pond. Follow him on Twitter Share This