Rehab start the next step for Turner
Righty eyes early May return; Slowey stays in Marlins' rotation for now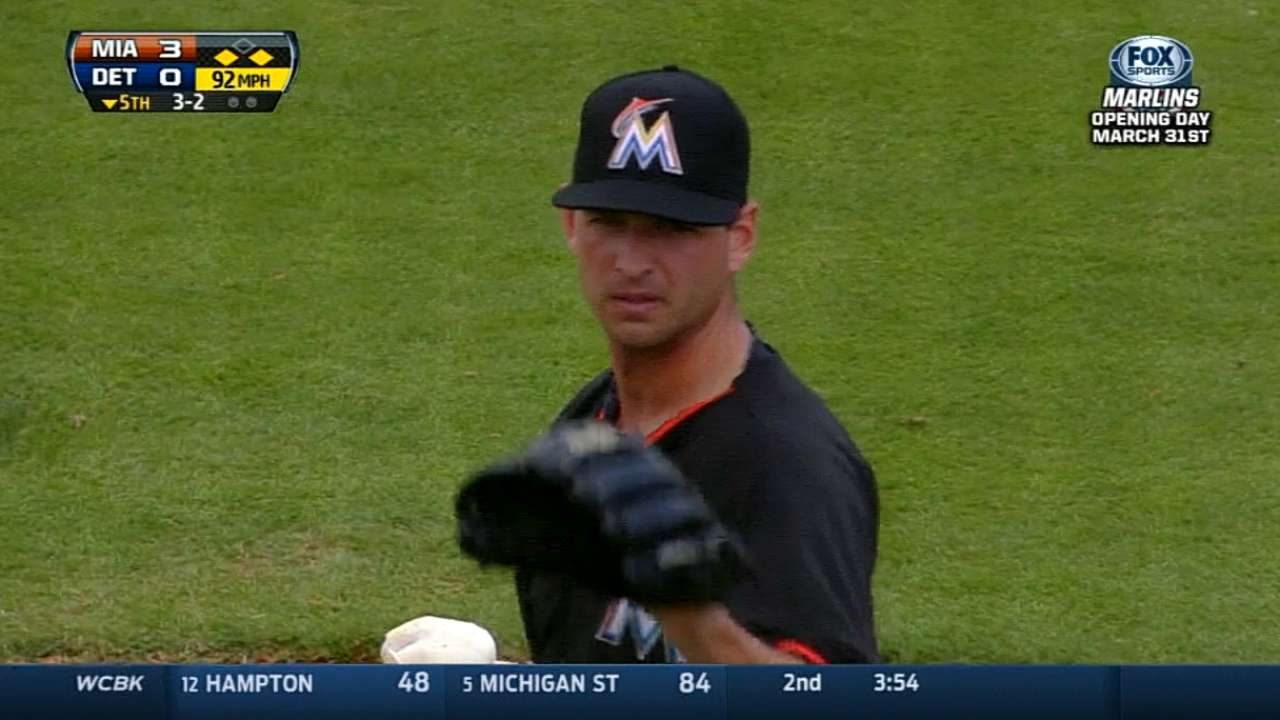 ATLANTA -- Marlins right-hander Jacob Turner will throw 50-60 pitches in a rehab start for Class A Jupiter on Wednesday. Turner was placed on the 15-day disabled list on April 9 with a right shoulder sprain, retroactive to April 4.
"This will be his first game action," Miami manager Mike Redmond said.
Left-hander Brad Hand and right-hander Kevin Slowey have started in Turner's spot the past three runs through the rotation. Slowey recently replaced Hand, who gave up eight earned runs in 6 1/3 combined innings in two starts against the Nationals.
With off-days on Thursday and next Monday, the Marlins considered simply using a four-man rotation of Jose Fernandez, Nathan Eovaldi, Henderson Alvarez and Tom Koehler for the rest of the month until Turner's potential return in early May.
However, the club instead opted to keep Slowey in the rotation in order to help preserve the arms of Fernandez, Eovaldi, Alvarez and Koehler. Fernandez was shut down after 172 2/3 innings his rookie season, Koehler pitched 143 frames last year, Alvarez maxed out at 187 1/3 with the Blue Jays in 2012 and Eovaldi logged 119 1/3 between the Dodgers and the Marlins two years ago.
"We don't rush these guys too much because at the end of the day, at the end of this year, all of these guys are going to be in uncharted territory with their innings and all that stuff," Redmond said. "So it all sounds good at the beginning of the season, but you know how it is the end of the season when these guys are in uncharted territory, so it just made sense to push them back and give them an extra day."
Slowey, who gave up two runs in five innings against the Mariners on Sunday, will start against the Mets on Saturday. He fanned eight in seven scoreless innings of relief in Miami's 2-1 win in 19 innings at Citi Field on June 8, 2013.
"If we could give guys an extra day here, it's going to be better for them down the road," Redmond said of keeping Slowey in the rotation. "It seemed like a fit. Slowey has pitched well against the Mets."
Joe Morgan is an associate reporter for MLB.com. This story was not subject to the approval of Major League Baseball or its clubs.