Marlins promote righty reliever Capps from Triple-A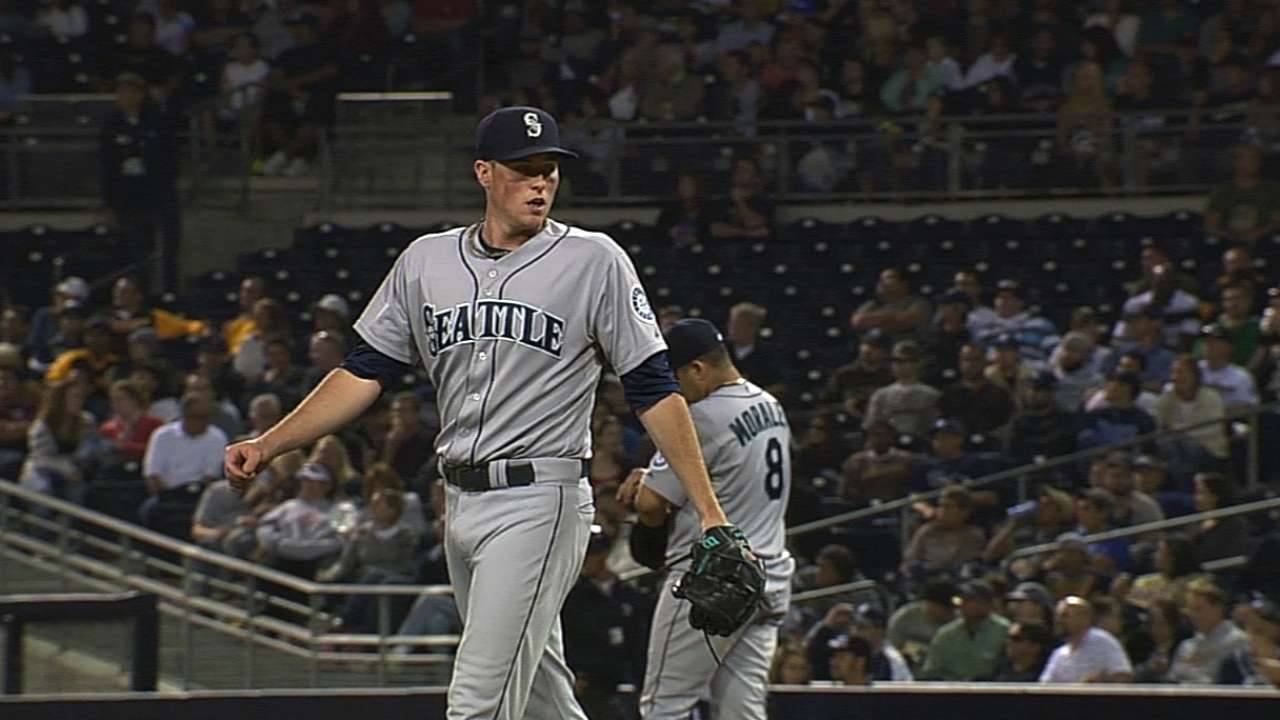 ATLANTA -- For Carter Capps to earn a spot in the Marlins' bullpen, he needed to be more consistent in the strike zone. With 17 strikeouts and a 1.64 ERA in 11 innings for Triple-A New Orleans this season, Capps has improved the way Miami had hoped he would.
The Marlins recalled Capps on Wednesday morning to replace right-hander Arquimedes Caminero. Caminero was optioned to New Orleans following Tuesday night's 1-0 win against the Braves at Turner Field.
Capps, who has worked on getting his fastball down in the zone and improving his command, changed up his delivery with the Zephyrs after recording a 3.60 ERA in 10 innings out of the bullpen during Spring Training.
"I was just trying to get back to what I naturally do instead of trying to just pitch like somebody else wanted me to," said Capps, who learned of his promotion at 10 p.m. on Tuesday and flew from New Orleans to Atlanta at 6 a.m. on Wednesday.
"It's kind of more like just getting to the natural delivery and letting the arm flow, because I was fighting myself a little bit, trying to get a little too over the top when I'm a little bit of a lower-arm slot guy."
Manager Mike Redmond has not decided what role the right-hander would play in the bullpen, but he is eager to use Capps, whom Miami acquired on Dec. 11 in a trade for Logan Morrison. Redmond said it was the "perfect time" to promote him.
Capps, 23, went 3-3 with a 5.49 ERA in 53 appearances out of the Mariners' bullpen last season, and he owns a 5.04 ERA in 84 career big league innings over two seasons with Seattle.
"He's got a big arm," Redmond said. "We loved his arm, and it was just a matter of he hasn't really pitched that long, that many years. It was just a matter of him figuring out his delivery again."
Caminero, 26, took his first career loss on Monday, when he surrendered a walk-off homer to Evan Gattis in the 10th inning of a 4-2 loss to the Braves. Caminero was recalled from New Orleans on April 9 to replace right-handed starter Jacob Turner, whom Miami placed on the 15-day disabled list with a right shoulder sprain.
Caminero has posted a 13.50 ERA (seven earned runs in 4 2/3 innings) in five appearances out of the Miami bullpen this season.
Joe Morgan is an associate reporter for MLB.com. This story was not subject to the approval of Major League Baseball or its clubs.