Slump doesn't diminish Stanton's stellar April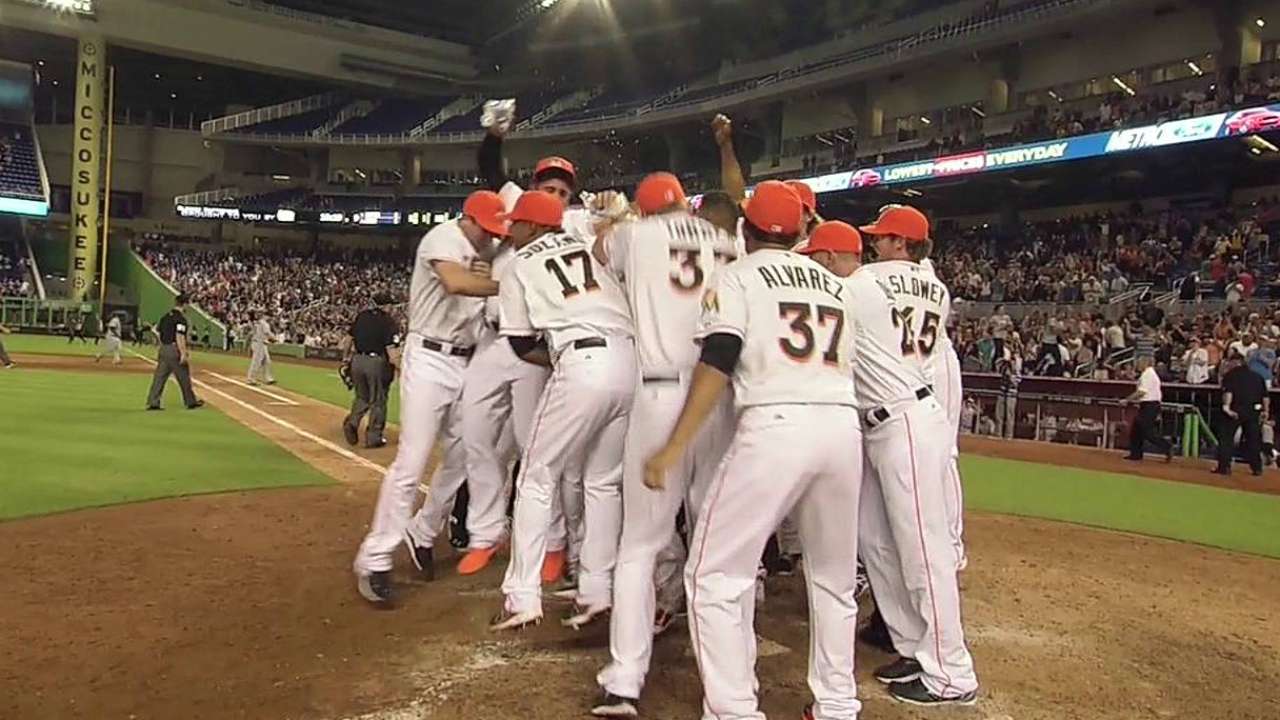 ATLANTA -- Giancarlo Stanton entered Tuesday 0-for-11 since hitting a walk-off grand slam in the Marlins' 8-4 win against the Mariners on Friday night at Marlins Park. However, the slump is a small blip in Stanton's otherwise torrid April.
Stanton entered the game against the Braves leading the Majors with six home runs and 26 RBIs. The slugger's production is a far cry from the month-long slump he endured last April.
Closer Steve Cishek simply described Stanton's start as "phenomenal."
Stanton batted .227 (17-for-75) with three homers and nine RBIs before suffering a hamstring strain on April 29 that sidelined him until June 10. With Stanton healthy and producing, the Marlins are 9-11 instead of 4-16 through their first 20 games.
When Stanton drives in a run, Miami is 7-4. When Stanton does not bring a runner home, the Marlins are 2-7.
How many fastballs have pitchers thrown to Marcell Ozuna (.329 batting average) in the second spot ahead of Stanton?
"I've seen a lot," said Ozuna.
Cishek noted Stanton's health, but said the reason the slugger has returned to elite form is Miami's improved lineup. After Justin Ruggiano was the only Marlin with 10 RBIs last April, four players have already reached that mark this month.
The Marlins signed catcher Jarrod Saltalamacchia, first baseman Garrett Jones and third baseman Casey McGehee during the offseason to give Stanton protection. So far, the trio has combined for five home runs and 30 RBIs through 20 games.
That RBI total for a whole season would have ranked seventh on last year's team, and the five homers would have tied backup catcher Jeff Mathis for the fifth most by a Marlin in 2013.
Despite the production, Stanton has been intentionally walked five times this season, already matching his total from last year. Marlins manager Mike Redmond is confident that Stanton's walks will turn into trots if the newcomers keep producing.
"A lot of that is going to depend on how the guys behind Giancarlo hit," Redmond said. "If we get some big hits from Casey and Garrett Jones and Salty, then that forces their hand to pitch to [Stanton] more often, and that'd be a good thing."
Joe Morgan is an associate reporter for MLB.com. This story was not subject to the approval of Major League Baseball or its clubs.