Cishek's closer numbers up with the best of them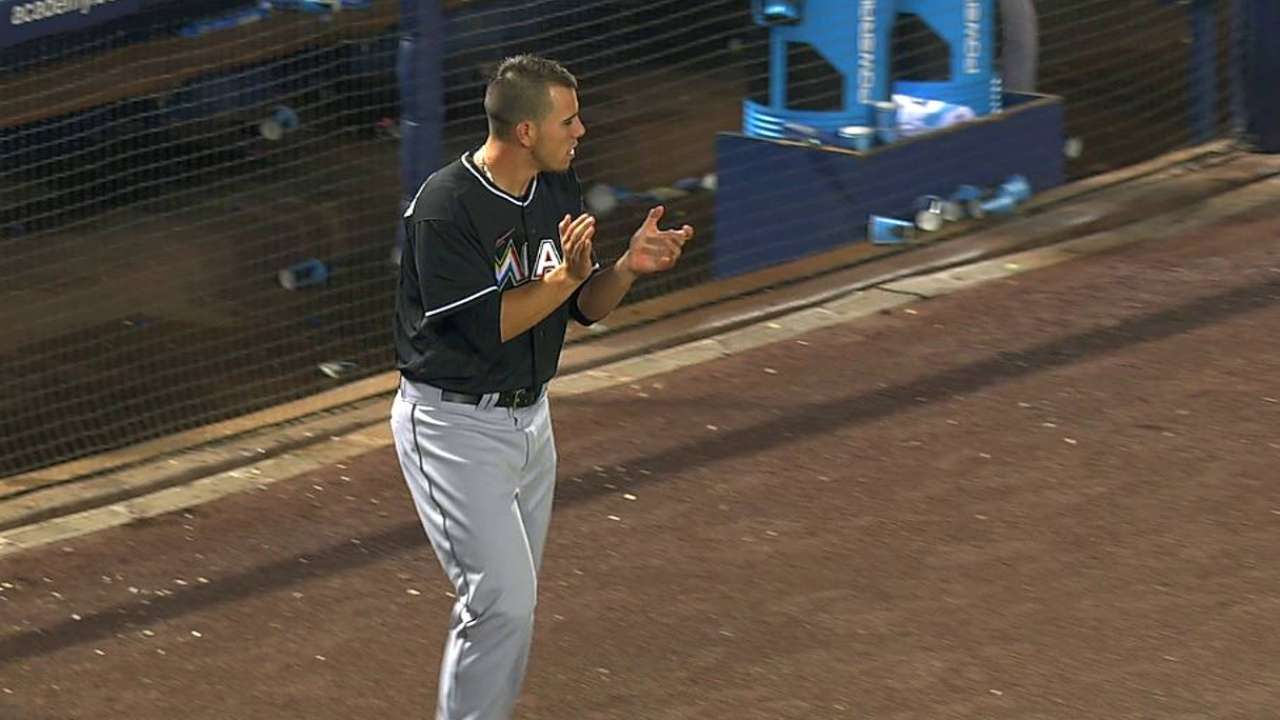 ATLANTA -- Steve Cishek has quietly joined Atlanta's Craig Kimbrel and Cincinnati's Aroldis Chapman as one of the best closers in baseball. The Miami right-hander entered Tuesday having converted 32 consecutive save chances dating back to June 8, 2013, and he notched his 33rd straight in a 1-0 win over the Braves.
Entering Tuesday, Cishek owned a 1.05 ERA and had limited opponents to a .190 batting average over the course of the streak. In comparison, Kimbrel has converted 38-of-40 save chances since June 8, limiting batters to a .160 batting average and posting a 1.24 ERA.
"I just don't like to lose," Cishek said. "I just do everything I can to put a zero on the board, to do whatever I can to help these guys out. They've battled the entire game. The last thing I want to do is go out there and not compete and blow it up for them."
As questions persist regarding the save statistic and whether the ninth inning of a three-run game is really the most high-leverage situation to bring in your best reliever, Cishek believes the stakes are never higher than they are in a team's last at-bat.
"I don't understand how that can't be such a high-stakes situation," Cishek said of the ninth inning. "It's the end of the ballgame. Your team's relying on you to get three outs. The last few outs in the game are the toughest."
In his experience as Miami's closer, Cishek sees lineups become scrappier and much more locked in during the ninth inning. The margin for error all but disappears as teams get more creative and try to exploit any potential weakness.
"If I'm in there and it's the bottom of the order, they're probably going to pinch-hit a lefty with speed and hope that that guy gets on and can take a base from me," Cishek said. "The game kind of just changes right there. There's a whole different approach, and I think it is very difficult."
Given the high stakes of the position, Cishek says operating under a microscope is just part of being a closer. Success is forgotten and failure is magnified.
Kimbrel, whom Cishek called "the best closer in baseball," was pulled from the ninth inning on Saturday against the Mets and blew a save in the Braves' 4-2 10-inning win against the Marlins on Monday night at Turner Field.
Cishek believes Kimbrel, like him, has the "short-term memory" the position requires.
"If you're worried about what people think of you, then closing's probably not the job for you," Cishek said. "I'm not too concerned with that. Kimbrel's a great closer and he's had a rough couple of outings. I'm sure people recognize that more so than the five other saves he has this year."
Whether it was former Yankees closer Mariano Rivera trotting in from the outfield to "Enter Sandman" by Metallica, or Kimbrel taking the hill to "Welcome to the Jungle" by Guns N' Roses, Cishek loves the energy closers bring to the ballpark.
When the Marlins call on Cishek in Miami, "Send Me/Represent," a Christian rock song by 116 Clique, plays throughout Marlins Park.
"As a fan, it gets you locked in. You're fired up to see Kimbrel come in and throw 100 [mph], so why not?" Cishek said. "And if you're Kimbrel, that's got to fire him up. That's pretty cool. You've got flames everywhere. 'Welcome to the Jungle,' that song's awesome. It's really cool. It makes the game more fun and it gets your adrenaline pumping for sure."
Joe Morgan is an associate reporter for MLB.com. This story was not subject to the approval of Major League Baseball or its clubs.