Stanton set up for season after monster homers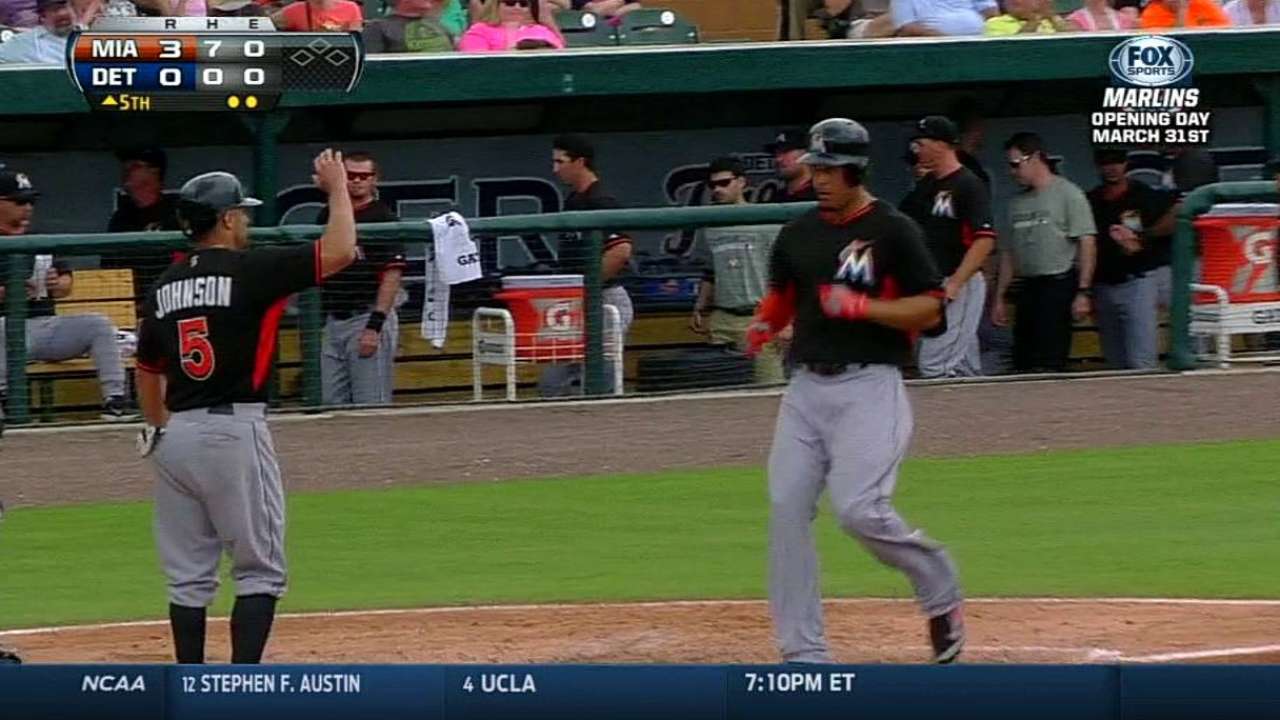 TAMPA, Fla. -- Could this be Giancarlo Stanton's breakout year?
Last Sunday, as the Marlins slugger stood waiting at the plate, young Tigers pitcher Drew Smyly admitted, "I thought I could sneak a fastball by him."
He couldn't.
The pitch was obviously gone the moment it made contact with Stanton's bat -- a monster two-run homer. "He got it all," Smyly confessed later with a faint smile.
Stanton's homer was the longest anyone struck this year at the Tigers' Joker Marchant Stadium, spring home of Miguel Cabrera, the former Marlins star who now is widely hailed as the best hitter in the game and on Friday signed a contract extension with Detroit that will reportedly pay him $292 million for the next 10 seasons.
"Sometimes I don't watch them go out and get mad at myself, but on that one, I was like, 'Let's see how far this one's going,'" Smyly said. "It almost hit the light pole. You have to be impressed."
Stanton's blast sailed to the left of the batter's eye in straight-away center field, more than 420 feet from home plate, landing on the other side of the berm that separates the stadium from the practice field named for Hall of Famer Al Kaline.
It reminded the Marlins and their fans of the Stanton's mammoth blast against the Mets in Port St. Lucie, Fla., earlier this spring that struck the upper portion of a three-tier chain-link fence that serves as the hitters' backdrop on an adjacent field. Eye-witnesses estimated the distance at 500-550 feet.
Mets manager Terry Collins later raved that Stanton has more power than any slugger he has ever seen.
Stanton had one of his better springs, batting .267 with five home runs (tied for third in the National League) and 15 RBIs (second in the NL).
"He looks happy, he looks confident, I think he's more relaxed," manager Mike Redmond said Saturday. "I think he has really benefited from the veteran guys we brought in."
Redmond has gone on the record this spring predicting Stanton "is going to have a big year."
"This guy really hasn't even scratched the surface of what he's going to be yet," Redmond said. "This guy can be the best hitter in baseball."
Still only 24, Stanton led the NL in slugging percentage in 2012 and last year became just the ninth player in history to belt 100 home runs in his first 400 Major League at-bats.
Stanton was a late scratch from Saturday's lineup after the rain began moving in, but the game was ultimately cancelled.
Jim Hawkins is a contributor to MLB.com. This story was not subject to the approval of Major League Baseball or its clubs.