With Furcal out, top of Marlins' order unsettled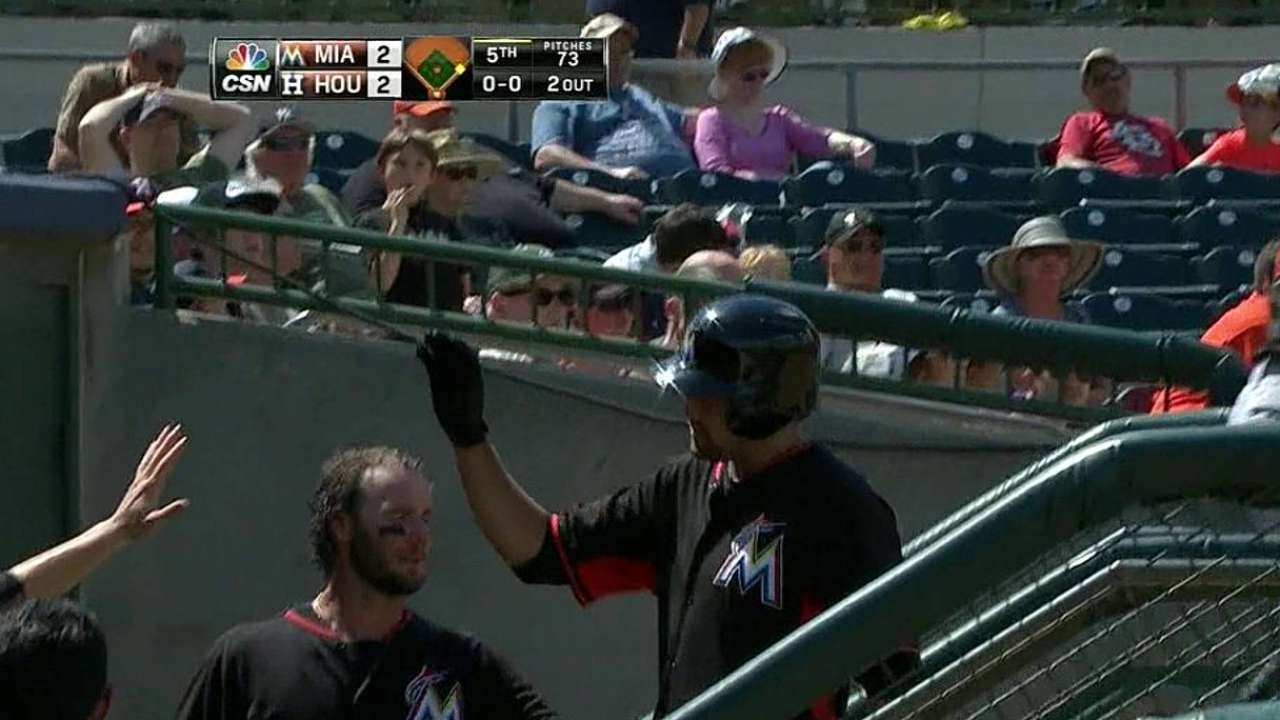 TAMPA, Fla. -- With Rafael Furcal, who was acquired to be the Marlins' starting second baseman and their leadoff hitter, on the disabled list with a strained hamstring, Mike Redmond has had to rethink his batting order.
Christian Yelich, who was projected most of the spring to be the No. 2 hitter, will probably move back into the leadoff slot. But with Opening Day on Monday, Redmond is still pondering his options for the two-hole.
"When we had Ralfie leading off and Yelly second, it was set up perfectly for us," Redmond said Saturday. "But things change.
"We have some options [for the two-hole]. Adeiny Hechavarria can hit there. We could hit [Jeff] Baker there, or [Derek] Dietrich.
"I've thought a little bit about leading off Hech and hitting Yelich second. I haven't really decided how that's going to work or what is going to be the best fit."
Last season, 121 of Yelich's 273 Major League plate appearances came from the leadoff spot. Batting Dietrich second would give the Marlins back-to-back left-handed hitters at the top of the order.
Hechavarria, who was sidelined last week because of tightness in his groin, was initially in the lineup, starting at shortstop and batting second in Saturday's spring finale. But he was scratched at the last minute because of the inclement weather.
"We just didn't want to mess around; what's the point?" Redmond said after the game was ultimately cancelled. "He'll play Monday. He's fine. I wanted to get him a couple at-bats, but that's all right. He's getting better each day. We want to make sure he's ready to go. That's the biggest thing with him, making sure he's healthy."
Redmond also said he is thinking about batting Baker -- the Marlins' Opening Day second baseman against Rockies left-hander Jorge De La Rosa fourth in the order -- behind Giancarlo Stanton. In that case, Garrett Jones would likely bat fifth and Jarrod Saltalamacchia sixth.
Jim Hawkins is a contributor to MLB.com. This story was not subject to the approval of Major League Baseball or its clubs.