Dietrich exits game after fracturing top of nose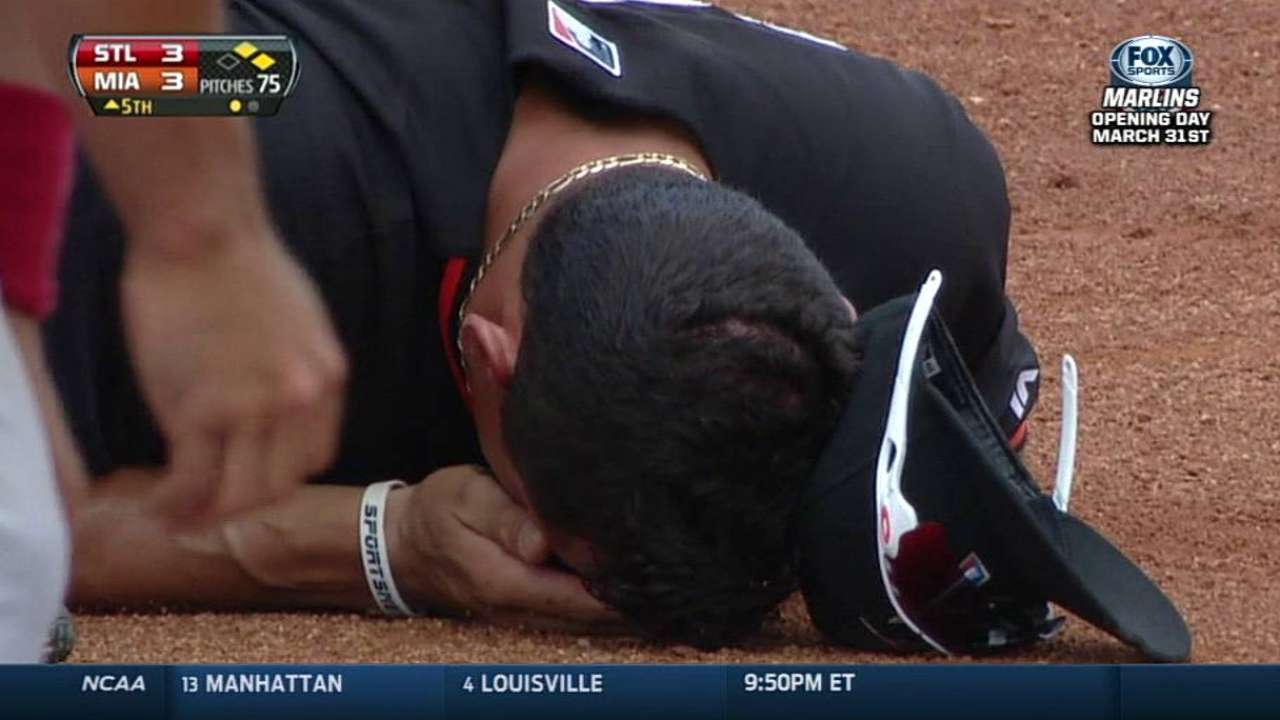 JUPITER, Fla. -- A bad hop led to an unfortunate break for Marlins second baseman Derek Dietrich on Thursday afternoon.
Dietrich sustained a non-displaced fracture to the top of his nose in the Marlins' 4-3 win over the Cardinals at Roger Dean Stadium.
The injury occurred in the fifth inning, when Jon Jay's sharp grounder redirected and clipped Dietrich on the top of the nose. The 24-year-old was taken to the hospital for X-rays, which revealed the fracture.
The Marlins are listing the left-handed-hitting infielder as day to day. The team also will explore a protect guard for Dietrich to wear.
"It's a broken nose, but it's non-displaced, so no surgery or anything like that," Marlins president of baseball operations Michael Hill said. "It will heal naturally. We'll look for something protective for him to wear."
Initially, it appeared the injury would be much worse.
Marlins right-hander Jose Fernandez got Jay to rip a hard grounder that Dietrich was getting into position to turn into a double play. But the ball took a bad hop, and smacked the second baseman in the face.
Dietrich went down immediately, and he stayed there for about a minute. A small stream of blood trickled down his nose. Assistant trainer Mike Kozak and manager Mike Redmond dashed towards Dietrich. A towel was retrieved, and after Dietrich got to his feet, he immediately headed to the clubhouse.
"He hit that pitch pretty hard; that was a bullet, one-hop right off my noggin," Dietrich said jokingly while looking at Fernandez. "You don't see that a lot, especially on a Major League field. It just took a tricky hop. It might have hit something. I kept the ball in front of me, gave it a chance. Right, Jose?"
Dietrich is trying to make the team, and he's enjoying a strong Spring Training, batting .361.
With Rafael Furcal recovering from a strained left hamstring, Dietrich has been in position to win a starting spot at second. How much time he misses will determine whether it hurts his chances of breaking camp with the club instead of starting off in Triple-A New Orleans.
Donovan Solano is another candidate to play second base.
"I do have a small fracture on the top of the nose, but it's nothing serious," Dietrich said. "I'm going to ice it. We're taking it day to day. It's not serious. I think I can get back in there pretty soon."
Dietrich wasn't wearing sunglasses, which as it turned out, was a good thing. A small cut didn't require stitches.
"The doctor said it would have been worse if I had them on," Dietrich said. "A lot of times, that could cut around the eye. Obviously, I have a cut. They were on the top of the hat. They flew off. I got lucky ... . We'll see where I am at tomorrow."
Joe Frisaro is a reporter for MLB.com. He writes a blog, called The Fish Pond. Follow him on Twitter Share This