Health has made huge difference for Stanton
Remaining injury-free is biggest factor for Marlins' young slugger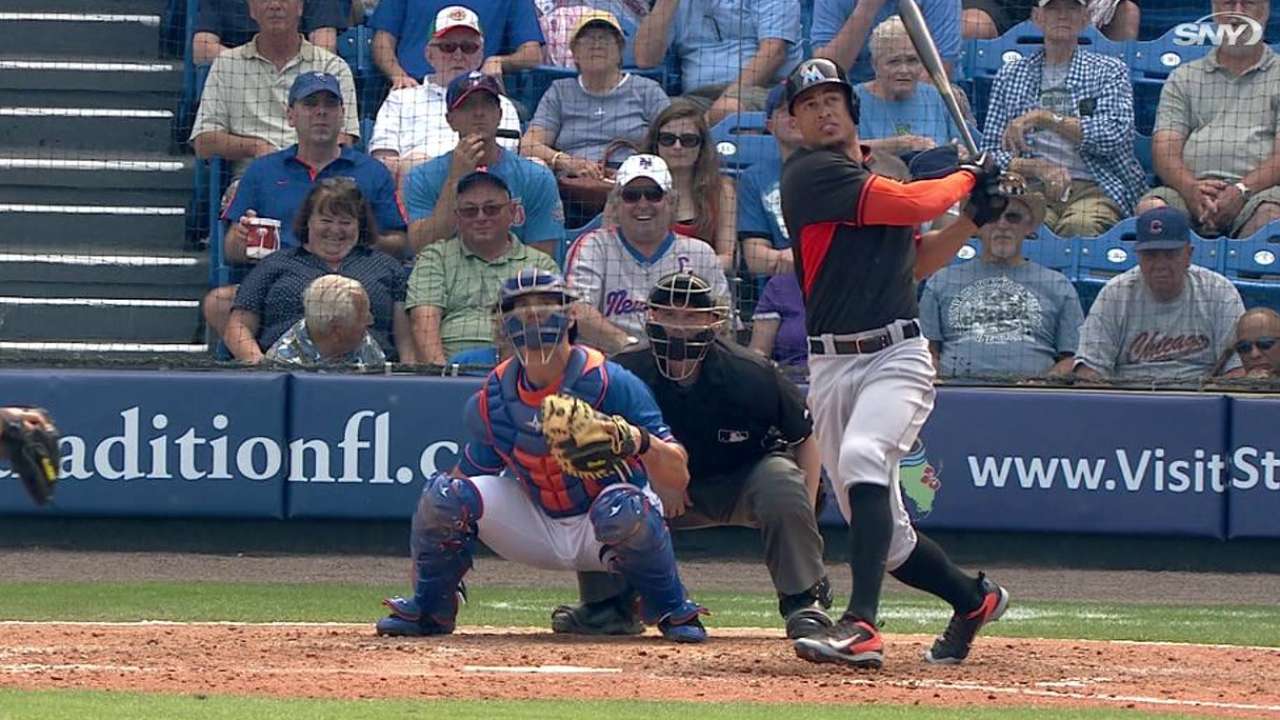 JUPITER, Fla. -- Each Spring Training, there will be plenty of speculation about how many home runs Giancarlo Stanton will hit, or how far the Marlins slugger will drive a baseball.
In a lineup without substantial pop, others ask, "How often Stanton is pitched around? What will his walks total be like?"
All are valid questions. But pretty much, the number to focus on for Stanton is often located on the first column of any player's stats sheet: Games played.
If Stanton plays in at least 145 games, expect big numbers across the board. Health has been an issue in the past, especially in Spring Training, where he missed time in 2011 and '12.
Last spring, the 24-year-old was pretty much healthy, but he was away from Marlins camp because he played for Team USA in the World Baseball Classic.
This spring has been a relief for Stanton and the Marlins. The right fielder, an All-Star in 2012, is healthy, and not surprisingly, he's been productive. In each of the past two games, Stanton has belted three-run homers.
In Tuesday's 8-1 win over the Astros, Stanton went 2-for-3 with a mammoth shot that bounced onto the roof of the Marlins' office building in an 8-1 win.
Stanton is 13-for-39 (.333) with four homers and 12 RBIs.
"I think any time you see a guy who has the raw power that he does, I think he can make anybody admire those shots," manager Mike Redmond said.
The key for Stanton this spring is staying injury free, and so far, so good.
"It's good to have a spring where I can be here every day," Stanton said. "Last year was kind of a zoo. I was bouncing everywhere, as well. I hadn't been healthy the couple before that."
Redmond has talked regularly about playing time, specifically how to balance spring travel and get the right number of at-bats.
"Feeling good is a big thing, not just for him, but for everybody," Redmond said. "When you feel good, it gives you your best chance to go out and compete. He's definitely having a nice spring. That's hopefully a sign of big things to come in the season."
Joe Frisaro is a reporter for MLB.com. He writes a blog, called The Fish Pond. Follow him on Twitter Share This