Johnson's role could go beyond mentor for Marlins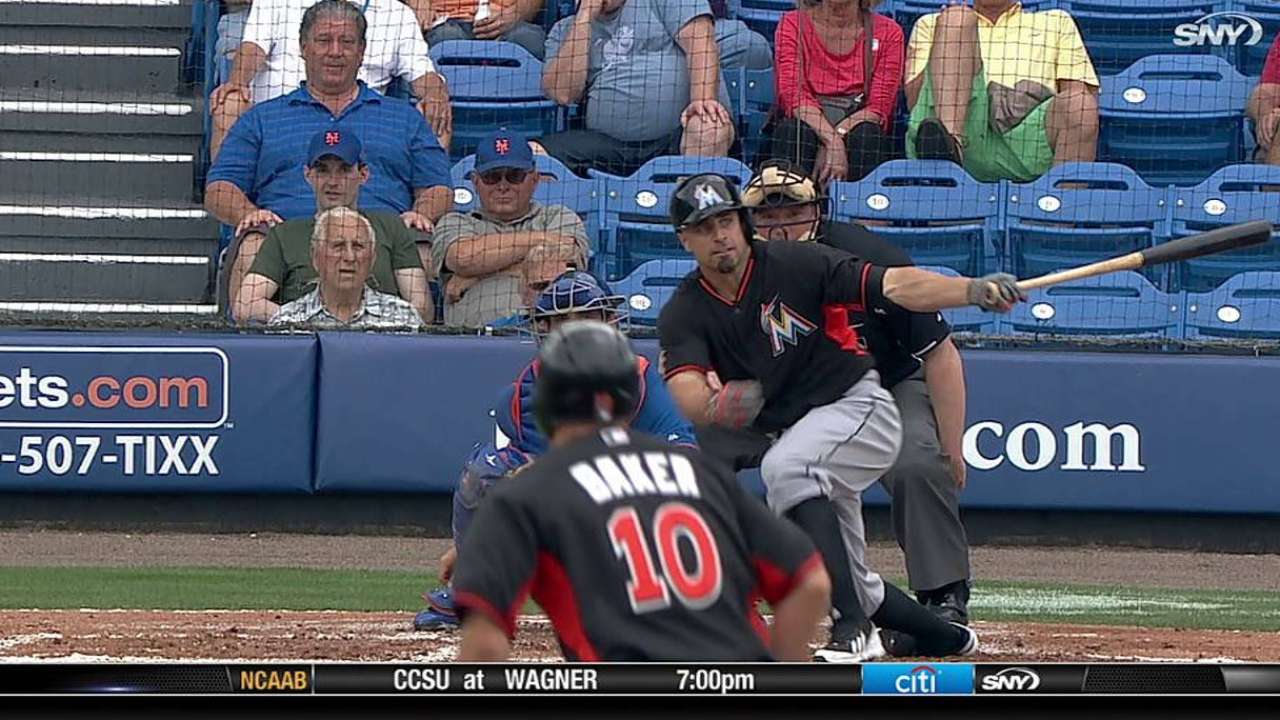 LAKE BUENA VISTA, Fla. -- Marlins non-roster invitee Reed Johnson knows a thing or two about mentoring young players. In parts of two seasons with the Braves, Johnson helped guide the young club to back-to-back postseason appearances.
On Saturday, when Miami and Atlanta played a Grapefruit League contest that ended tied at 6, he visited with Braves outfielders Jason Heyward and Justin Upton, just a couple of young guys with whom he shared a clubhouse.
"I played on a couple of the best teams I ever played on for the two years that I was there," Johnson said of his time with the Braves. "It's good to see those guys."
Johnson aims to make a similar impact on a Miami roster that had 11 players make their Major League debuts at some point last season. Marlins manager Mike Redmond has heard "nothing but good things" about Johnson's clubhouse presence.
"That's one of the reasons why we talked this winter about bringing him over, to influence some of our younger players," Redmond said. "It's great to have him. I know he's already made a big difference with a lot of guys."
But Johnson's role is not solely as a veteran presence. After an injury to his Achilles tendon limited Johnson's second-half availability last season, the Braves bought out the last year of the outfielder's two-year contract for $150,000 in November.
Johnson, who signed a Minor League contract with the Marlins on Jan. 31, is competing for a job as an extra outfielder off the bench. Although his roster spot is not guaranteed, he relishes the opportunity his current situation offers.
"The at-bats, from Day One, have seemed to be a little bit more important," Johnson said. "It's actually helped me concentrate a little bit more."
Johnson's added concentration is paying off. The veteran is batting .333 (4-for-12) with a double and four RBIs in four games.
"A lot of times you go out and you want to take two strikes and work on your two-strike approach and things like that," Johnson said. "But you don't really have that luxury when you're in a situation, especially an organization that doesn't know you.
"I mean, obviously, they've seen me play over the last 10 or so years, but I think it's good to come out and show them you can still throw out some hits and run down some balls and stuff like that, so hopefully I can showcase that early and then hopefully ride that into the season."
Johnson's hot start has only made him more appealing to Redmond. The second-year manager already valued Johnson's experience in a bench role.
"Guys that have been through the years and been through the battles, they understand the role, and I think that's very important," Redmond said. "It's always tough to have a young guy that hasn't had a lot of experience in the big leagues as a bench player. It's just hard. He's a guy who's been a role player most of his career. He understands coming off the bench."
Johnson could prove useful to the Marlins as a quality bat to face left-handed pitchers in both pinch-hitting situations and occasional starts.
The Marlins batted .233 (349-for-1,495) against southpaws in 2013, well below the MLB average of .252. Johnson owns a .311 career batting average against left-handed pitchers, including a .291 (16-for-55) clip with Atlanta last season.
Johnson also played all three positions in the outfield last season, opening him as an option to line up anywhere on the grass whenever Miami faces a left-handed starter.
"He hits lefties, and that's his value," Redmond said. "He can play a lot of different positions and gives you a good at-bat. That's why he's still playing."
Joe Morgan is a contributor to MLB.com. This story was not subject to the approval of Major League Baseball or its clubs.