Eovaldi mixing up a repertoire of pitches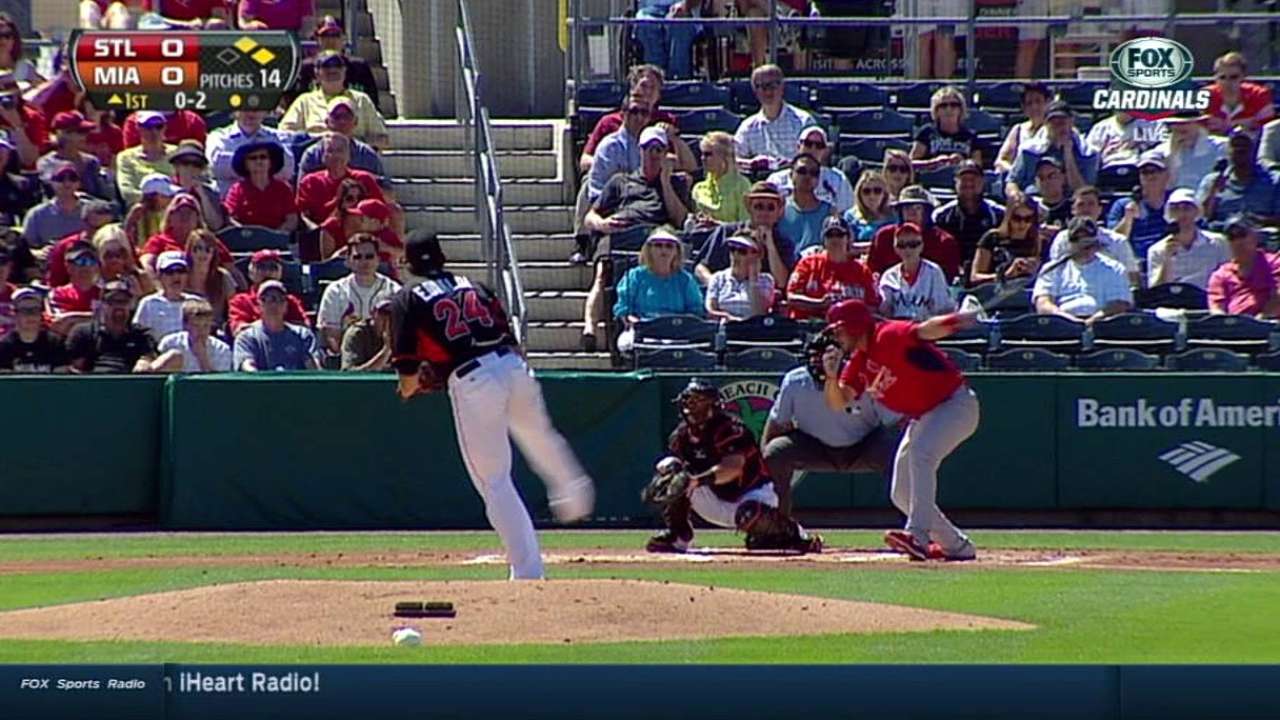 JUPITER, Fla. -- When you are accustomed to bringing heat, it's an adjustment to offer a change of pace.
Finding the right balance is one of Nathan Eovaldi's objectives this spring.
Projected as the Marlins' No. 2 starter, Eovaldi, 24, tends to be fastball-happy, and for good reason, as he's one of the hardest-throwing starters in the Majors. According to Fangraphs.com, his heater averaged 96.2 mph last season.
With that pitch being such a weapon, Eovaldi tended to rely heavily on it. Fangraphs.com tabulated that 70.6 percent of his pitches a year ago were fastballs.
Still, to develop into a more consistent and imposing pitcher, Eovaldi is aiming to lower that percentage and increase his use of sliders, curveballs and changeups.
"You have to be smart with it," Eovaldi said. "I'm a fastball pitcher. I'm going to establish that first-pitch strike with my fastball, regardless. I've still got to be able to on, 0-1, 0-2, be able to put them away with offspeed pitches."
Eovaldi had his first chance to mix things up on Saturday, when he threw two innings, giving up one unearned run, in the Marlins' 5-4 win over the Cardinals at Roger Dean Stadium. He threw 35 pitches, 27 of them strikes. He estimated that about 10 of his pitches were offspeed. His fastball topped at 97 mph.
"He's got a great arm, a great fastball," manager Mike Redmond said. "We've all seen that. We saw some games where he was dominant, and some games where his fastball was up a little bit, and he got hit around a little bit. The challenge for him is really going to be his secondary pitches. That's the key."
In the first inning, he retired Jon Jay on a changeup. The ball was hit pretty well, to deep right field, but Giancarlo Stanton had enough room to make the grab near the wall.
Eovaldi had one strikeout, getting Jhonny Peralta swinging through a slider.
"I have four pitches, and I barely threw my changeup last year," Eovaldi said. "I want to get that more in the mix. Not just fastball-slider. I want to throw my curveball more this year. I felt like that second half was a lot better when I threw my curveball more."
Joe Frisaro is a reporter for MLB.com. He writes a blog, called The Fish Pond. Follow him on Twitter Share This