Dietrich plays the field in search of roster spot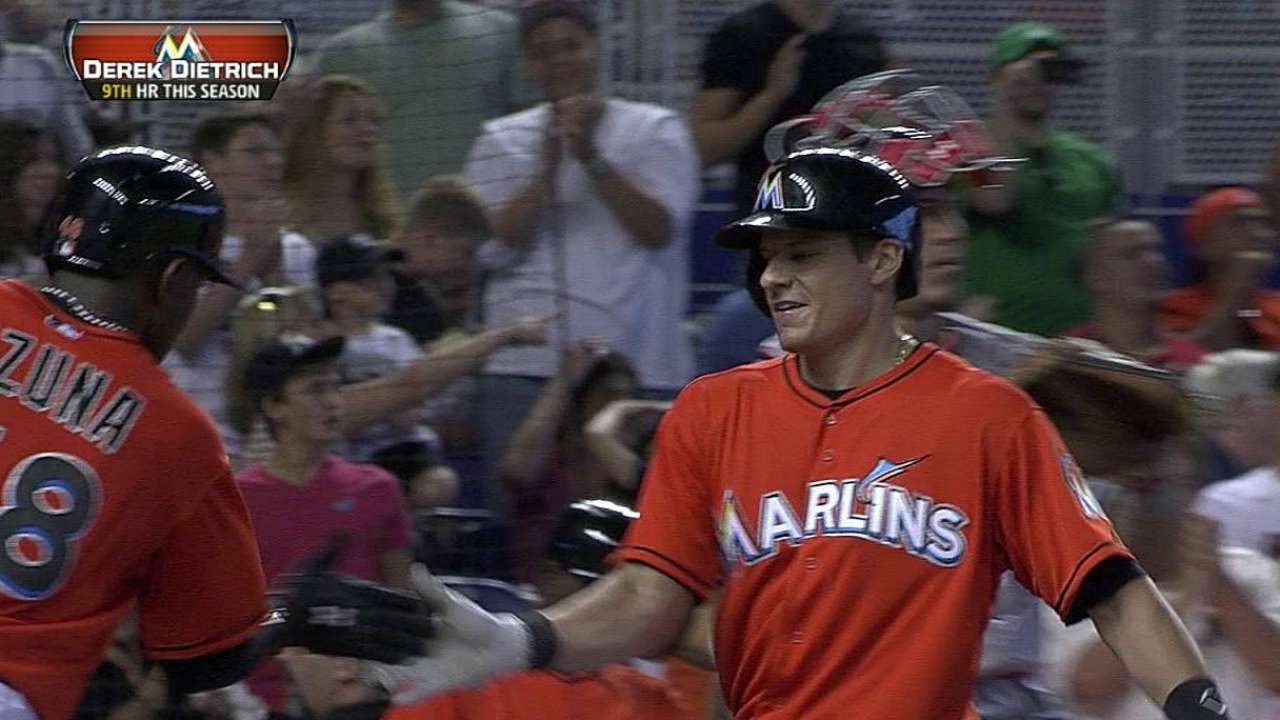 JUPITER, Fla. -- Versatility is going to be part of Derek Dietrich's game.
The way the Marlins see it, it has to be.
The organization is giving Dietrich opportunities at third base and second base. On Thursday, he got the starting nod at second in Miami's 9-5 exhibition win over Florida International University.
To Dietrich, it doesn't matter where he plays, as long as he gets a chance to be in the lineup.
"Any way you can help the team," Dietrich said. "As long as my bat is in the lineup, I have a chance to help the team, whether it is at third, short, it doesn't matter, as long as you have a chance to help the team win. That's all I'm looking for."
Dietrich delivered a two-run triple in the third inning on Thursday, once again showing he has the potential to add lefty power.
A year ago, Dietrich got his first big league break, playing in 57 games and collecting 215 at-bats. Rushed to the big leagues because Donovan Solano was injured in May, Dietrich got off to a hot start, but he cooled off and in late July he was optioned back to Double-A Jacksonville.
In three months, he batted .214 with a .275 on-base percentage, and provided some punch. His nine home runs were the most by any Miami left-handed hitter. Counting his Double-A totals, he finished with 20 homers.
With Rafael Furcal now on the team, Dietrich has increased his work load at third base. But he still is getting action at second. He estimates he is at third 60 percent of the time.
"We saw second base was a fairly easy transition for him," manager Mike Redmond said. "It's like anything, if you hit, you force us to find a spot for him."
Colin Moran is projected as the third baseman of the future, and Furcal is signed to a one-year deal. So Dietrich may wind up at second next year. Nothing is set.
"Down the road, it just depends on where we're going to need him," Redmond said. "If it is going to be at third base or if it's going to be at second. With his bat, if he hits, he will make you find a spot for him down the road.
"Right now, we want to see what he can do at those different positions. Maybe he is a third baseman or maybe he is a second baseman for us down the road. That's what we're trying to figure out."
Joe Frisaro is a reporter for MLB.com. He writes a blog, called The Fish Pond. Follow him on Twitter Share This