Redmond sees similarities between Stanton, Miggy
Redmond sees similarities between Stanton, Miggy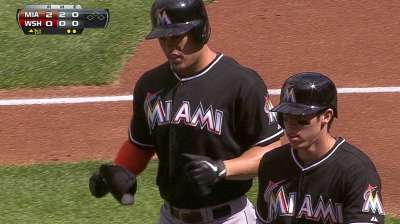 MIAMI -- When Giancarlo Stanton was promoted in June of 2010, he was the most anticipated Marlins slugger to reach the big leagues since Miguel Cabrera broke on the scene in 2003.
While Cabrera was always more of a pure hitter with power, Stanton has so much raw ability, and he's still striving to reach his overall potential.
Marlins manager Mike Redmond was a teammate of Cabrera in '03, and he sees some similarities between the two.
"You look at their presence in the box," Redmond said. "If you look at raw power, nobody has more power than Stanton does. His power is unbelievable. But they do have a lot of similarities.
"[Cabrera] was still learning, too. It's not like everything he hit went out of the ballpark. He showed signs that he was a great hitter, but at times, he had his struggles. It's that process. You start from a young player, and it's really how you learn, how you grow and learn and make adjustments."
Now a favorite to win his second straight MVP crown with the Tigers, Cabrera is playing against Stanton for the first time this weekend.
Cabrera was with the Marlins from 2003-07, and he ranks fourth in franchise history with 138 home runs in 720 games. Stanton is eighth, with 117 homers in 488 games.
Cabrera has a near flawless swing, and he has a knack of reading pitchers.
"His swing is short and compact," Redmond said. "Then you incorporate the mental side, how he understands pitching and seems to know exactly what pitch is coming every single pitch. That sometimes is the difference between a good hitter and a great hitter."
Joe Frisaro is a reporter for MLB.com. He writes a blog, called The Fish Pond. Follow him on Twitter Share This