After rough start, Cishek having historic year
After rough start, Cishek having historic year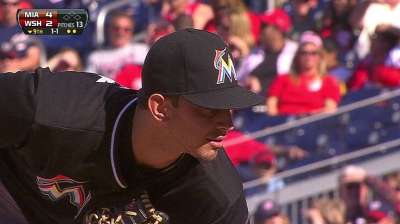 MIAMI -- The way the season started, Steve Cishek had no idea it could actually end with him setting a franchise record for consecutive saves.
After all, the Marlins and Cishek both had a rough month of April. In 12 innings in the first month, the right-hander posted a 5.25 ERA.
Now, days away from the season's end, Cishek finds himself riding a string of 27 consecutive converted saves, matching a Marlins record initially set by Todd Jones in 2005.
Cishek recorded his 32nd overall save and 27th in a row on Sunday in Game 1 of a split doubleheader at Washington.
Admittedly, he never thought he would be in such a position with how things went early.
"The way things were going in April, it didn't look like we were going to do too much," Cishek said. "Then late May and June hit."
The Marlins fortunes improved from June 1 through the end of July. Cishek started getting more chances, and he has not blown a save since June 4 at Philadelphia.
"I got a chance to pick up a groove," the 27-year-old said. "Once things started shaping up during that time period, I figured -- Lord willing -- I'd get a few more saves. I didn't imagine getting a team record or this many, or anything like that."
Cishek is growing into the closer role, and his overall numbers are impressive. He now has a 2.47 ERA in 65 appearances.
"He's been so solid," manager Mike Redmond said. "I've talked about it all year. He got off to a little bit of a slow start. It wasn't his fault. It was more of the fact we had trouble getting him in ballgames and getting him enough work.
"He's such a great competitor. He's perfect for that role. I think there is not a guy on this team who doesn't have all the confidence in the world in him and his ability. When he gets out there, we feel like that game is over."
Joe Frisaro is a reporter for MLB.com. He writes a blog, called The Fish Pond. Follow him on Twitter Share This