Marlins still thinking about future in final weeks
Marlins still thinking about future in final weeks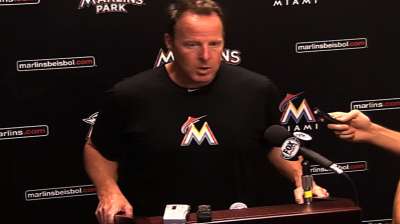 PHILADELPHIA -- The Marlins are still thinking about how their rotation will set up this weekend against Washington. But the fact is that, even though they'd love to beat the Nationals and play spoiler, their goal over these final two weeks is to get a feel for the future of the franchise.
"When we talked about [Jose Fernandez] being shut down, we said it was an opportunity for some of the younger guys to step up," Marlins manager Mike Redmond said. "It's what we're doing. We're evaluating guys and seeing what they can do. I've been around young guys that make you realize that, when they first come up, they aren't really themselves. We're getting to see these guys all year, and as we go on and move forward, we have a good feel for what they are capable of."
At the same time, the Marlins travel to Washington for a four-game series against a team desperately fighting for a playoff spot. The Marlins have struggled against the Nationals this year, going 4-11 without a win in Nationals Park.
"They are in a situation where they have to win," Redmond said. "That's just where they are at. As much as we have had troubles with them, it would be nice to go in there and win some games. To win a series would be really nice."
Michael Radano is a contributor to MLB.com. This story was not subject to the approval of Major League Baseball or its clubs.