Redmond grew up admiring Phils skipper Sandberg
Redmond grew up admiring Phils skipper Sandberg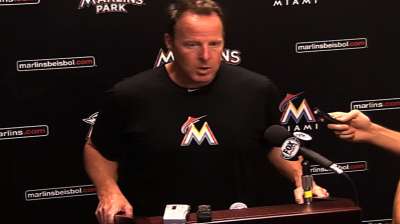 PHILADELPHIA -- Marlins manager Mike Redmond is a student of the game, but he has a special respect and admiration for Phillies interim manager Ryne Sandberg.
The Hall of Fame second baseman grew up in Spokane, Wash., and even had a field named after him, a field Redmond played on growing up in the same hometown.
"It was good," Redmond said of his conversation on Monday with Sandberg. "I mean, there is a field named after him, so I grew up playing games on Ryne Sandberg Field. You know he, John Stockton, Mark Rypien were athletes that as a young athlete growing up in Spokane, that you looked up too."
The two are also both leading teams that are in rebuilding mode. Redmond has guided a very young roster this season and has weathered plenty of ups and downs. Sandberg joined the Phillies staff this year, and took over when Charlie Manuel was fired in mid-August. Sandberg is 17-13 since taking over the Phillies.
"If you really think about it, what are the odds that two guys from Spokane are coaching two of the 30 major league teams?" Redmond said.
Michael Radano is a contributor to MLB.com. This story was not subject to the approval of Major League Baseball or its clubs.