Mathis' return provides boost to young pitching staff
Mathis' return provides boost to young pitching staff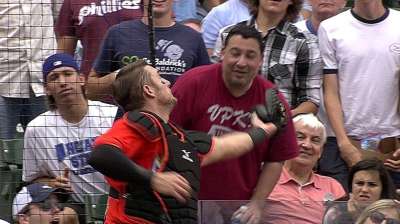 PHILADELPHIA -- The Marlins got a boost Monday night as catcher Jeff Mathis returned to the lineup against the Phillies.
Mathis, who had not played since Sept. 9 due to a right thumb contusion, entered the opener at Citizens Bank Park hitting .196 in 66 games, but his value as a catcher is too hard to calculate. The veteran is also an example for many of the younger players on this team that have yet to make it through a full 162-game season.
"Mathis is back, so that's nice obviously for us," manager Mike Redmond said. "He feeling good and back in the mix is good. I definitely want to see him finish the year strong. We've talked all year about how much he means to our pitching staff."
Mathis was tested early, taking a big hit from the Phillies' Domonic Brown on a play at the plate in the third. Redmond checked on his backstop, but Mathis remained in the game to catch four more innings before exiting. Redmond said afterward that Mathis was OK.
"I think [the thumb] will be sore, but at this time, there isn't as a catcher who isn't banged up," Redmond said before Miami's 12-2 loss. "It's been a long season after a long spring. It's been a physical grind and an emotional grind. Guys are tired, but it's part of playing in the big leagues and you have to finish. You have to keep fighting through it. With so many young guys, this is big for us to get through."
Mike Radano is a contributor to MLB.com. This story was not subject to the approval of Major League Baseball or its clubs.