Marlins mulling giving Turner extended rest
Marlins mulling giving Turner extended rest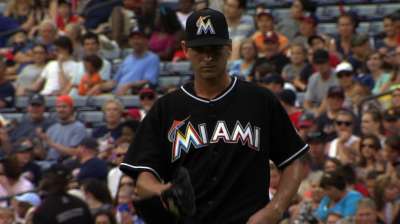 MIAMI -- The Marlins are not planning on shutting Jacob Turner down, but they are trying to come up with ways to enable the 22-year-old to end the season on a high note.
Turner was roughed up for five runs on nine hits in four-plus innings in Sunday's 6-4 loss to the Nationals.
It's been a rough second half for the right-hander, who is 0-5 with a 4.53 ERA in 10 starts since the All-Star break.
On Tuesday, manager Mike Redmond said he is talking with pitching coach Chuck Hernandez about how to get better results in the final three weeks. That may mean giving him more time between starts.
Turner is lined up to start on Friday against the Mets. However, the team is looking at where they could push his start back to.
"We're going to look at some different things and see what we're going to do, and decide," Redmond said. "Maybe get him a couple of extra days, we'll see."
Turner opened the season at Triple-A New Orleans before joining the Marlins' rotation on May 31.
For the season, Turner is 3-6 with a 3.43 ERA in 18 starts. Turner has run up 107 2/3 innings with Miami, and 164 total counting 10 outings with New Orleans.
"I don't think we will shut him down," Redmond said. "That's what we're trying to figure out now. How many more starts, how many more innings?"
After his loss on Sunday, Turner said part of his struggles were because of poor execution of his fastball.
"It's just something where I'm not making the pitches when I need to make them," Turner said. "The biggest thing is not commanding my fastball the way I need to. It's very frustrating, but it's something I've got to work through. Hopefully, in my next start it will be better."
The Marlins have a doubleheader against the Mets on Saturday, and Henderson Alvarez is scheduled to pitch the first game, with Brad Hand lined up for Game 2.
Ace Jose Fernandez will be shut down after his start on Wednesday, and it appears Brian Flynn will fill that spot, meaning he would be set to go on Sept. 16 at Philadelphia.
The Marlins track out their rotation about two weeks ahead.
"That's what we've done, and mapped out a few different options of how we're going to use guys," Redmond said. "We've got some flexibility with guys."
Joe Frisaro is a reporter for MLB.com. He writes a blog, called The Fish Pond. Follow him on Twitter Share This