Redmond: No limit set for Fernandez's final start
Redmond: No limit set for Fernandez's final start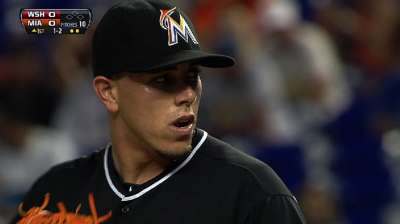 MIAMI -- If Jose Fernandez had put himself in position to make history on Friday night, Marlins manager Mike Redmond would not have stood in the rookie's way.
On Saturday afternoon, Redmond answered the unanswered question from the night before -- What if the no-hitter stayed intact?
The situation became moot, because Fernandez's bid was foiled with one out in the sixth inning on Zach Walters' pinch-hit infield single.
Brilliant in seven shutout innings, Fernandez flirted with no-hit history in Miami's 7-0 win over the Nationals at Marlins Park.
Walters' dribbler down the third-base line was the lone hit the 21-year-old rookie allowed.
After nine strikeouts and 94 pitches, Fernandez exited.
"I was fully ready to let him pitch that whole game, if he had the chance to go for it," Redmond said. "And that would have been it."
Now with 165 2/3 innings pitched, Fernandez has one more scheduled start before he is shut down after facing the Braves on Sept. 11 in Miami.
Had Fernandez gone nine innings in quest for a no-hitter, the Marlins would have called it a season for the rookie.
It never reached that point, but during the game, Redmond and pitching coach Chuck Hernandez were already thinking about how to deal with a potential no-hitter.
"Believe me, I was sitting there thinking it," Redmond said. "Chuck and I, we weren't even looking at each other. We knew."
The Marlins have four no-hitters in their history, with the last being turned in by Anibal Sanchez against the D-backs. Ironically, Fernandez was pursuing the no-hitter on the seventh anniversary of Sanchez's no-hitter.
Before the season, the Marlins placed Fernandez's innings limit at around 170.
Redmond said that for Fernandez's next start against the Braves, the plan will be the same as Friday. The rookie will be allowed to go as deep into the game as possible, depending on how he is doing. So while, Fernandez is 4 1/3 innings shy of 170, his performance will determine how far he goes in his final start.
"Jose is going to get a chance to pitch, and we're going to let him go out and try to win the ballgame," Redmond said. "I talked to him about it. Just like we did [Friday], we're going to let him go and try to win the ballgame.
"Chuck and I have been very consistent on how we approached him and how we've used him this year. We've tried to really take care of him and watch his innings, and watch his pitches. We'll do that again this next start. I think it's good that he doesn't have to go out there and think he's got only four innings, five innings or whatever it is."
Joe Frisaro is a reporter for MLB.com. He writes a blog, called The Fish Pond. Follow him on Twitter Share This