Versatile Coghlan starts in left, works at third base
Versatile Coghlan starts in left, works at third base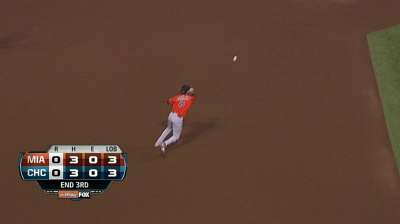 MIAMI -- Chris Coghlan prides himself on versatility.
The 28-year-old is certainly displaying that to the Marlins since he was reinstated from the disabled list on Sept. 1. On Friday night, Coghlan was slotted for his third different position in less than a week.
In the series opener against the Nationals at Marlins Park, Coghlan was in the lineup at left field. The change came after he had two starts at third base against the Cubs at Wrigley Field. And on Sept. 1 at Atlanta, the day he was reinstated, he played a couple of innings in right field to give Giancarlo Stanton, who rolled his right ankle, a little breather.
Left field isn't anything new for Coghlan, who played there since his 2009 National League Rookie of the Year season.
Coghlan also has played center field in his career. But on Friday, Christian Yelich, who played his first 40 MLB games in left, moved to center, a position he has played regularly throughout the Minor Leagues.
"This is a time to move guys around a little bit," manager Mike Redmond said. "Yelich has played a lot of center field. I'm not worried about him playing center field."
Coghlan is going through the biggest transition, working at third base for the first time in his MLB career.
The Marlins are looking for ways to take advantage of Coghlan's bat, so they will find a position for him.
"I embrace it," Coghlan said of moving around. "I think it only helps our team. It helps me. I think it's a win-win to be able to play and be more versatile and not be locked into one or two positions. I think there are things I can help the team do."
Coghlan has played enough outfield that he is perfectly comfortable there. It's third base at which he feels he has to work on a daily basis. Even though he didn't start at third on Friday, Coghlan still fielded grounders at the position in the afternoon.
"We know Cogz can play the outfield," Redmond said. "He can play center, left and right. We're giving him a chance to play some infield as well. That's where we are at. We're trying to evaluate guys and see where we are going into the offseason, and looking at what needs we may have this winter."
Joe Frisaro is a reporter for MLB.com. He writes a blog, called The Fish Pond. Follow him on Twitter Share This