Alvarez day to day after exiting with tight hamstring
Alvarez day to day after exiting with tight hamstring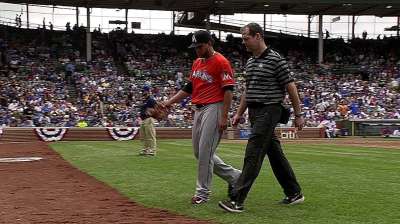 CHICAGO -- Henderson Alvarez left Monday's 4-3 win over the Cubs in the seventh inning with a tight right hamstring. He is listed as day to day.
"The right hamstring is just a little bit tight from running the bases," Alvarez said through translator and Marlins third-base coach Joe Espada. "I think [I can make my next start]."
"I think he's going to be all right," manager Mike Redmond said. "I think it just tightened up on him. We're not calling it a strain. It just tightened up on him out on the bases."
Alvarez tossed six innings, giving up three runs on seven hits, walking one and striking out three. He also hit a batter.
At the plate, Alvarez hit his first career home run and the first by a Marlins pitcher this season in the second inning, a three-run shot to left field. He was 2-for-2 on the day, also laying down a sacrifice bunt and hitting a single.
Manny Randhawa is an associate reporter for MLB.com. Follow him on Twitter at @MannyBal9. This story was not subject to the approval of Major League Baseball or its clubs.