Polanco passes tests, returns from concussion DL
Polanco passes tests, returns from concussion DL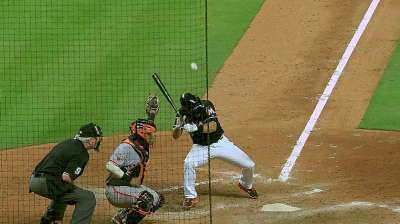 WASHINGTON -- Eight days after he was placed on the seven-day concussion disabled list, Placido Polanco passed a series of tests and was cleared to rejoin the Marlins on Tuesday.
Polanco was hit on the left side of his helmet by a 94-mph fastball on Aug. 16 against the Giants, and didn't initially think that he would have to miss more than a handful of games. Then he woke up with a headache one morning and felt groggy.
"I was just taking it one day at a time," Polanco said. "I was feeling better every day. Then when I started doing activities, I would feel a little dizzy, and they'd stop me from doing whatever I was doing. And then the next day, I would do some more. I was progressing slowly."
While this was Polanco's first stint on the concussion DL, he could not say for sure whether it was his first concussion. A 16-year Major League veteran, Polanco said that he has been hit in the head by pitches and knocked his head on the ground while sliding. He once had a headache for an entire week.
"I knew I had something back then," he said. "I just didn't know what it was."
Polanco applauded Major League Baseball for implementing the concussion DL in 2011, preaching the importance of protecting a player's life, as well as his career. The 37-year-old said that he feels ready to go and does not expect the concussion to have any lingering effects this season.
"I've been taking ground balls, I've been hitting batting practice, all that stuff," Polanco said. "Today will be a test if I dive for a ball or do a hard slide, but I don't expect anything to happen."
Tom Schad is an associate reporter for MLB.com. This story was not subject to the approval of Major League Baseball or its clubs.