Fernandez gaining attention during rookie campaign
Fernandez gaining attention during rookie campaign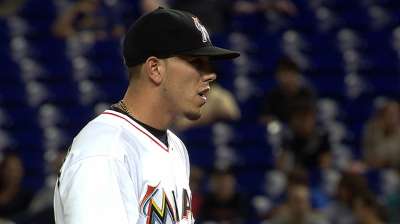 MIAMI -- Publicity can be hard to come by for a team 30 games below .500, but every time Marlins rookie right-hander Jose Fernandez takes the mound, his start becomes an event and sports talk topic.
Earlier in the week, his matchup against fellow rookie and Dodgers outfielder Yasiel Puig earned one of baseball's top billings. More than 27,000 fans attended Monday's game at Marlins Park as Fernandez earned his ninth victory, besting the game's hottest team.
"I think it's great," Marlins manager Mike Redmond said. "He's kind of helped give the Marlins an identity again. I think when you talk about the Miami Marlins, you talk about Jose Fernandez and our pitching staff, and that's great."
After delivering seven scoreless innings against the Rockies on Saturday, the rookie's record stands at 10-5 with a 2.30 ERA.
Redmond remembers another rookie sensation that brought hype and energy to a Marlins team: left-hander Dontrelle Willis, who won the National League Rookie of the Year award in 2003.
Though Willis was called up during the season, the two share key similarities.
"You have a young kid coming to the big leagues, energizes a team," Redmond said. "[Fernandez] has. He's excited the fan base here and I know how much he means to our ballclub, and it's a great thing because he's a great teammate, too."
Christina De Nicola is a contributor to MLB.com. This story was not subject to the approval of Major League Baseball or its clubs.