Polanco feeling better, may return early next week
Polanco feeling better, may return early next week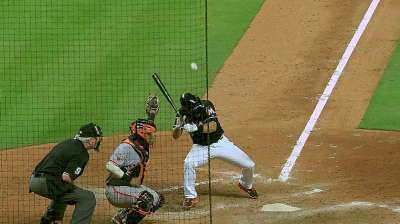 MIAMI -- Marlins infielder Placido Polanco, on the seven-day concussion list, took ground balls Saturday and hit for the first time since being plunked on the helmet by a ball last Friday against the Giants.
"I'm feeling a lot better, actually," Polanco said. "I actually did more stuff [Friday], and I felt better. The day before was the first day when I rode the bike and I was still [waiting on improvement]."
Manager Mike Redmond and the doctors continue to monitor Polanco's status day to day, waiting until he's completely comfortable before putting him back on the field.
"We'll see how he feels as far as when he'll be eligible to come off and play," Redmond said. "Not going on [a] structured plan, just taking each step. It's all on him and how he feels.
"Tuesday's not out of the question. These next couple days [we'll] get him to do as much as he possibly can and then we'll be able to determine where he's at. I don't see him having to go and play Minor League games or anything like that."
Christina De Nicola is a contributor to MLB.com. This story was not subject to the approval of Major League Baseball or its clubs.