Marlins trying to extend Fernandez's season
Marlins trying to extend Fernandez's season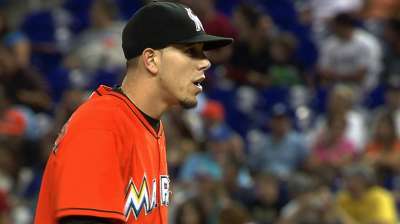 MIAMI -- Jose Fernandez may pitch deeper into September than originally anticipated.
The Marlins are exploring ways to get their rookie sensation to pitch later into the final month without exceeding their self-imposed 170-innings maximum.
"We're working on where we could push him back a few days, and see if we can extend him," manager Mike Redmond said. "We're trying to figure out how we can extend him as deep into September as we can."
Quite simply, Fernandez has pitched at such a high level, he is making it difficult for the organization to determine exactly when to shut him down. After striking out eight in six innings on Monday night in Miami's 6-2 win over the Dodgers, Fernandez's innings total has reached 145 2/3.
Fernandez is gaining steam in the National League Rookie of the Year Award race, and he's garnering more attention. He's also inspiring an upstart Miami squad. Also working in Fernandez's favor is he's showing no signs of slowing down.
"This is not an easy decision. He's pitched so well," Redmond said. "I think we all hoped he would have this much success, but I don't think any of us thought that he would pitch as deep into games as he has, which is great. Believe me, that is pressure on us that's good pressure."
If Fernandez stays pitching every fifth game, he would reach around 170 innings on Sept. 4 at the Chicago Cubs. Now, it appears the rookie will pitch close to the middle of September. The club also is seeing if there is any wiggle room to their innings' limit.
"We've got to figure it out exactly," Redmond said. "Is it 172, is it 170? Everybody knows where this kid is at. We've got to figure out where he is, and see how he pitches from game to game."
With a young staff, the Marlins also discussed internally the possibility of a six-man rotation. However, that is unlikely, Redmond said. One alternative is having Fernandez skip a start. He's scheduled to start on Saturday against the Rockies.
With a 9-5 record, 2.41 ERA and 157 strikeouts, Fernandez is a front-runner along with Dodgers outfielder Yasiel Puig for the NL Rookie of the Year Award.
Since June 1, Fernandez has the best ERA (1.64) of any starting pitcher in the Majors.
"We'll figure it out," Redmond said. "We set the limit to protect him. It's in his best interest. I know he understands that, whether he likes that or not, he understands that. When that day comes, it comes."
Joe Frisaro is a reporter for MLB.com. He writes a blog, called The Fish Pond. Follow him on Twitter Share This